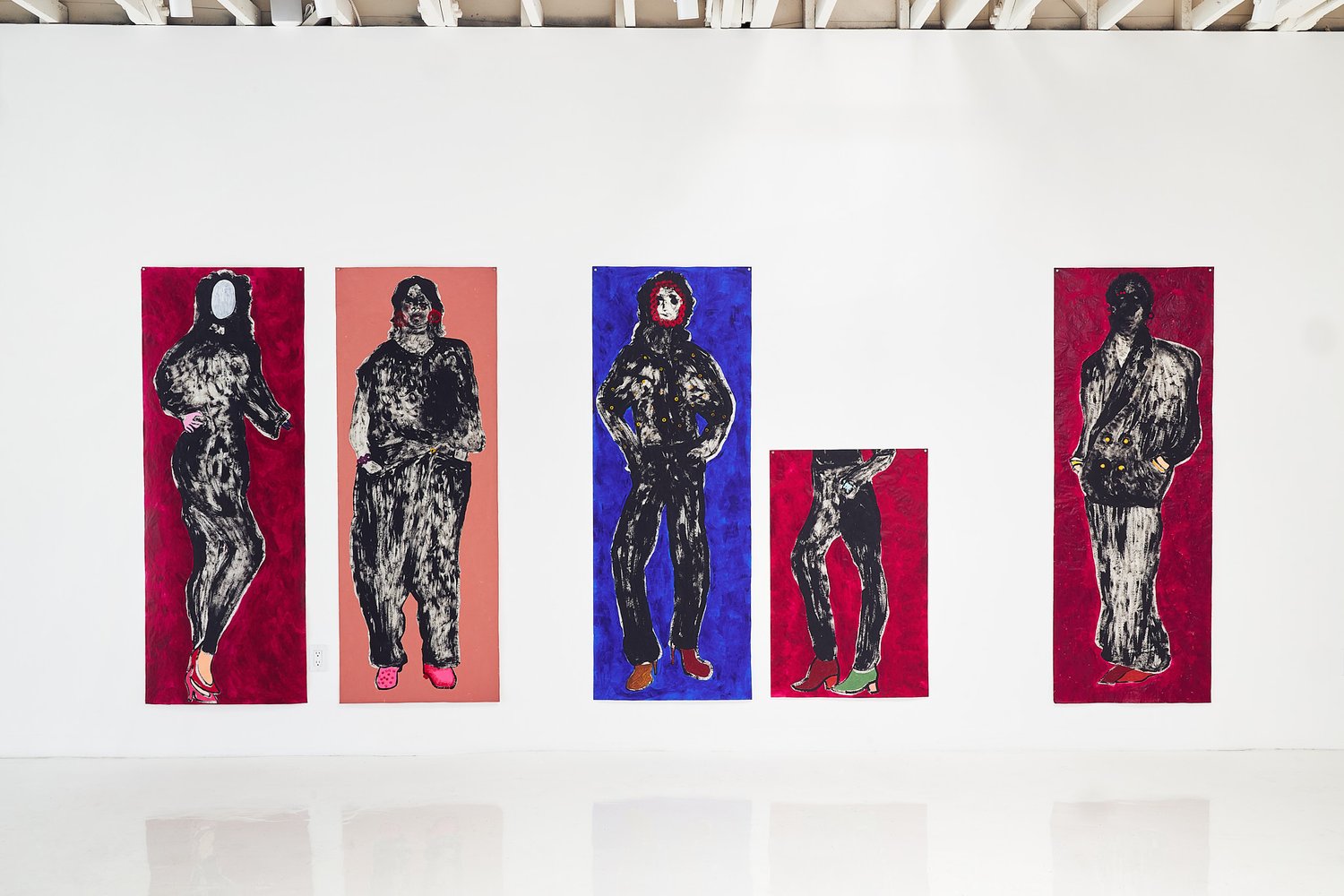 Bruno Gruppalli: Bodies, Shoes, Ground and Spirit
154 S robertson blvd Los Angeles CA 90048
Mar 11, 6 PM - 8 PM — ends Apr 29, 2023
Bruno Gruppalli has a complex relationship to his art and materiality, he uses objects to create a network of haptic connections that synthesize life. For Gruppalli each gallery installation is an opportunity to invoke his spirit, one that seems to have its roots in Dada, but only as a matter of stance. The experience is a working model, one that molds itself to the viewer, shifting self perception to a heightened state of acuity. In this physical awareness a feedback loop is formed, signaling states of presence and personal reflection, and reminding us of our impermanence, despite the paradoxically human impulse to imprint on the world through our own outward machinations.

For Bodies, Shoes, Ground and Spirit Gruppalli has installed twenty nine figurative artworks in body scale along opposing walls of the gallery, each one becoming a standard unit of deviation. The individual works function as an armature for notions of expressivity versus the desire for individuation. These painted works on Sulphite paper offer up the specter of theatricality that weaves and splays as one navigates the length of the gallery. Through the systematic and lyrical use of color and scale instances of gesture and stasis featured in the independent works flow between them, and engender a place of real contemplation. The installation is much like the tonal range of a keyboard with bars and octaves that represent a full range of frequency, and each piece resembling a single unique note.

The architecture of the show uses a firmly modern syntax to describe a set of conditions that feel so inextricably outside of modernist concerns. Using this apparatus as a mode of presentation the artist is able to navigate contemporary concerns whilst still deftly connecting to history.

Bruno Gruppalli is a mid-career artist who lives and works in Buenos Aires. He has exhibited internationally, this is his first solo show in Los Angeles. We are so thrilled to host this exquisite show, and would like to also acknowledge the hard work and dedication of his gallery in Buenos Aires, Maria Casado Galleria, who helped make this exhibit possible.