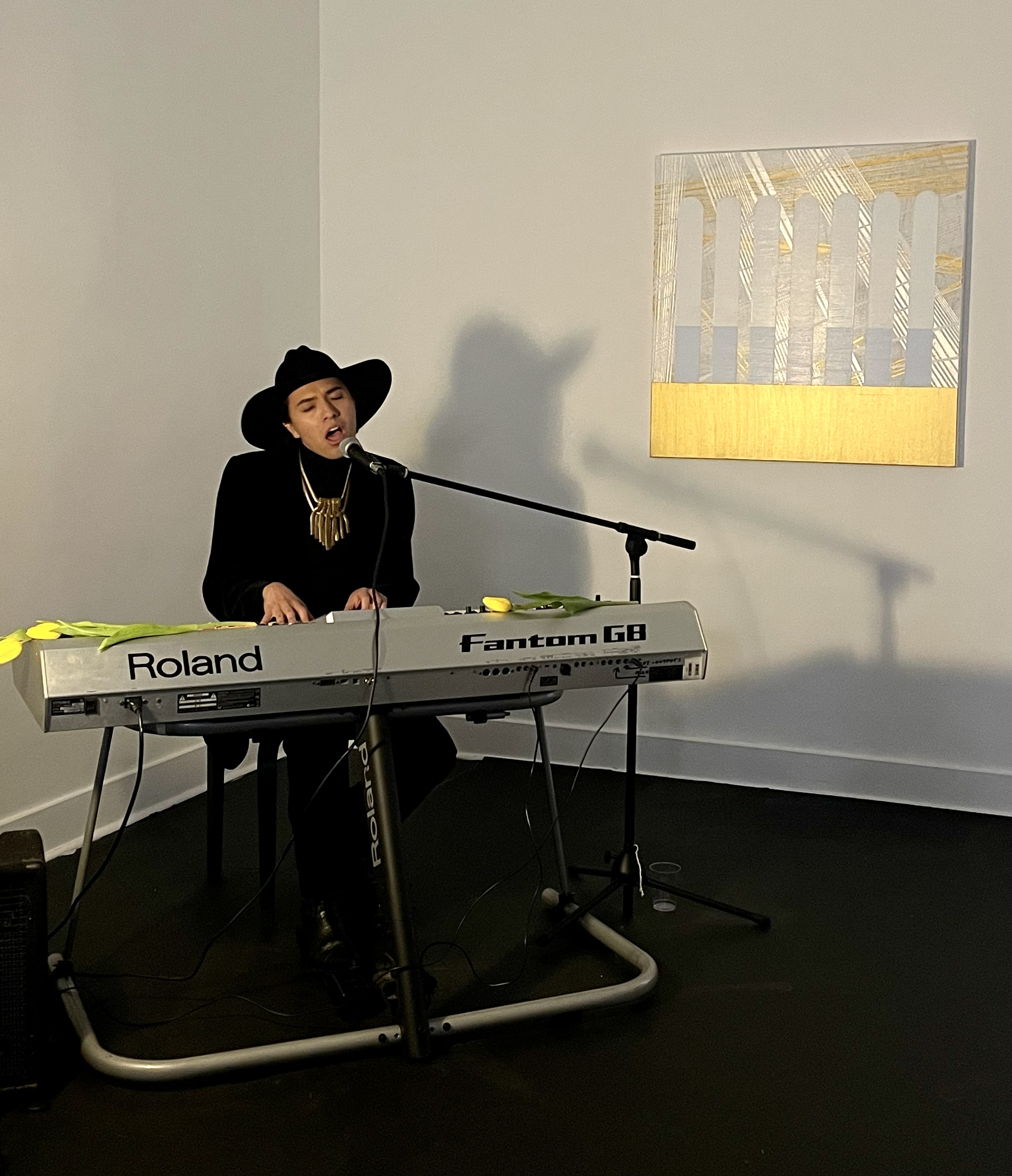 AMADOUR: ECHOLOCATION - closing performance
5225 Hollywood Boulevard Los Angeles CA 90027
Mar 18, 4 PM - 5 PM — ends Mar 18, 2023
Please join us for a closing performance by AMADOUR at 4pm of their EP Western Movie Dream!
Lauren Powell Projects is thrilled to present ECHOLOCATION, a solo exhibition from visual and musical artist AMADOUR, on view from February 24 – March 18, 2023. The show features a new body of work that embraces the possibilities of paint to record light and acoustic waves in architectural portals. With a series consisting of 11 paintings, AMADOUR's abstract works depict layers with various materials, marks, and meanings that reference the histories of art, architecture, and sound—taking inspiration from artists Ettore Spalletti, Mary Obering, Julie Mehretu, Sol LeWitt, and Wassily Kandinsky.
AMADOUR derives the arch motif from the multiple arcs of the California Incline Bridge in Santa Monica. The surrounding beach and oceanfront colors contrast with elemental metallics. Gold symbolizes the sunshine, while silver denotes beach-worn steel and concrete. Graphite strokes are suspended above and below the surface, characteristic of musical staffs running horizontally across pages with punctuated lyrical notes. Stenciled shapes construct mathematical inscriptions referencing structural works by architect Frank Lloyd Wright.
Incorporating clean and straight lines, geometric shapes, and the natural environment, two tones of blue depict the sky and the sea within the arches. Their curvature conveys formational space interlaced with sound, such as the proscenium in vintage Hollywood theaters. Prosceniums function as a soundboard that mimics the human mouth to project optimally.
This exhibition coincides with AMADOUR's first EP Release, "WESTERN MOVIE DREAM.", and live performances will take place at various occasions through the run of the show. Each painting is named after a lyric from the music.
Amadour is an American visual and musical artist who works with painting, sound, sculpture, and performance to investigate landscape, architectural forms, and our relationship as humans to built and natural environments. They received dual BA degrees in studio art and art history from the UCLA School of Arts and Architecture in 2018.
For more information, press, or inquiries, please contact
lauren@laurenpowellprojects.com