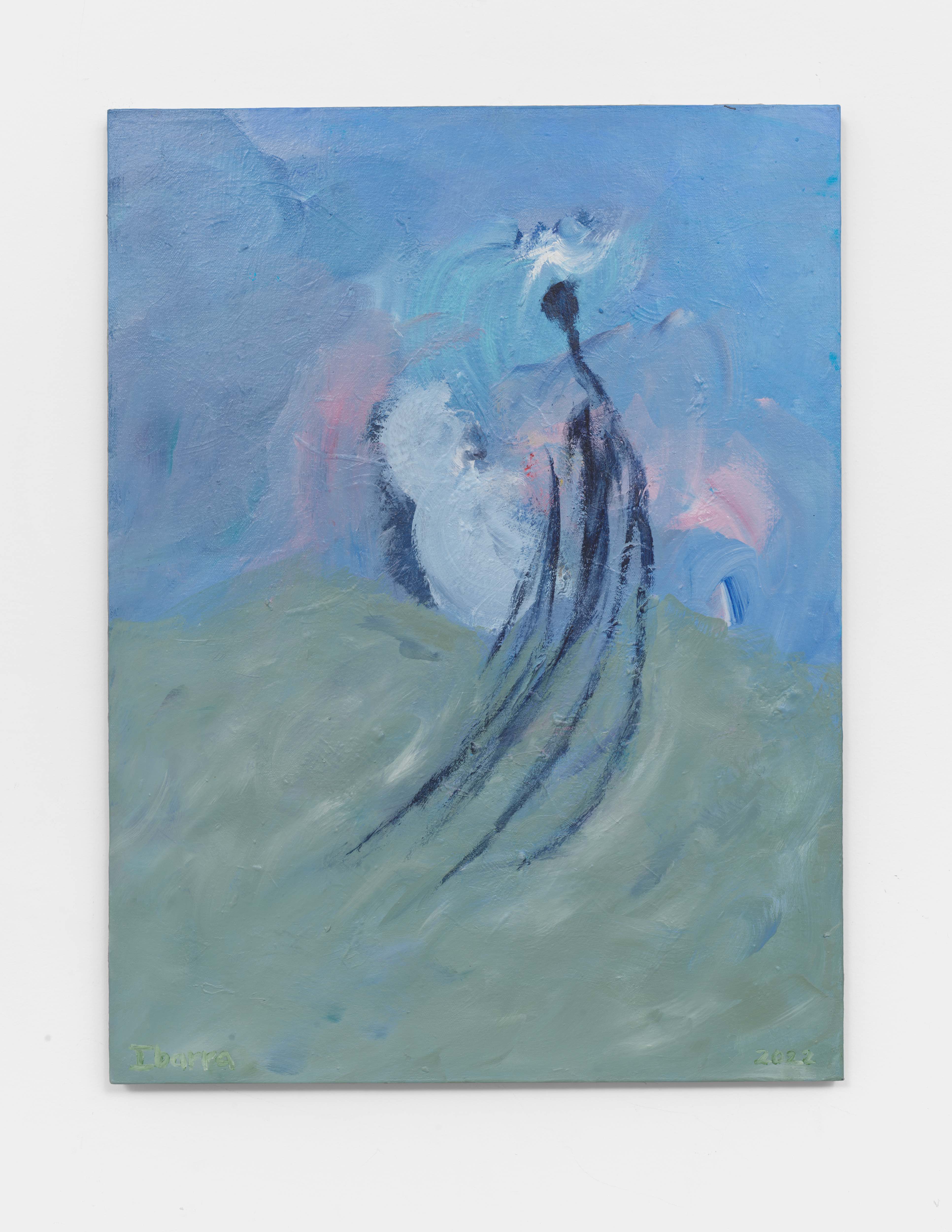 Elizabeth Ibarra: Blue Hymn: Postlude
8255 Beverly Blvd. Los Angeles, CA 90048
Apr 29, 4 PM - 6 PM — ends May 27, 2023
'Blue Hymn: Postlude' by Elizabeth Ibarra is the follow-up exhibition to the artist's 'Blue Hymn: Prelude', which took place at Simchowitz's Pasadena location earlier this year. Both exhibitions signify a shift in the artist's practice, most notably her use of the color blue in both her paintings and drawings. Blue has long been a rich area of inquiry for artists and scholars, given its connotations of sadness, the forbidden, the heavens, and even death. The word itself comes from blavus, in medieval Latin, which has affinities with "bael", and means a fire or pyre. As William H. Gass suggests in his classic book, On Being Blue, blavus also describes the color of bruised skin, which includes hints of yellow and green. All of which are relevant to Ibarra, not only because of the fiery imagery she tends to return to, but because of the opaque, impasto surfaces she creates, which could also be compared to bruised flesh. Nevertheless, the color blue has long been absent in her practice. "I had blue paints for years and never touched them," she says. "And I would ask myself all the time, why? I love the color in nature, but why am I so repelled by this color?"
Kandinsky would say it's because blue "moves into itself, like a snail retreating into its shell and pulls away from the spectator." But for Ibarra it simply felt "unnatural" as she says, at least until she began to find a sense of calm, and began to make peace with the color. "Now," she says, "I can't imagine painting without it." Her new paintings, such as Blue Potpourri (Blue Planet), 2022, and Moving Still (Blue Planet), 2022 are intense meditations on watery or cloud-like spaces, full of active tones and suggestive washes. The artist has given each work in the exhibition the subtitle 'Blue Planet', to further hint at her interest in the celestial, which for the artist, is a potent reminder of the importance of perspective. "When I look at the sky it takes me away from here, from being down here on the earth," she says, "and from our problems. It opens you up. It opens your mind and reaminds you that the world is so much bigger than what we see."
To further emphasize the celestial, 'Blue Hymn: Postlude' also includes a number of tondo paintings that resemble blue marble planets, often featuring cloudy formations that may or may not depict figures. For Ibarra, these cloudy worlds tend to reflect some of her fondest memories of her childhood in Guadalajara, where she would climb to the roof of her parent's house and discover figures and shapes in the clouds above. Other works feature Ibarra's well-known stick-like figures, which generally suggest female forms, dancers or perhaps seekers. These spare, lanky figures, seemingly so brittle and vulnerable, and often barely visible within her fields of color, are staples of Ibarra's vocabulary. Some stand defiantly, while others feel crippled or hobbled in some way; some suggest violence or anger, while others convey a sense of warmth and calmness. Yet in each case, they're the result of fast, singular gestures, either by brush or marker, which are made with an extraordinary lightness of touch. "I never start with an idea in mind," she explains. "To me, when I feel that I'm doing something on purpose it feels like a restraint, and it bothers me. I need to have a feeling toward a painting, I want it to feel free, at least to me. And I hope that feeling carries through to other people who might see it."
The figures in 'Blue Hymn: Postlude' suggest a slight departure for the artist given that they're generally devoid of horns (or ears or pigtails depending on your interpretation) as so many of her earlier works did, and then there are the flowers - bright colorful flowers, which she says, are reflections of her backyard in the springtime, where red and yellow flowers bloom. To some, this type of imagery might belie Ibarra's melancholic world view, which she confesses has always defined her and her work. As she recalls, a feeling of darkness was something that haunted her youth and often overwhelmed her. This foreboding became more pronounced after moving to the US where Ibarra felt more alone and unsure of her direction. More recently, as her life, career, and family began to feel more secure, she claims that she has since become "okay with it." "I now understand that it's ok to have, or be aware, of the darkness in things," she explains. "Because it has taught me to see life truthfully and to see the good and the bad and everything in between."
What hasn't changed in Ibarra's new works is the sheer, tangible quality of her process, which combines her use of oil paints, cold wax, and colored pencil, that she builds up and scratches into, giving them a rich, earthy feel. That has inspired some to compare her work to certain Mexican artists of the 1950's, such as Gustavo Arias Murueta who created new forms of abstraction by tapping into his most personal feelings. One can also find a relationship to other painterly traditions, from the bold expressionism and mark-making of Robert Motherwell, to the tender surrealism of Joan Miro; from the earthy, hand-made quality of Arte Povera, to the subconscious mining of the Surrealists. It's all there, and yet uniquely Ibarra-esque.
Also included in the exhibition is Ibarra's limited-edition print, Blue Dance III, 2023 produced by Simco Editions. Blue Dance III is a tritone lithograph printed on Coventry Rag paper, vellum (290 gsm) with hand torn edges. It's based on an original painting of the same name and captures Ibarra's practice succinctly, with a thick, powerful brushstroke suggesting a female figure standing alone, suggesting strength, movement and confidence.