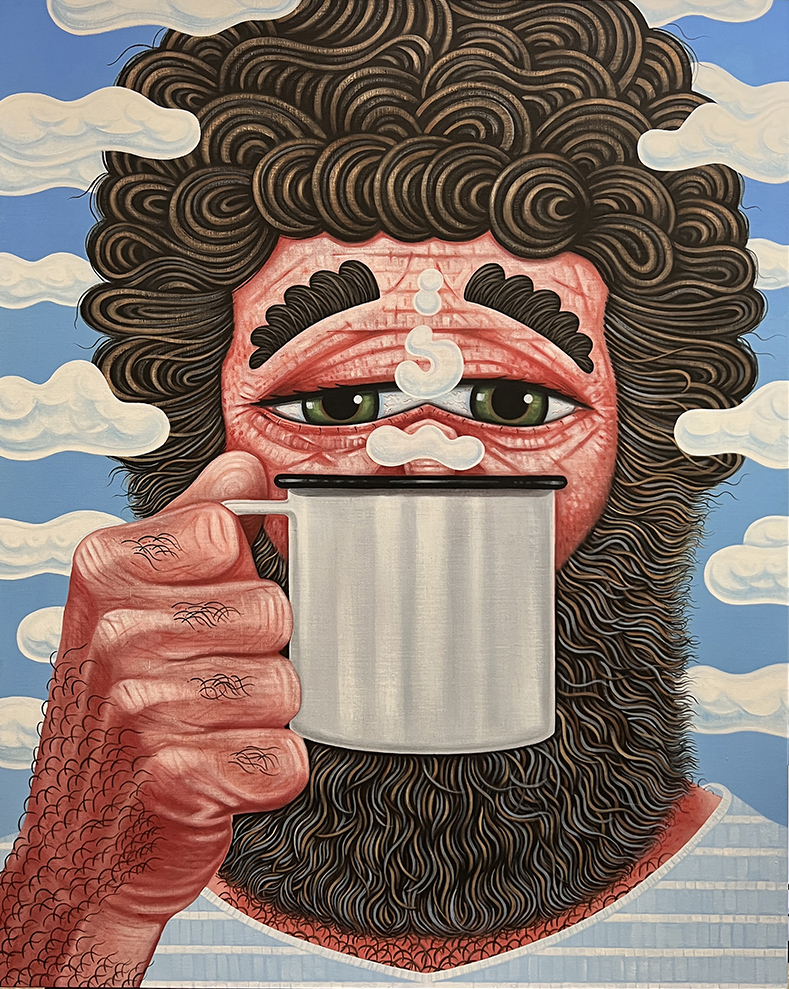 Robert Pokorny: Inside Out | Vincent Cy Chen: Xenogensis | Bradley McCrary: The Water Will Catch Us
6830 Santa Monica Blvd. Los Angeles, CA 90038
Apr 29, 11 AM - 8 PM — ends May 27, 2023
Steve Turner is pleased to present Inside Out, a solo exhibition by Los Angeles-based Robert Pokorny that features new portrait paintings depicting his recurring stylized characters –– Bearded men and confident white-haired women –– engaged in everyday activities such as reading a book, eating an ice cream cone, drinking a cup of coffee or smoking a joint. He simplifies the composition with strong lines, striking color, repeated marks and patterns to suggest various emotional states. According to the artist, "These portraits are not meant to depict one person in particular but rather are pictures of us all. They allow me to engage with great painters of the past, to tap into my own emotions, and to relate them to the outer world. They might seem absurd or humorous, but they are always sincere."

Robert Pokorny (born 1969, Merced, California) earned a BA (1992) and MFA (2011) at California State University, Long Beach and has presented his work in numerous exhibitions since 2006. Most recently, he has had solo gallery exhibitions at Johansson Projects, Oakland (2021) and Ampersand, Portland (2020). He has also had solo presentations at art fairs including Expo Chicago (2022) and CAN Art Fair, Ibiza (2022). Pokorny has been featured in Amadeus Magazine, Art Maze Magazine, Arte Al' Limite, Cool Hunting, Juxtapoz, Maps, Sound & Vision Podcast and Voyage LA. This is Pokorny's debut exhibition with Steve Turner.

_____

Steve Turner is pleased to present Xenogenesis, the debut solo exhibition for New York-based Vincent Cy Chen, which features otherworldly luminescent wall sculptures that imagine the intersection of the primordial world with a speculative future world. The exhibition title alludes to the concept of offspring being of a different species from their parents and suggests notions of metamorphosis, transformation, and hybridity. The sculptures are made from various materials and processes, including fiberglass and resin casting, metalsmithing, woodworking, resin-clay sculpting, and foam carving. Each work is self-illuminated with neon lighting and is meticulously airbrushed and ornamented with steel piercings and bird feathers. They resemble elements from exotic plants, deep sea creatures, reproductive organs, and electrical nodes. According to Chen, they are also inspired by the Buddhist temples and iconography he encountered during his youth in Taiwan. He envisions the exhibition space as a nexus between ancient and contemporary, familiar and unknown.

Vincent Cy Chen (born 1993, Taiwan) earned an MFA at New York University (2019) and a BFA at the School of Visual Arts, New York (2015). He has exhibited work at Untitled, Miami Beach (with Steve Turner); Shin Gallery, New York; Field Projects, New York; Harpers, Los Angeles and Kate Werble, New York.

_____

Steve Turner is pleased to present The Water Will Catch Us, a solo exhibition by Bradley McCrary that features recent paintings inspired by the natural beauty of Maine, figure skating, dance and Cèline Dion. McCrary's figures are depicted as empowered, joyous and fearless even when in danger from a shark, a maelstrom or as the target of an archer's arrow. His images are built up through layers of textured acrylic paint, a world of his own invention that has been profoundly influenced by his surroundings in rural Maine and his desire to empower queer narratives within the history of figurative and landscape painting.

Bradley McCrary (born 1998, Schenectady, New York) earned a BFA from the Rhode Island School of Design (2020) and had a solo exhibition with Steve Turner (2022) and has had work in group exhibitions at Waterman Gallery, Providence (2017); Memorial Hall Gallery, Providence (2017 & 2018); Galleria Bibliotè, Rome (2019); Woods Gerry Gallery, Providence (2020) and Thierry Goldberg Gallery, New York (2021). This is his second exhibition at Steve Turner.