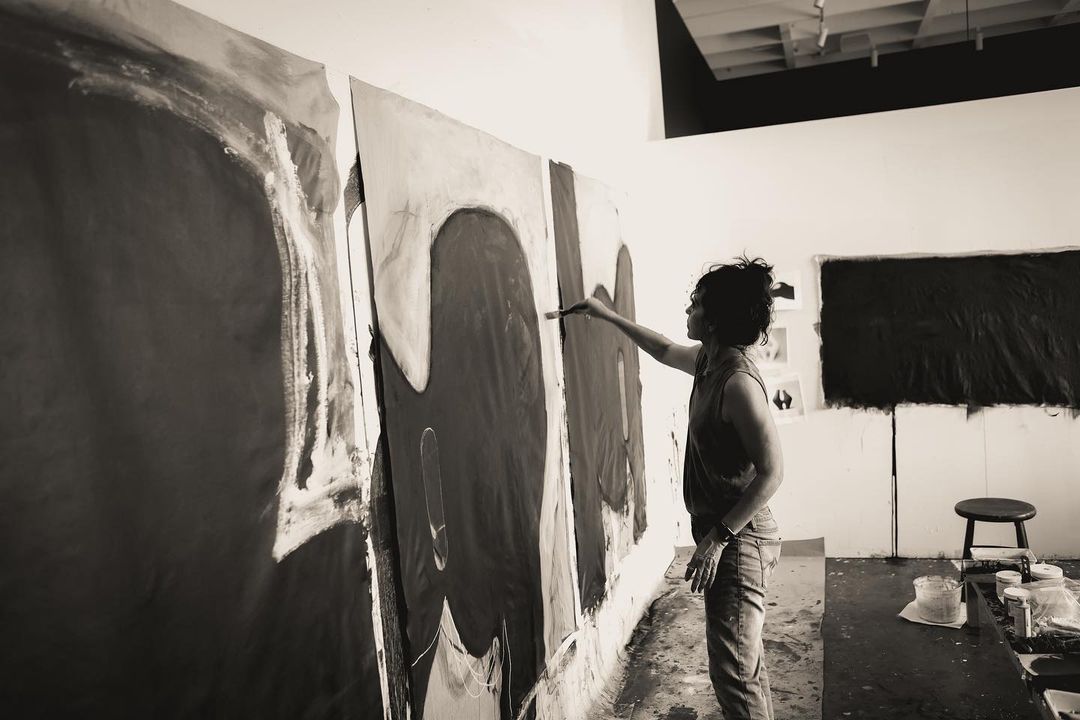 Exhibit 01: Monica Perez
3225 Helms Ave, Los Angeles, CA 90034
May 05, 10 AM - 6 PM — ends May 31, 2023
Monica Perez is a mother and immigrant who was born in Uruguay but has lived in Los Angeles for the past sixteen years. Her work explores the impact of lineage, land, and identity on individuals, families, and cultures. She is particularly interested in preventing the transmission of unconscious inherited burdens that can perpetuate generational trauma.

As a mother to a daughter, Monica has grappled with what it means to have independence in body and voice. She is keenly aware of the struggles of the women in her lineage, who were stripped of these freedoms either by force or due to social and cultural norms. As a result, she is determined to stop female oppression within her own family.

Monica's Phoenix collection pieces acknowledge and honor all women and the collective fight for healing. The show includes 15 paintings from five collections spanning multiple years, illustrating the various paths she has traveled like ancestral strands. Recurring themes of loss and life are evident throughout her work.

Monica has traveled back to Uruguay many times to investigate these themes and work in the very place her ancestors lived and acted, both before and after a genocide. The land holds memories of events and experiences that have shaped her identity. It was in Uruguay that she began working with foraged earth as a way to create texture and tactile contact with the surface of the canvas, while honoring the knowledge and imprints held in the land on which she stood. The mixing of this soil and other mediums is an opportunity to create new stories and understandings to transmute in her work.

Predominantly monochromatic, Monica finds the deepest wells of inspiration in the folds of black and white, form and scale. She uses paper for studies or small pieces, like in the Kyoto Series, inspired by antique book pages she bought from a vintage market in Japan. Monica mostly works in abstraction but also uses photographs as a base layer of realism that lives below washes of ink and layers of paint.

In the tradition of Hilma af Klint, Emma Kunz, and others, Monica acknowledges that there is much in our consciousness and universe that we do not see or understand. This inspires her and provides an entry point for her work. When she paints, choosing her inspiration - be it a person or a situation - is like opening up a channel. It is a practice that is spiritual in nature, akin to a meditative mindfulness practice but not tied to any specific religion. What comes out onto the canvas or paper is often a surprise, and she reacts and works with what she sees and feels. Often, the pieces include big bold strokes and gestures that engage her entire body. Monica loves working big, for this physicality requires her complete presence and attention to the energy she is working with and extinguishes the critique.

For Monica, there is a certain beauty in identifying and giving voice to her struggles and hurt in the pursuit of finding ways to heal and rise above them. It is this pursuit of beauty that fuels her passion and drives her work, as she imagines a world where everyone is free from oppressive forces. She sees her work as a transformative process that allows her to create art that inspires healing both within herself and those around her.