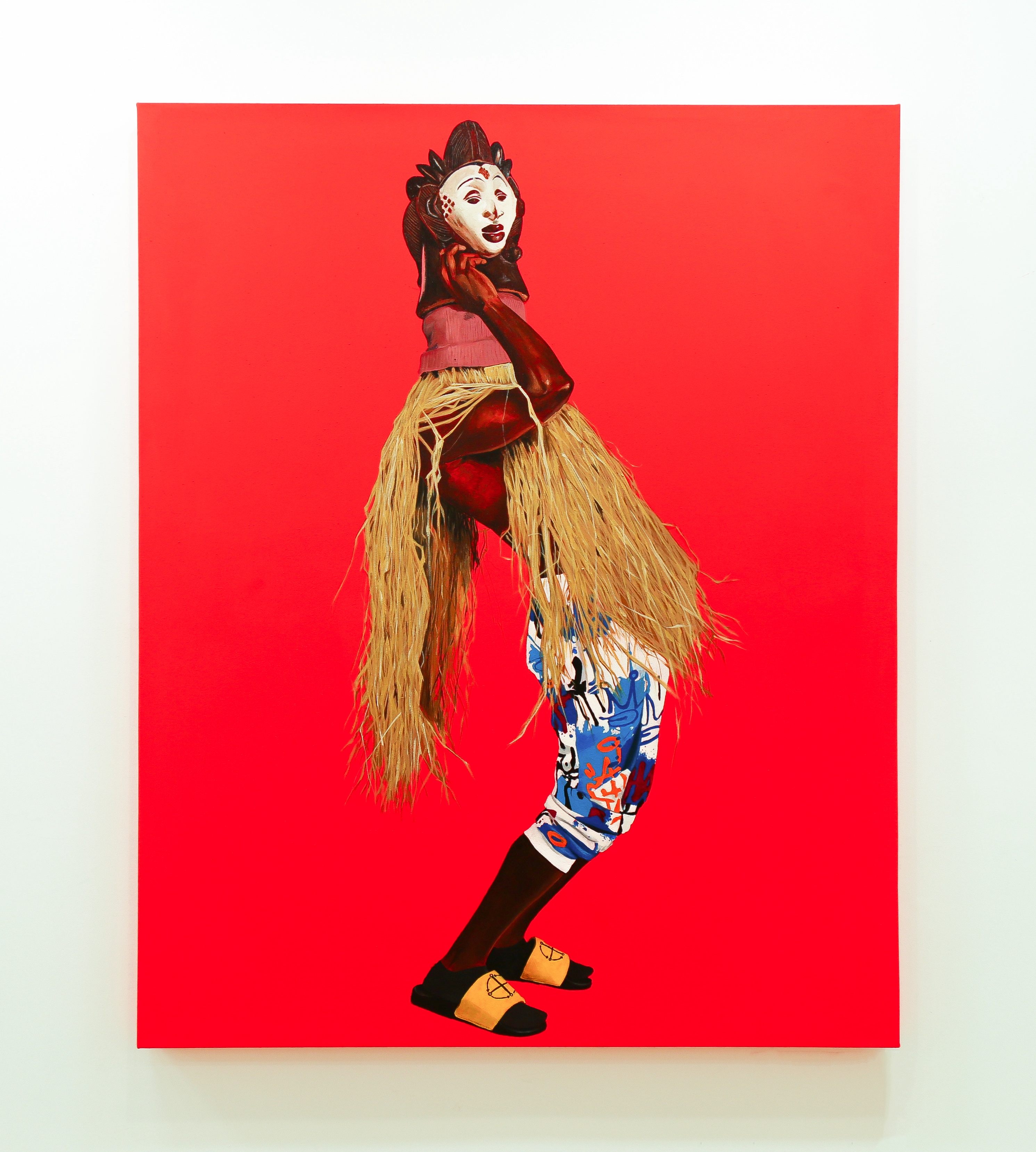 Fahamu Pecou: Brand NewBeins | Paul Paiement: Nexus
216 S. Louise St, Glendale, CA 91205
May 06, 5 PM - 8 PM — ends Jun 17, 2023
Tufenkian Fine Arts is pleased to present, "Brand NewBeins", a solo exhibition of new paintings by Atlanta-based interdisciplinary artist Fahamu Pecou. We are excited to share that this will be the artist's first solo presentation with the gallery. This exhibition will be on view from May 6th through June 17th, 2023, with an opening reception to be held at the gallery on Saturday, May 6th from 5:00 pm to 8:00 pm.

Fahamu Pecou's work seeks to confront and question the societal norms and stereotypes associated with the Black body. Through his paintings, drawings, performance art, and writing, Pecou explores the ways in which blackness is often defined by external forces, including stereotypes, media representations, and societal expectations. Pecou's artistic practice challenges the dominant narratives surrounding Black identity and offers a more nuanced and complex representation of blackness that celebrates diversity of experience and the resilience of the Black community.

The works in "Brand NewBeins" seek to affirm and present new perspectives of being for African-descended peoples who find themselves living in realities far from "home" yet firmly rooted where they are. The enslavement of millions of Africans throughout Central and West Africa as well as the subsequent pillaging and colonization of the continent has resulted in generations of displaced Afro-descended people whose notion of home continues to be in flux. Influenced by Kenyan philosopher Ngũgĩ wa Thiong'o's theory on the dismembering and fragmentation of Black identity, Pecou's work has become increasingly Pan-African in its attempts to re-member the fractured Black body.

The paintings in this exhibition mine a new cosmology of Black being by syncretizing contemporary and historical ideas around Black culture. These new works are directly conversant with these ideas and represent an ongoing interrogation of what it has meant, what it means now, and what a future Black body politic might mean. Throughout the exhibition, Pecou uses various ideas, constructs, and concepts around Black subjectivity to interrogate, explore, and expose the often problematic narratives that inform readings and expressions of Blackness.

____

Tufenkian Fine Arts is pleased to announce, "Nexus", a solo exhibition of new and recent works by Los Angeles-based artist Paul Paiement. This will be the artist's first solo presentation with the gallery. This exhibition will be on view from May 6th through June 17th, 2023, with an opening reception to be held at the gallery on Saturday, May 6th from 5:00 pm to 8:00 pm.

Paul Paiement's practice attempts to reconcile the differences between the organic elements of the natural world with the inorganic, synthetic aspects of culture. Paiement's paintings co-mingle and harmonize the infinite, holistic facets of nature with the linear pragmatism of modern and contemporary architecture through a spectrum of visual languages. The artist employs the use atmospheric perspective, representation and abstraction, and overlaying techniques to expose the tangled relationship between the human view of nature with the idea of human exceptionalism.

Paiement's latest body of work comes from his time spent at an artist residency in the Oregon coastal community of Neskowin during the summer of 2022. During his time at the artist residency Paiement set out to produce a series of plein-air paintings while taking photographs throughout the day which were later referenced for highly detailed overlayed paintings. The shapes of these overlayed panels were largely inspired by architectural concept drawings of cutting-edge cabins and lake homes.

Paiement begins his paintings by creating vast naturalistic scenes, after which he places airbrushed plexiglass overlays that contrast with the detailed representations of the landscape. Paiement utilizes these architectural overlays as symbols of the "manmade" set against the tradition of classical Western landscape painting. Conjoining two ostensibly disparate elements into a unified picture, Paiement subverts the common narrative that humans are destroying the environment by presenting these "manmade" features as hardly distinguishable from their surroundings. Their smooth translucent forms allow them to blend in seamlessly with the landscape.

These paintings marry the spontaneous, improvisational nature of Paiement's landscape practice with the logical, rational aspects of his architectural forms. The works in "Nexus" convey the sense that the structures and systems that we create to survive are not separate from nature, but are an existential need expressed on all levels of the natural order of life.