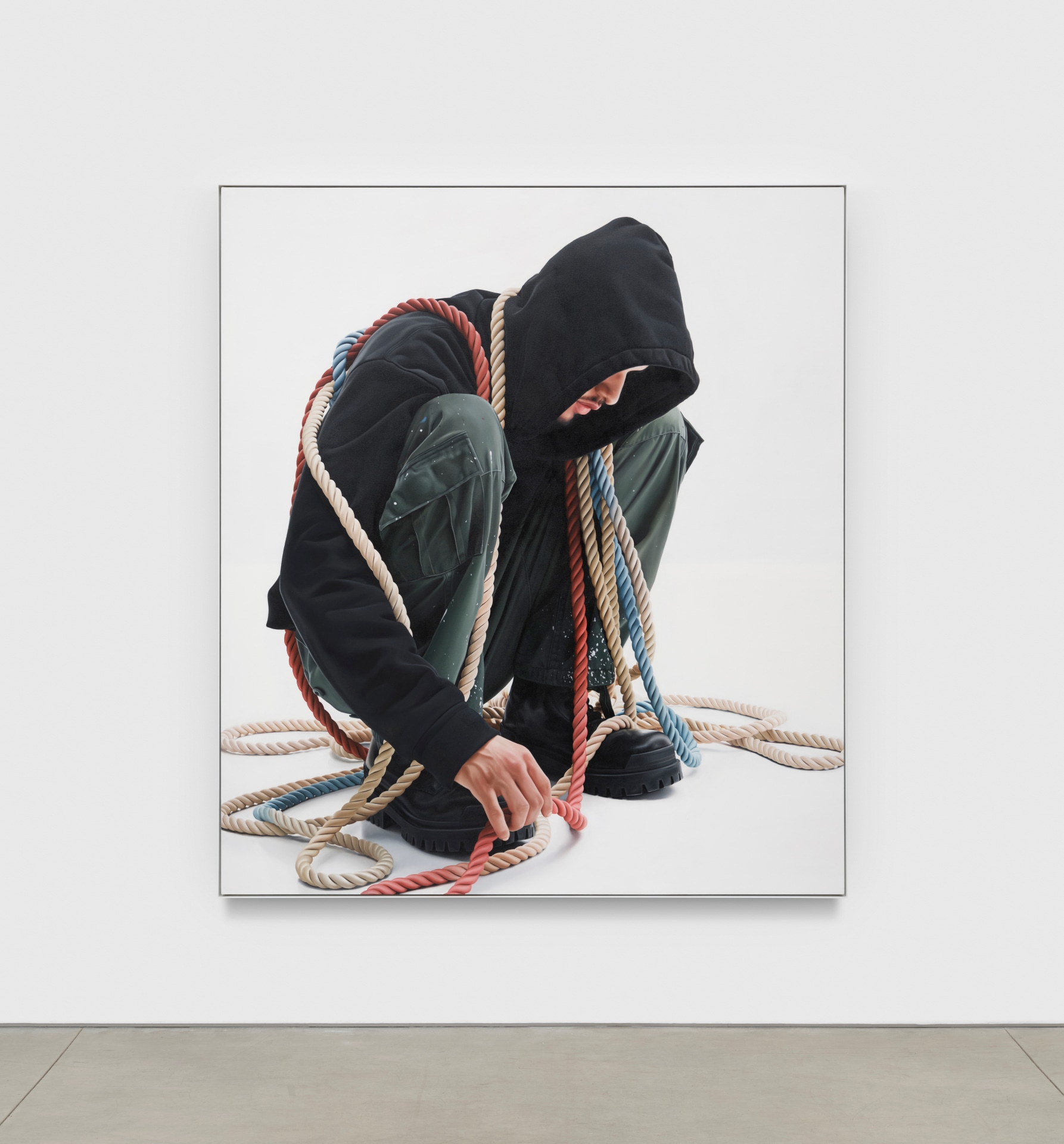 Delfin Finley: Coalescence | Betty Woodman: Diptychs | Guan Xiao: From Leaves to Shields
5130 W. Edgewood Pl. Los Angeles, CA 90019
May 12, 6 PM - 8 PM — ends Jun 16, 2023
David Kordansky Gallery is pleased to present Coalescence, an exhibition of new paintings by Delfin Finley, on view in Los Angeles at 5130 W. Edgewood Pl. from May 13 through June 16, 2023. An opening reception will be held on Friday, May 12 from 6 to 8 PM.

Finley explores ideas of representation in painting, posing questions not only about who gets represented, but also about how and at what scale. The figures featured in Finley's paintings, typically friends, family, or the artist himself, exhibit a photo-realist quality, a mark of the artist's skillful depiction of highlights, depth of color, and shadow that hearkens back to the Old Masters. In Coalescence, the artist exhibits a portrait series that has developed over the course of several years in an effort to distill and illustrate the weighted experience of Black and Brown people in the United States.

Each figure in the series is draped with a layered assortment of red, white, and blue rope that is carried, repositioned, and held in a way that feels natural or instinctual to the subject at that moment in time. Although the idea of weight carried may seem abstract, Finley's work deftly portrays its physical manifestation in the figures' posture, hand gestures, stance, and overall expression which help represent and honor the multi-perspectivity held within the Black American story.

In one recent large painting, Oak (2022), a figure is seen elevating two strands above his shoulders, mimicking a strung-up doll or marionette, a signal of the performative elements that are present in the paintings, but also of the importance of performance in daily life. Contrary to the normal functions of a marionette, the figure is seen manipulating his own strings, rather than being controlled by a puppeteer. Finley tends toward a larger scale canvas, underscoring and valorizing each unique character and capturing moments of reflection, introspection, defiance, and rumination that could only be depicted by a painter with as much technical skill.

Finley's delicate portrayal of balance carries throughout the exhibition. In 2 Up 2 Down (2022), a man can be seen repositioning, and otherwise trying to manage, the heavy tangled material. The stark white background forces the viewer to focus on the subject who appears to be displaying a high level of focus and concentration on the task at hand. Finley prompts the viewer to question whether the subject is putting down his ropes in resignation or picking them up in defiance, a dichotomy that pervades every action and subtle movement that people of color make. Continuing the theme of dichotomy, the largest painting in the exhibition, Regalia (2022), features a figure standing prominently with the rope draped atop her like a gown. The juxtaposition of the gown-like ropes with her utilitarian garments evokes a sense of empowerment and comfort with the weight that she carries.

In both examples, as in all of the paintings in Coalescence, the rope featured is not coarse, but soft with a velvet-like texture: A signal of something that has been worked and reworked, honed and polished over generations. By presenting this collection of five portraits together, Finley establishes a distinct vocabulary and simultaneously provides the viewer a narrative context for which the paintings can exist. Coalescence is equally a reference to the amalgamation of these paintings and a reference to the individual elements present within each composition. The rope, for example, consists of a collection of twine that, when bound together, form a thicker, heavier material. In this way, each strand of twine acts as a stand-in for a single lived—or generationally passed down—memory. This coming together of twine or rope also speaks to the importance of context; that each individual event is the result of a circumstantial history—personal, national, or otherwise.

Delfin Finley (b. 1994, Los Angeles) has been the subject of a solo exhibition at Lora Schlesinger Gallery in 2017, Santa Monica, California. Group exhibitions include Coming of Age, Fondation Louis Vuitton, Paris (2022); Shattered Glass, Jeffrey Deitch Gallery, Los Angeles (2021); Something About Us, Anthony Gallery, Chicago (2021); Really?, Wilding Cran Gallery, Los Angeles (2017); Make Their Gold Teeth Ache, Moberg Gallery, Des Moines, Iowa (2015); and Manifest Justice Pop-up, Los Angeles (2015). Finley lives and works in Los Angeles.

_____

David Kordansky Gallery is pleased to present Betty Woodman: Diptychs, an exhibition of ceramic sculptures produced between 1990 and 2013, on view in Los Angeles at 5130 W. Edgewood Pl. from May 13 through June 16, 2023. An opening reception will be held on Friday, May 12 from 6 to 8 PM.

Woodman (1930–2018) was a pioneering artist whose groundbreaking approach to ceramics encompassed a wide range of global influences. Her symphonic understanding of the formal and cultural histories of the vessel gave her the space to experiment with techniques and compositional strategies borrowed from painting, sculpture, architecture, and other genres.

Beginning in the late 1980s, Woodman began to devote significant attention to the production of two-part ceramic sculptures in which paired vessels, with daringly constructed wings, served as supports for lush, detailed, and often figurative painting. Conceived in collaboration with the Woodman Family Foundation, Betty Woodman: Diptychs is a focused survey of the artist's explorations related to this type, which developed from her triptychs and her interest in the visual movement from one vessel to another. "I then became interested in thinking about these ideas with diptychs. The space in the middle became the center of the piece. The diptychs themselves also took on a new life," she wrote. The exhibition charts the evolution of her ideas about the dynamics of positive and negative space in sculpture and painting, as well as her ever-shifting conceptualization of the ways in which vessel forms and the human figure are linked in the cultural imagination.

The works on view speak to the heterogeneous nature of Woodman's interests and her belief that every artwork can say something unprecedented about its medium. The exhibition's earliest sculptures share an earthy, classically oriented palette that speaks to the elemental tactility of clay. As their titles suggest, Woodman often conceived her works as conversations with the potters, painters, and architects of antiquity. The lack of strict separation between the functional and aesthetic aspects of ancient Egyptian and Greek vessels, for instance, is in large part responsible for their ability to communicate a felt sense of what domestic, ceremonial, and mythological life was like in those civilizations.

In a similar way, Woodman's diptychs constitute pictures of contemporary attitudes toward art and pleasure. Glazed images of fragmented interior scenes, complete with renditions of vessels, result in animated, richly saturated surfaces that exude the analytic curiosity of Cubism and the emotional exuberance of Fauvism. Her long-standing interest in modernist painting aside, these works also find Woodman fully leaning into the spaces between and around sculptural forms. These voids do not so much separate the vessels as join them together in a single, variously articulated visual field in which two-dimensional representations come alive in three-dimensional space. Woodman's understanding of spatial illusion is notable for the insistence with which she also emphasizes the viewer's embodied experience of the physical environment in which a work is seen.

It is no accident, then, that such effects are often driven by Woodman's depictions of the human body. With their baroquely sculpted wings, the vessels seem to portray active figures that lean, dance, and pose around each other. Glazed images engage in a contrapuntal relationship with these sculptural silhouettes, perhaps most notably in instances where Woodman paints figures that are alternately contained by and push against the confines of their supports. These works exemplify the ways in which the artist treated ceramic objects as canvases for increasingly complex, choreographed compositions where she gave surprise, joy, humor, and wide-ranging art historical research free rein. Even the glazing itself often traces parallels between human- and vessel-based forms. A stylized female figure appears on one side of Irene Reclining (2013), the halves of her reclining body divided across its elongated wings; on the other, Woodman uses similarly linear brushstrokes to create a torqued, abstracted image that doubles as a ghost-like reproduction of the vessels on which it has been inscribed.

In works of this kind, Woodman demonstrates how the products of human creativity can feel as though they are imbued with human sentience. Buildings, artworks, and domestic objects are not inert things, but living phenomena that change according to what—and who—appears inside and alongside them. This proposition is both playful and slyly provocative because it suggests that art is not only a way of making, but a way of seeing, one that pervades the spaces people inhabit, the clothes they wear, and the food they eat. Diptychs provides ample evidence of this fervent democratic streak in Woodman's project, even as it emphasizes her virtuosity and insistence on an individual point of view. Because they are at once some of her most classical and genre-defying works, the diptychs also distill her highly original notion of what it means to be contemporary: attuned to the past, finding the future in each moment, and translating perceptions of the immediate environment into an expansive and variable visual language.

Betty Woodman (1930–2018) was born in Norwalk, Connecticut, raised in Newton, Massachusetts, and studied ceramics at The School for American Craftsmen in Alfred, New York from 1948–1950. She was the subject of numerous solo exhibitions worldwide during her lifetime, including a 2006 retrospective at The Metropolitan Museum of Art, New York—the first time the museum dedicated a survey to a living female artist. In 2022, David Kordansky Gallery presented the first major exhibition of Woodman's work in New York in six years, Betty Woodman: Conversations on the Shore, Works from the 1990s. Other solo exhibitions have been presented at K11 Art Foundation, Hong Kong (2018); Institute of Contemporary Arts, London (2016); Museo Marino Marini, Florence, Italy (2015); Gardiner Museum, Toronto (2011); American Academy in Rome (2010); Palazzo Pitti, Giardino di Boboli, Florence, Italy (2009); Denver Art Museum (2006); and Stedelijk Museum, Amsterdam (1996). Recent group exhibitions include The Flames: The Age of Ceramics, Musée d'Art Moderne de Paris (2021–2022); Less Is a Bore: Maximalist Art & Design, Institute of Contemporary Art, Boston (2019); and Liverpool Biennial, England (2016). Woodman's work is in numerous permanent collections worldwide, including The Metropolitan Museum of Art, New York; Museum of Fine Arts, Boston; Museu Nacional do Azulejo, Lisbon, Portugal; Los Angeles County Museum of Art; Museum of Modern Art, New York; National Gallery of Art, Washington, D.C.; National Museum of Modern Art, Kyoto, Japan; Philadelphia Museum of Art; Stedelijk Museum, Amsterdam; Victoria and Albert Museum, London; Whitney Museum of American Art, New York, and World Ceramic Center, Incheon, Korea. Woodman lived and worked in Boulder, Colorado; Antella, Italy; and New York.

____

David Kordansky Gallery is pleased to present From Leaves to Shields, an exhibition of new work by Guan Xiao. The exhibition will be on view in Los Angeles at 5130 W. Edgewood Pl. from May 13 through June 16, 2023. An opening reception will be held on Friday, May 12 from 6 to 8 PM.

Guan Xiao's work traces the lineages and connections between disparate imagery and iconography sourced from the digital realm. The works on view imbue the flattening effect of the smartphone screen and generate cohesive textures from contrasting, and even conflicting, worlds to fuse old and modern, digital and analog, and natural and artificial modes. By juxtaposing discordant images and materials, the artist reconsiders the technological thrust of the present moment and the capacity for physical objects to store memory.

In From Leaves to Shields, Guan Xiao creates a new installation, paintings, and floor-based sculptures that explore design, technology, and our fractured relationship with the natural environment. Episodic poetry and visual references throughout the exhibition hone in on a more mnemonic approach to these themes. The works on view incorporate familiar motifs such as an apple emoji, plant life, and the color green—commonly associated with nature and environmentalism—and mimic figurative forms in their presentation.

In the central triptych, the artist further explores the natural environment and the human influence in the manipulation of natural resources—both for creative purposes and for more industrial uses, like the design of combat weaponry. The first of the three canvases is reminiscent of a paint palette, a recurring form in the artist's practice, which likens the maker's hand to the manufacturing engine in production. A plant stem with visible nodes prominently extends out across the two adjacent rectangular canvases. Plants are a critical icon in Guan Xiao's presentation, both in their self-protective quality, similar to a shield, and in their ability to store information on a cellular level, which strengthens their relationship to the internet's capacity to endlessly store data. The artist abstracts found images of foliage to find a more haptic sensibility in the composition, pulling the viewer closer to—as if touching—the textures and patterns organically constructed from the collaged elements. The rippled pixelation and contrasting qualities in light and color showcase the influence of—and Guan Xiao's engagement with—Impressionist techniques combined with low-res images sourced online.

Throughout the show, bronze-cast sculptures of tree roots—an ongoing typology in the artist's larger project—populate the space. In these works, known as Root Sculptures, Guan Xiao rethinks the value of traditional objects, making futuristic, anthropomorphic sculptures that stretch out over the floor and extend upwards with antenna-like additions, implying ideas of transmission or communication. The twisted and gnarled tree trunks are made using the ancient Chinese tradition of root carving, a process of sculpting and polishing tree roots into chairs, tea tables, and other functional design objects that have continued well into today. Guan Xiao has described her Root Sculptures as an ideal form: they are at once ready-made and naturally shaped by environmental conditions, causing the tree roots to curve in shape over long periods of growth. The tree itself creates lines and shapes in the negative space, embodying a figurative-like form in movement.

In the installation, "Apples are the favorite food of butterflies." she said. (2023), Guan Xiao combines several distinct objects to stage an independent environment within the exhibition. The figural sculptural object near the center of the installation continues the artist's interest in how sculpture can mirror aspects of the human body. The other elements in the work form a subtle connection between the placement of specific fruits and materials in classical still lifes and human interpretation through memory associations. Together, they pose the question: can memory move beyond subjective interpretation and, instead, live in the physical properties of an object?

Across From Leaves to Shields, texts accompany the works on view, providing an entry point into each object from the artist's perspective. While the narrative structure is not prescriptive, it functions as an alternative reading into the nuances of the material and narrative history of Guan Xiao's work. The exhibition showcases life as it exists in the contemporary world and offers a perspective that life—in its excavation and co-opting of natural materials—is never far from nature's influence.

Guan Xiao has been the subject of solo exhibitions at institutions worldwide including Bonner Kunstverein, Bonn, Germany (2019); Contemporary Art Museum St. Louis (2019); Kunsthalle Winterthur, Switzerland (2018); Jeu de Paume, Paris (2016); and Institute of Contemporary Arts, London (2016). Recent and notable group exhibitions include Post-Capital, Kunsthal Charlottenborg, Copenhagen (2022); Though It's Dark, Still I Sing, 34th Bienal de São Paulo, Brazil (2021); Viva Arte Viva, 57th Venice Biennale, Venice, Italy (2017); La vie moderne, 13th Lyon Biennale of Contemporary Art, Lyon, France (2015); and Surround Audience, 2015 New Museum Triennial, New York. Her work is in the permanent collections of institutions including the Museum Ludwig, Cologne, Germany; K11 Art Foundation, Hong Kong; Kunstmuseum St. Gallen, Switzerland; Long Museum, Shanghai; Grand Duke Jean Museum of Modern Art (MUDAM), Luxembourg; Boros Collection, Berlin; Fondazione Sandretto Re Rebaudengo, Torino, Italy; and Start Museum, Shanghai. Guan Xiao lives and works in Beijing.