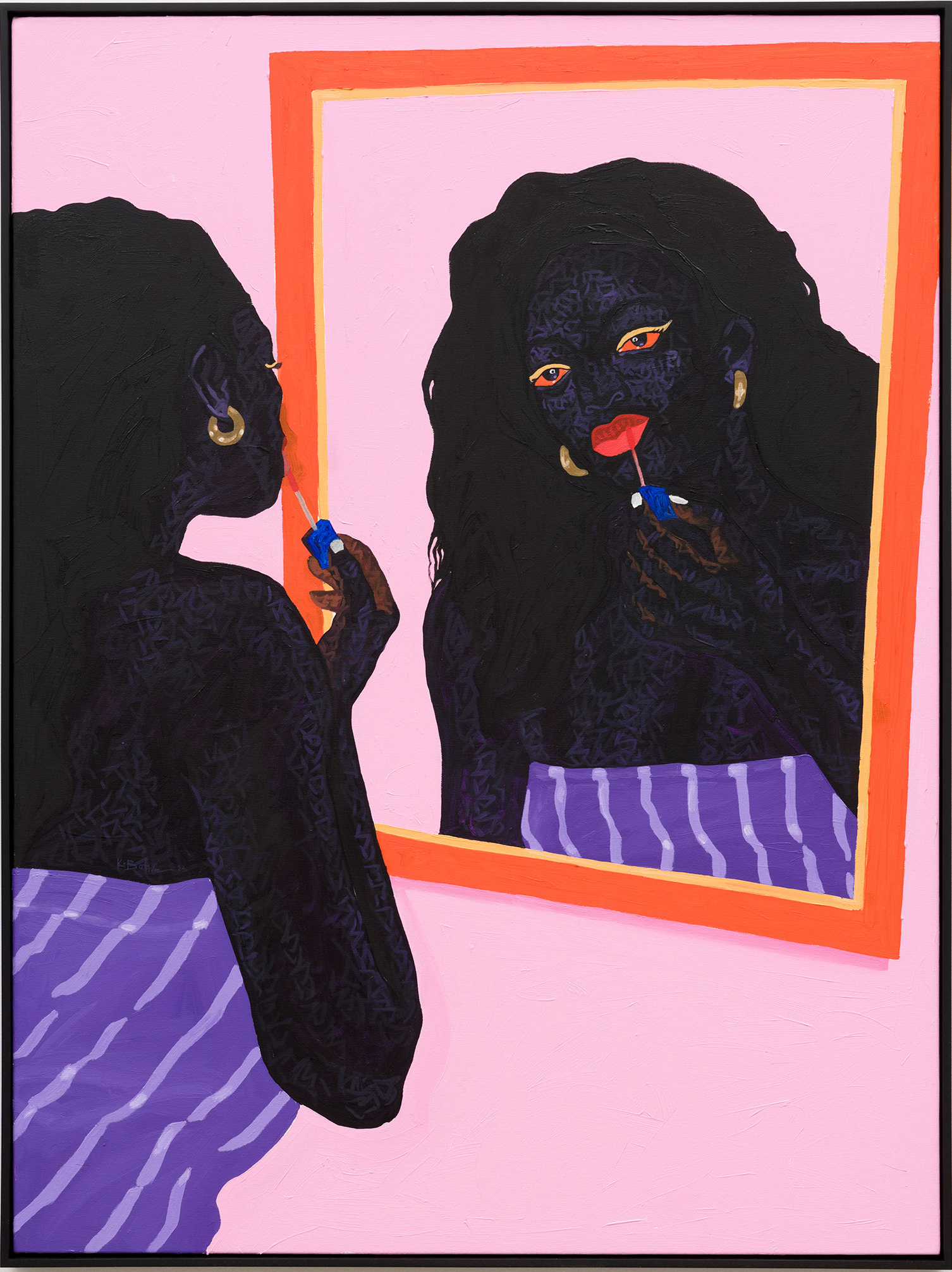 Kwesi Botchway: There's More Than What the Eye Witnesses | My Barbarian: Maskworkers
👀
1700 S Santa Fe Ave #101, Los Angeles, CA 90021
May 13, 4 PM - 6 PM — ends Jun 24, 2023
Vielmetter Los Angeles is pleased to announce our first solo exhibition by Ghanaian painter Kwesi Botchway, "There's More Than What the Eye Witnesses." On view from May 13 through June 24, 2023, the solo exhibition marks the artist's first in the United States.
"It is a Black gaze that shifts the optics of 'looking at' to a politics of 'looking with, through, and alongside another."
– Tina Campt, "A Black Gaze: Artist Changing How We See"
Kwesi Botchway's solo exhibition "There's More Than What the Eye Witnesses" is an exploration of a Black gaze. His first presentation with Vielmetter Los Angeles, the exhibition consists of eighteen oil and acrylic paintings and an installation of orange wooden framed mirrors sourced from Accra, Ghana. In Botchway's compositions, the act of seeing becomes a material, geographic, and refracted meditation wherein both figure and audience are bound and a series of echoes, nearing infinity, create a serializing effect of vantage. Each work centers on a domestic scene and a figure, (or figures), whose back frames the canvas and whom we, the audience, encounter as they look into a mirror. This relationship between plane and proximity, audience and figure, and the matter of sight permeates the works on view in the exhibition.
Of particular interest are Botchway's figures themselves and the notion of what Tina Campt names as "a Black gaze….a mode of spectatorial mediation that demands particularly active modes of watching, listening, and witnessing". Botchway's figures are painted with his signature use of deep black undertones and winding purple brushstrokes which rest atop the skin akin to tattoos, and poppy sclera, appearing in various states of dress, attending to the pleasure of looking upon oneself. In "The Night Is Young, Can't Take My Eyes Off Myself", "Obsessed With Yellow Gold", and "Self Gaze 1", pleasure is imbued in a pursed smile and crinkle contractions at the edge of eyes and raised curves in the corners of mouths. Figures are adorned with cascading scarlet hair and shimmering gowns; gold teeth and gold watches residing in rooms with vanities skewed with makeup and the ubiquitous, orange-painted wood framed mirrors from markets in Ghana.
Botchway's scenes are still glimpses into a kinetic moment, confirmation of presence before the instant shifts—to dressing, leaving, laughing, etc.—again. What Botchway's refracted portraits capture and what his figures attend to is the potential within a Black gaze. A looking that affirms Black being and presence in excess of dominance, a gaze that resides in the multiplicity and complexity of Black life, a gaze that asserts possibility. Botchway's figures do not merely look back onto the viewer or take an oppositional glance; rather, their domestic scenes and their eyes are positioned via an internal process in which the viewer is acknowledged through the direct gaze framed by a mirror. The structure of each portrait shows the mirror askew or in partial view allowing the canvas to hold a glimpse of an otherwise larger scene and thus a perceived peak rather than an objectifying presentation of someone's world.
In the paintings "We Are In This Together" and "A Fine Night In A Blue Room", the figure's stare and scene composition hold the prospect of the viewer as an agent in seeing, shifting the notion of the Black subject as an object instead of asserting that these Black people see you too. The engagement here is a haptic one where touch and sensation are imbued in each work and by the particulars of the viewing audience, creating a productive tension—within seeing.
Also on view in the exhibition are mirror-based installations; the same mirrors referenced throughout the paintings. Omnipresent in West Africa but particularly drawn from Botchway's home country, Ghana, they are presented here as the tactile touchpoint. The stretching of dimensions (Botchway takes us from 2D to 3D) and a rooting—through material, color, and sourcing (Botchway made a trip back to Accra to source these mirrors) —within the Black diasporic site.
The works included in "There's More Than What the Eye Witnesses" act as a site for active witnessing—an engagement between figure and viewer as a strategy to hold a critical fabulation of Black life.
Text by Essence Harden, curator and writer based in Los Angeles
Kwesi Botchway was born in 1994, in Accra, Ghana — where he continues to live and work. He is the founder of WorldFaze in Accra, a studio and residency space that focuses on supporting young local artists. Kwesi studied art at the Ghanatta College of Art and Design in Accra before enrolling at the Academy of Visual Arts in Frankfurt, Germany. Botchway was nominated for the GUBA Awards USA as an Influential Artist in 2019, and has been featured in the NY Times, Financial Times, Flash Art, The Art Newspaper, ArtNews, and Frieze. His paintings are included in such public collections as the Institute of Contemporary Art, Miami, the Vanhaerents Foundation, Belgium, the High Fashion Foundation, New York, the Israel Museum, Tel Aviv, and the National Gallery of Victoria, Melbourne. A full-color catalog including a conversation between Kwesi Botchway, and curator Larry Ossei-Mensah will be published on the occasion of the exhibition.
____
Vielmetter Los Angeles is excited to announce our second solo exhibition with the artist collective, My Barbarian. Working together across live performance, performance for the camera, and object making, Malik Gaines, Jade Gordon, and Alexandro Segade have been working collaboratively for more than twenty years. Using strategies pulled from global and historical avant-garde theater as well as institutional critique and conceptual art, the trio makes work that explores the affective realities, ingrained mythologies, and imagined pasts and futures of capitalism.
In an era of face filters on social media and "personal protective equipment," who among us is not, at this time, a maskworker? Drawing from radical, queer, feminist and of-color performance lineages, critically adapting classical forms such as Commedia Dell'Arte and Noh, and playfully mixing in references to Sci-Fi and Horror movies, My Barbarian has worked with masks throughout their long collaboration. In Maskworkers, My Barbarian presents new porcelain masks, cut paper collages, and body-scale standelabra sculptures and video projections. These performing objects are inspired by alter egos drawn from the fictive worlds in My Barbarian's performance repertoire.
Masks become uncanny synecdoches when removed from their context on the body and mounted to the wall of the gallery. The body that should animate the mask is absent while the character that the mask creates is clearly present. Relics that connect theater and ritual, masks transform the wearer into a character, spirit, personification, revealing this imagined other as they obscure the face, identity, self. Maskwork refers to the techniques of the body that animate the mask through performance.
The presence and absence of the performing body is toyed with throughout the exhibition from the porcelain masks, to the sculptural standelabras that stand in for entire previous performance works as well as the bodies of the performers, to a large-scale projection of the trio demonstrating movements related to masked performance and documentation of Broke People's Baroque Peoples' Theater. Elegant, colorful cut paper collages depict the fables, mythologies, and rituals related to the other objects in the exhibition. Inspired in part by surrealist drawing games, and artists such as Leonora Carrington, Nicki de Sainte-Phalle, and Nicolas Moufarrege, these collaborative artworks are made by Jade Gordon, who creates free-form abstract watercolors, and Alexandro Segade, whose drawings provide templates for the watercolors to be cut into and painstakingly re-assembled, resulting in a collaborative collage.
Founded in 2000, My Barbarian is an artist collective whose practice brings social issues and their representations in mass media and historical texts into theatrical interpretation via performance, video, music, and interdisciplinary venues. Most recently, a twenty-year survey of their collaborative work was presented at the Whitney Museum of American Art and the ICALA. They have been included in Performance Biennials such as the Whitney Biennial, two California Biennials, the Montreal Biennial, and the Baltic Triennial. Their work has been presented at Los Angeles County Museum of Art, Los Angeles; Hammer Museum, Los Angeles; ICA Museum, Los Angeles; San Francisco Museum of Modern Art, San Francisco; Museum of Modern Art, New York; The Studio Museum in Harlem, New York; The Kitchen, New York; The New Museum, New York, internationally at Museo El Eco, Mexico City; De Appel, Amsterdam; Townhouse Gallery, Cairo; The Power Plant, Toronto; El Matadero, Madrid, and many more. Their work is in the public collections of the Los Angeles County Museum of Art and the Princeton University Art Museum. Following their exhibition at Vielmetter, My Barbarian will present new work at the Nottingham Contemporary and the Whitney Museum in 2023 and 2024 respectively.
The gallery is located at 1700 S Santa Fe Avenue, south of the 10 freeway. Parking is available on the south parking lot adjacent to the building. Gallery hours are Tuesday through Saturday from 10 am to 6 pm and by appointment. For further information and press inquiries, please contact Olivia Gauthier at
Olivia@vielmetter.com
.