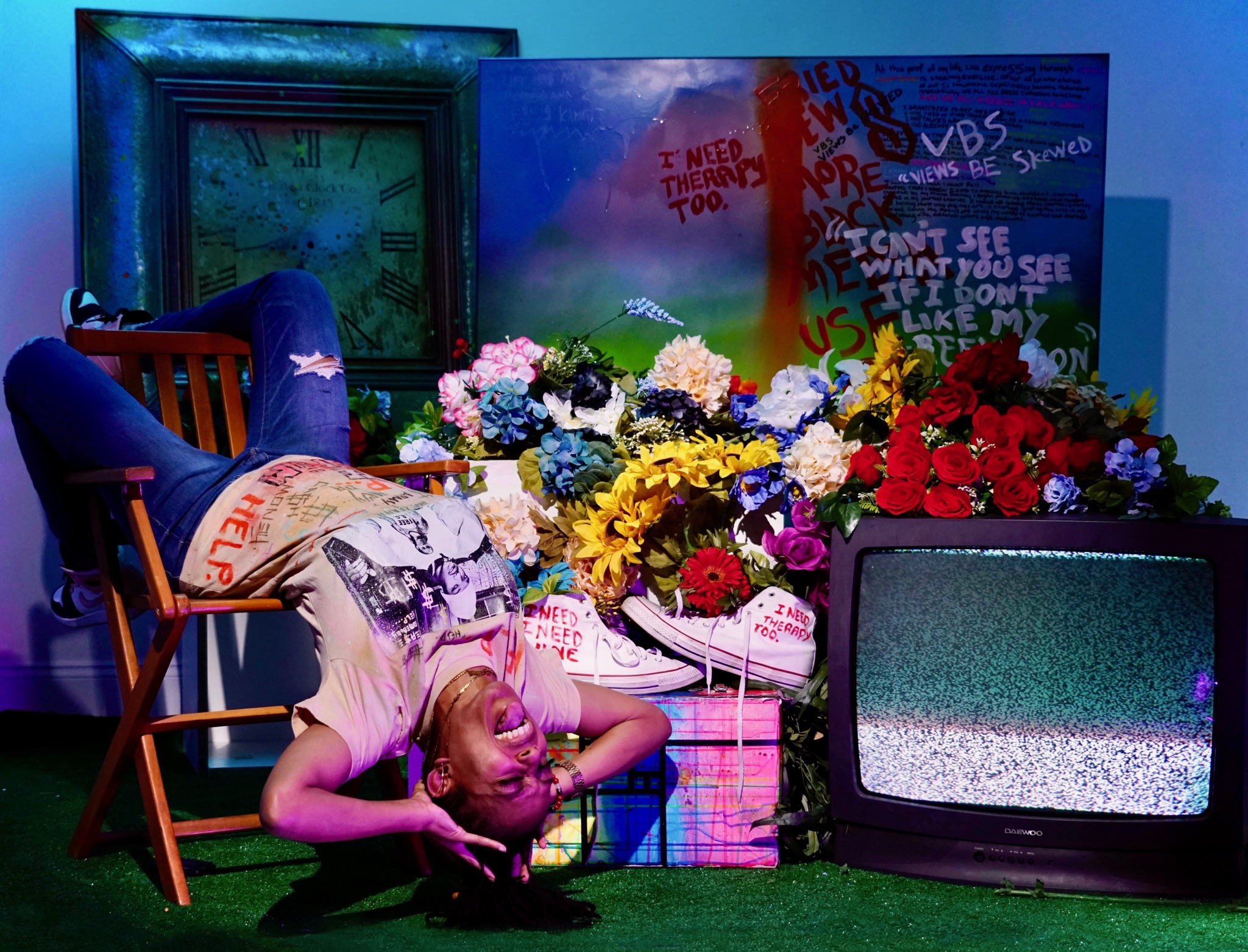 Malcolm "So EZ" Edwards: I Need Therapy Too
1117 E 7th Street Unit 2 Los Angeles, CA 90021
May 20, 6 PM - 10 PM — ends Jun 03, 2023
DMST Atelier is so pleased to present "I Need Therapy Too," a solo exhibition by artist, Malcolm "So EZ" Edwards
Artist Statement:
Part I
Pain is beauty. 
Paint is healing. 
When my therapist and cousin passed, I painted at home for days, using mediums to express emotions I never felt. 
My therapist balanced my emotion, and was gone. 
Journaling served as an escape but writing between the lines wasn't healing anymore. I journaled on clothes, televisions etc., using different mediums to reach emotional depths. 
I accent pieces with orange colors to turn the volume up: scream without screaming. Blue calms me and keeps balance internally. Green represents, nature, life, and good spirits. Yellow balances my art, providing optimism and faith. 
I will add more yellow to my future works and life. 
Part II
I attempted watching tv for entertainment. I wrote "I stopped watching tv cuz the stuff in my head more interesting" in the middle of my bedroom tv screen. I genuinely felt like that.  
News and media outlets depiction of black people is disgusting. Constant psychological and mental trauma through media is genocide. 
Add social media we all fried. 
I used televisions as journals to express.
I hope I inspire people to use different colors and mediums to express themselves for less anxiety and more freedom. 
I need therapy too. 
Please contact us
at Dmstatelier@gmail.com if
you have any questions or concerns regarding the exhibition.
DmstAtelier.com
IG: @DmstAtelier
IG: @iamsoez