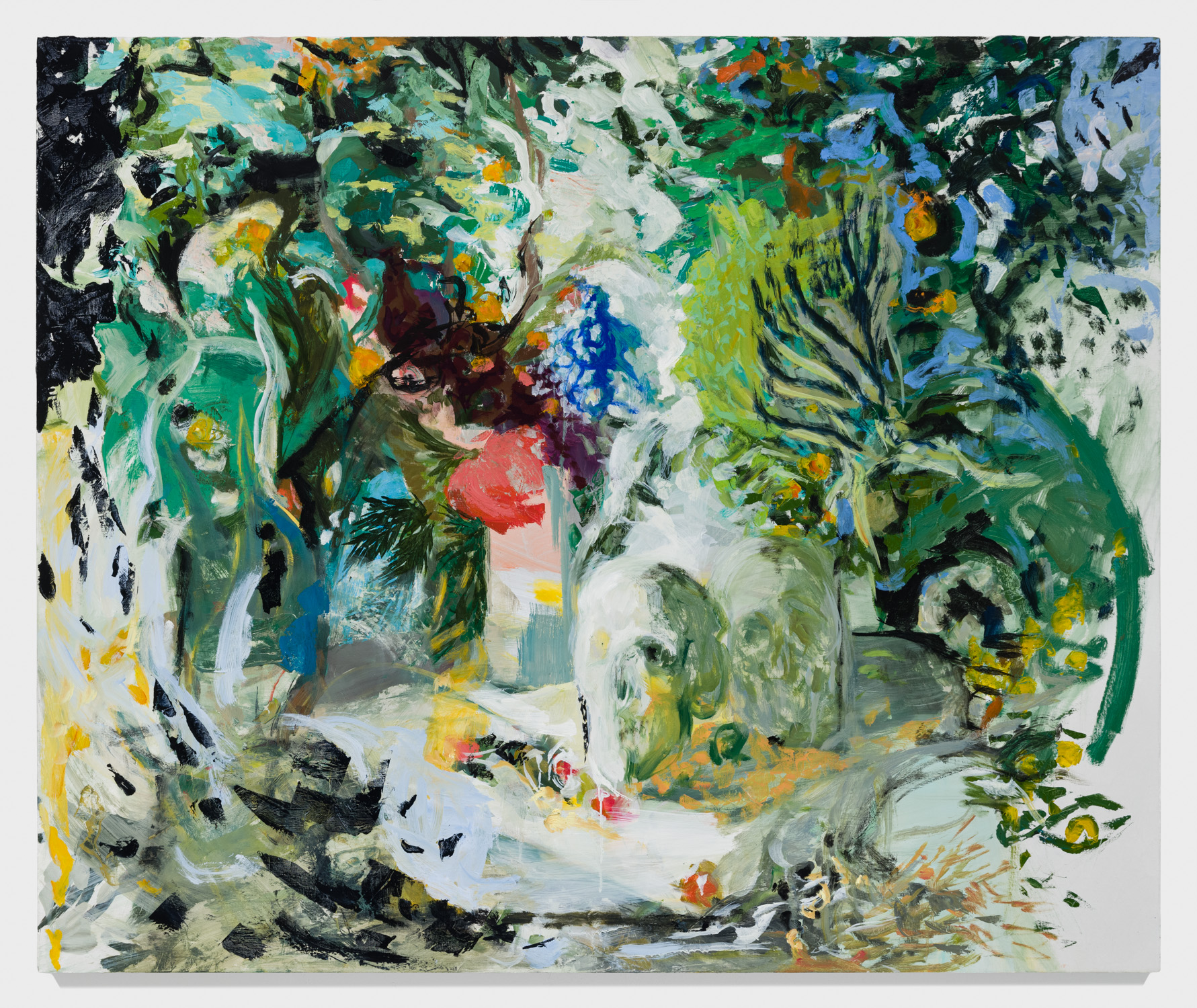 Lumin Wakoa: Greenhouse | Alex Foxton: Trade
812 North Highland Avenue Los Angeles, CA 90038
May 13, 6 PM - 8 PM — ends Jun 24, 2023
Various Small Fires is pleased to introduce Brooklyn-based artist Lumin Wakoa in her first solo presentation with the gallery. Greenhouse unveils a collection of eight new paintings, following her participation in Frieze Los Angeles' Online Viewing Room at VSF LA in February 2023.

In Greenhouse, the artist debuts a body of works that shift away from en plein air painting to examine the practice of world-making within her studio. Lumin brings the natural world indoors, as her still life paintings present multicolored abstracted reflections of the foliage-heavy walls within her microclimate. From inside her greenhouse and studio, Lumin's canvases emerge as painterly and temporal documentation of life within the warm zone. Saturated shades of violet and blue in Ten day bouquet and Night studio with blooming Cherry catch the eye and manifest complimentary to the yellow fluorescent lights used to sustain plant life and illuminate her workspace.

Oscillating between figuration and abstraction, her paintings almost always involve death and evolve from disaster. By creating problems with seemingly unsolvable solutions, Lumin uses her canvas as a space of negotiation between the rational and intuitive mind. In Overgrowth, warm, red gradients almost entirely encapsulate the central figure, daring the viewer to seek out the subliminal elements hidden amongst the dense pink patches of paint. Destruction paves the way for rebirth, as her paintbrush becomes a chisel, carving away to reveal the carefully articulated composition, once obscured beneath rich, layered shades of oil.

Reminiscent of vanitas or memento mori, the skulls, skeletons, dried flowers, and living plants depicted in Lumin's Greenhouse paintings trigger curiosity and impart a somber reflection on the transience of human life in the wake of environmental disaster. In February's light plants become symbols of life, as her energetic brushstrokes and vivid color palette serve as reminders that beyond chaos, destruction, and abstraction – new life may reemerge.

____

Various Small Fires is honored to present the debut West Coast solo exhibition of Paris-based artist Alex Foxton. Trade features new paintings and works on paper that draw the English-born artist's investigation of cultural symbolism and masculinity into a more intimate, personal realm.

In Trade, Foxton follows his interest in archetypal templates to mine the personal. His paintings depict his boyfriend, marking the first time the artist has portrayed his loved ones in a body of work. In Seán as Soldier, his partner dons military garb, referencing their careers in fashion as well as London's gay history of palace guards, sailors, and soldiers as call boys, known as trade; or straight-identifying men who casually partner with gay men. Queer history and the artist's own life fold into one on the canvas, allowing Foxton to suspend a layer of theatricality in these otherwise deeply personal paintings.

Foxton offers another mode of intimacy through a clear emphasis on drawing. "Drawing is where you really see somebody's character," states the artist, expressing an affinity for traces of past marks that can be found in a drawing. In addition to numerous charcoal works on paper pinned into the gallery walls, large-scale canvases highlight Foxton's adept linework. The blaring red lasers of an underground nightclub in London's Soho District inspire his figures outlined in a glowing cadmium red. Richly layered backgrounds of viridian green and Prussian blue partially obscure previously drawn elements, subtly revealing Foxton's hand with close inspection. The vivid compositions offer a slap to the face of what Foxton refers to as "violent tenderness."

The artist uses archetypes to explore their wider relevance to society and cultural influence. The work in Trade, however, offers Foxton the opportunity to reflect on their impact on his private relationships and, ultimately, how they inform his own self-vision and practice.