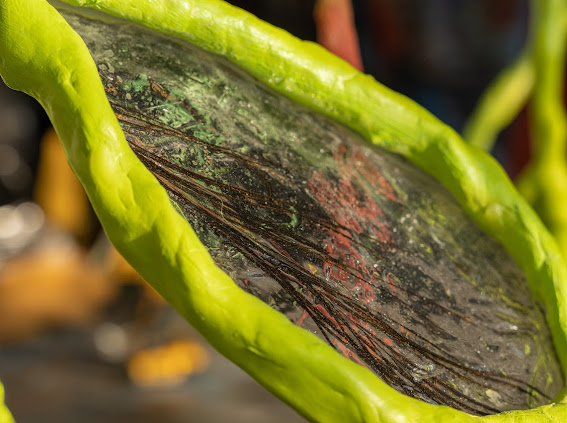 Kim Garcia: Smoking in the Garden
1718 Albion Street Los Angeles, CA 90031
May 13, 6 PM - 9 PM — ends Jun 10, 2023
Phase Gallery is pleased to present a new body of work by Los Angeles-based artist Kim Garcia.

Smoking in the Garden explores folklore from stories passed down through Kim's mother, investigating how an oral narrative can transform trauma into power. These works express how her body and lived experiences digest intimacy while employing memory, in all of its slipperiness, to explore interpersonal power dynamics. Using the trace of history as a key element in her work, Kim's material practice combines sculpture, drawing, and painting to investigate residual tensions built up to the present. This latest body of work is a form of sincere and sentimental inscription, describing the love entwined in a mother-daughter relationship and the postcolonial identity in all its cryptic layers.

Kim Garcia (b. 1989. San Diego, CA) is an artist working in sculpture, drawing, and painting. Kim comes from a background in creating collaborative community projects that often employ alternative spaces to explore art practices, site-specific collaboration, and museum and exhibition research. She founded The Cold Read, an online critique group and artist collective that engages gestures of care and support through writing. And is one of the co-founders of after hours gallery, an art gallery in Los Angeles that hosts seasonal two-person exhibitions. She has most recently shown her work at Phase Gallery, Peripheral Space, DXIX Projects, Human Resources, DAC Gallery, Torrance Art Museum, CICA Museum (Korea), and Museum of Contemporary Art San Diego. Kim is based in Los Angeles and received her BA from UC San Diego and her MFA from UC Irvine.