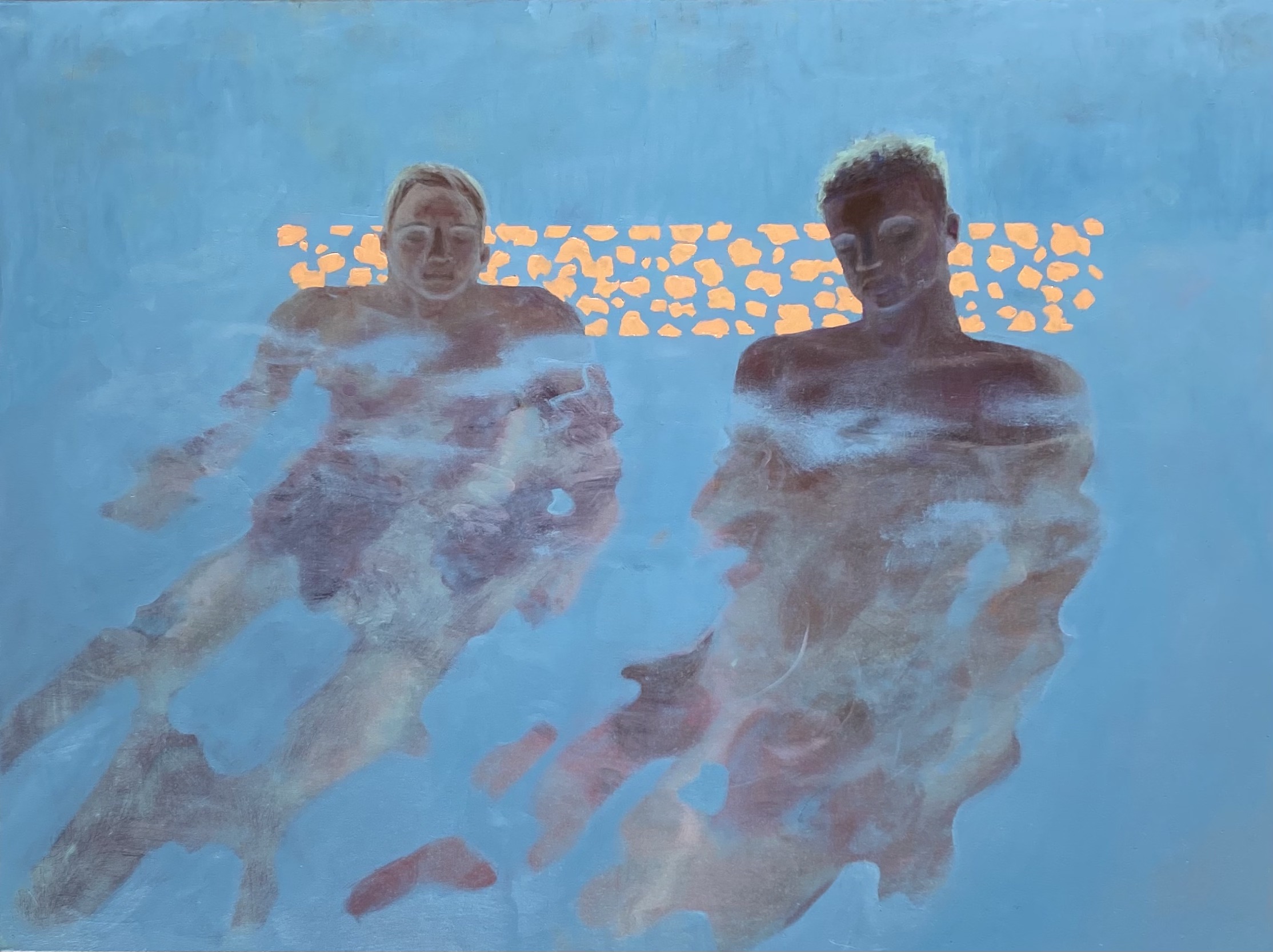 Abbey Golden: Golden Age of Fluidity
5225 Hollywood Boulevard Los Angeles CA 90027
Jun 15, 5 PM - 8 PM — ends Jul 29, 2023
LOS ANGELES - Lauren Powell Projects is thrilled to present Golden Age of Fluidity, a body of work from Abbey Golden three years in the making.
Golden Age of Fluidity invites viewers to join figurative artist Abbey Golden on a journey into her lived experience. Told through the lens of 20 oil paintings, the series highlights the liminal space that water creates and its constant movement and reinvention. Touching on topics precious to Abbey - the complexity of femininity, unrequited love, sexuality, self control - the narrative plays host to delicately rendered figures caught in the ripple, unsure of anything except this moment.
In Golden's own words:
Coming of age in suburbia during early aughts felt like a sexually repressive time. Between the lack of representation and rampant gossip there was so much shame and guilt around anything other than the norm. Sexuality and identity were binary, and anything astray would lead to a terrifying and lonely otherness. In this context, the backyard pool represented wealth and hushed late night rendezvous; the trying on of different skins and identities. Natural bodies of water were often gathering grounds magnetically pulling everyone together, yet the moment you dive into the deep end…total isolation.
The main gallery floor has been hand-painted by Golden, tying together the bold simplicity and heightened colors of the canvases, the snapshots frozen in time. Viewers are encouraged to invite their dreams, memories and fantasies into the showroom, to dive in and visualize what could and may be.
The show runs June 15 through July 29th 2023 and is open Friday & Saturday, noon-6pm, or by appointment.
Abbey Golden is (B. NY, 1986) is an LA based artist that blends classical technique with contemporary cool. Golden constructs fantastical environments through opaque grounds and translucent washes, creating patterns of time and space. Her distinct palette is characterized by sun-drenched pastels and unexpected color combinations. Golden often pulls inspiration from her Jewish heritage, queer identity and the ephemerality of nature. Her work is inherently influenced by colorist predecessors Felix Vallotton, Alex Katz, David Hockney, Peter Doig and Dana Schutz. She is certified in safe studio practices and works exclusively in solvent-free, eco-friendly methods.
For more information, press, or inquiries, please contact
lauren@laurenpowellprojects.com
Gallery Hours: Friday & Saturday, noon-6pm and by appointment. Email
lauren@laurenpowellproject.com
to schedule a private viewing.
@laurenpowellprojects
www.laurenpowellprojects.com/exhibitions/2023/goldenageoffluidity