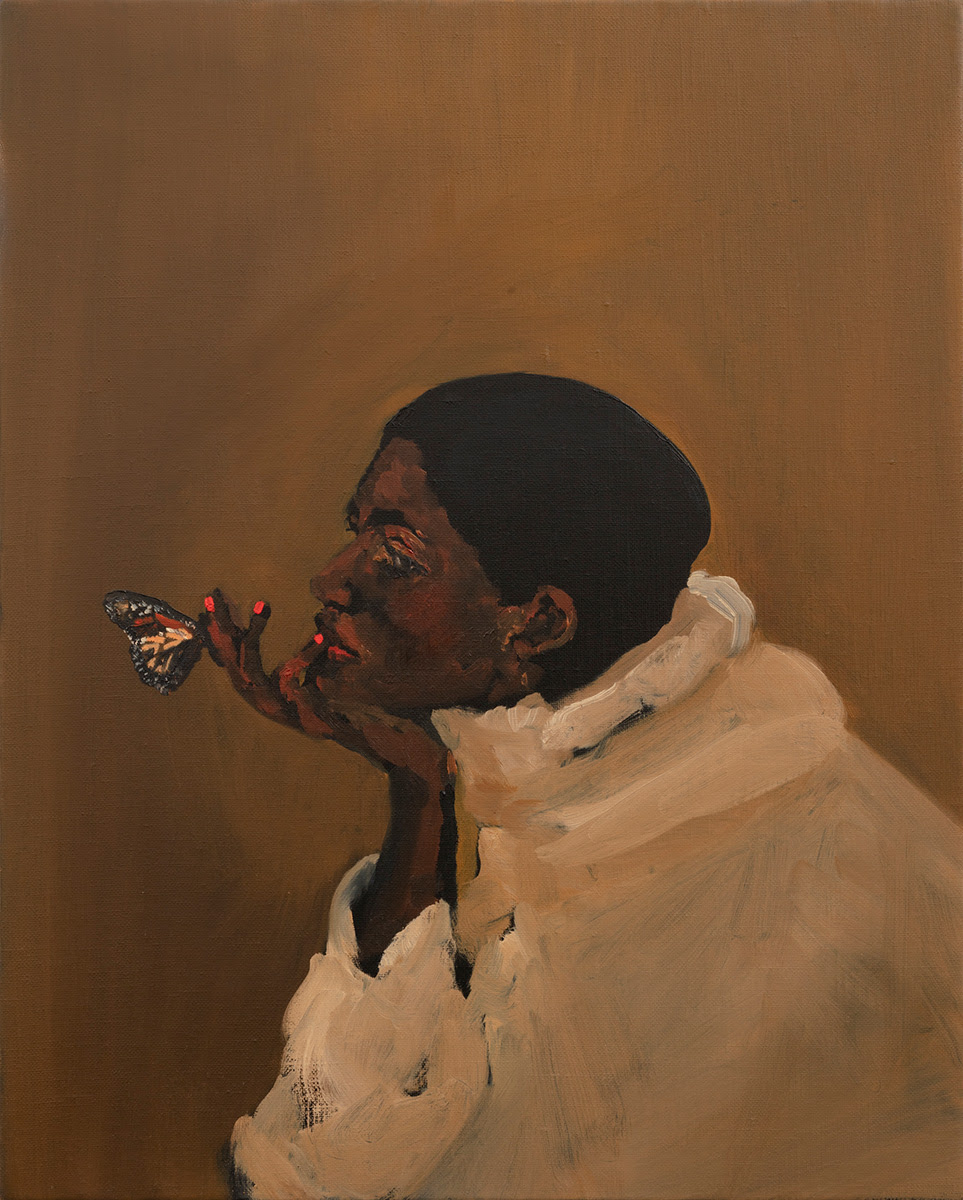 Danielle McKinney: Metamorphic | Brie Ruais: Daughter, You Seem Foreign to Me | Elaine Stocki: Wild Braid | Chris Curreri: One Eye Open
2276 East 16th Street, Los Angeles, CA 90021
May 20, 5 PM - 8 PM — ends Jun 24, 2023
Night Gallery is thrilled to present Metamorphic, a solo exhibition of new paintings by Danielle Mckinney, marking the artist's second exhibition with Night Gallery.

To be human is to be metamorphic. Danielle Mckinney imagines well-worn spaces and familiar nooks as incubators for transformation, places that allow the self to unfold, morph, and multiply, where identity can flourish with boundless possibility. Like a series of intimate vignettes, Mckinney's oil paintings peer into psychic spaces that nurture self-metamorphic processes.

A monarch butterfly crawls along the elegant crest of a woman's finger, resting in the blind spot of her contemplative gaze. Monarchs can be found throughout the artist's practice and operate as symbols of changeability, signifying the emerging transformations that rustle quietly in one's mind, fluttering just beneath the surface of perception. Other non-human species, such as birds and insects, assume various personal and conceptual significations, appearing in Mckinney's paintings like mysterious apparitions or ancient spirits—ancestral visitors communicating sacred knowledge on how to render yourself to cyclical rhythms of metamorphosis.

Mckinney's cropped compositions offer glimpses into intimate spaces where solitary women are represented in various states of repose and consciousness. Interiority is considered twofold, conveyed as spacial and psychological concepts that inform one another. While these women are depicted alone, they appear far from lonely. Self-possessed and contented, the women in Mckinney's paintings are presented in states of deep contemplation—their limbs rest languidly between pillows, tucked in the corner of a hunter-green sofa, nestled in the cowl of a turtleneck sweater—bare and veiled, their semi-naked bodies oscillate between states of emergence and submergence, vulnerability and protection. There is power in their stillness, evoking an internal vitality that is unseen but deeply felt, vibrational energy garnered in states of dormancy and hibernation, silently churning in their dreaming and wakeful minds.

Metamorphic marks the artist's first presentation of paintings rendered in oil. The non-drying behavior of oil paint requires patience, sensitivity, and finesse. Mckinney's shift from acrylic to oil serves as a poetic metaphor for transformation, exemplifying a kind of chemical metamorphosis that occurs as the oil pigments collide and transform one another. The painting's velvety depths of color are achieved by starting with a layer of black underpainting, which Mckinney builds upon, pulling figures out of the darkness, appearing as though they have always been there, dwelling just beneath the surface of the canvas. Referencing existing photographs, some found and some taken by the artist herself, Mckinney's application of photographic techniques results in paintings that feel simultaneously poetic and particular, compositional and improvisational.

Stories of metamorphosis are not always spectacular dramas exclusive to fairytales and folklore, but rather, Mckinney illuminates transformations that occur in the ordinary and mundane, in silence and shadows. She reveals how change is activated in seemingly sedentary states where our innermost selves dwell, where souls percolate with all possible permutations of identity. In turn, the artist presents ideas about self-development and growth that dislodge modern perceptions of progress and change, calling for moments of stagnation and deceleration—slowing down in order to turn inward. By embracing the inevitability of change, Mckinney's metamorphic imaginings challenge Western notions of progress and knowledge and find meaning in the unknown and unknowable, in undiscovered selves, in the yet-to-emerge.

— Lauren Guilford



Danielle Mckinney (b. 1981, Montgomery, AL) received her MFA in Photography from Parsons School of Design, New York, NY, and her BFA from Atlanta College of Art, Atlanta, GA. She has presented solo exhibitions at Fortnight Institute, New York, NY; Marianne Boesky Gallery, New York, NY and Aspen, CO; and Night Gallery, Los Angeles, CA. She has participated in group shows at Asia Art Center, Taipei, Taiwan; David Zwirner, London, United Kingdom; FLAG Foundation, New York, NY; Goodman Gallery, Cape Town, South Africa; LGDR, New York, NY; the Modern Art Museum of Fort Worth, Fort Worth, TX; Scottsdale Museum of Art, Scottsdale, AZ; and Zeitz MOCAA, Cape Town, South Africa, among others. Mckinney's work has been written about in publications including Artnet News, Elephant, Financial Times, Juxtapoz, Mousse Magazine, W Magazine, and Vogue. Her work belongs in the permanent collections of Buffalo AKG Art Museum, Buffalo, NY; Dallas Museum of Art, Dallas, TX; Hirshhorn Museum and Sculpture Garden, Washington, D.C.; The Israel Museum, Jerusalem, Israel; the Pérez Art Museum, Miami, FL; Speed Art Museum, Louisville, KY; and The Studio Museum in Harlem, New York, NY, among others. Mckinney lives and works in Jersey City, NJ.

____

Night Gallery is pleased to present Daughter, You Seem Foreign to Me, an exhibition of new ceramic sculptures and ephemeral, site-specific work by Brie Ruais. This is the artist's third solo exhibition at Night Gallery.

01 — In the video accompanying Daughter, You Seem Foreign to Me, Brie Ruais approaches a 130 lb. pile of clay (the equivalent of her weight). She kneels and spreads the clay out with her palms in one long fluid movement, then shifts her shoulders and continues. Each push creates rough ridges on either side of Brie's hands, the varying pressure of her arms affects the depth of her lines, when she pauses to breathe, even the pads of her fingers leave prints on the surface.

02 — Before firing, Brie tears the shape she's created into fragments.

"The clay needs to be separated. It naturally wants to crack, and breaking the clay into smaller pieces enables me to move the work around on my own."

Brie references Agnes Martin's shift from six foot canvases to smaller works as she aged, how the scale of an artist's work often reflects the changing limits of her body.

03 — After firing, Brie reassembles the shape but leaves space between each fragment. My eyes linger on these spaces.

What does it mean for something to be broken and still whole? Or whole because it has been broken?

04 — Someone recently asked Brie what happens to the water in the clay when she fires the fragments. A literal answer is water evaporates, its loss can be measured. A less literal answer is perhaps transformation requires a type of loss that is difficult to locate.

05 — Daughter, You Seem Foreign to Me comes from an exchange between Brie and her mother, who suffers from dementia. Brie was rubbing her mom's back as she lay down for a nap.

"My mother said, 'You seem so foreign to me' ... and it broke my heart, but I knew exactly what she meant. I told her, 'You seem foreign to me, too' ... and she said, 'I can imagine that.'"

Brie's mother knows their relationship is different than it used to be but doesn't know exactly what has changed.

06 — Many of the titles in the show come from phases of the moon: Waxing Crescent, New Moon, Full Moon. I think of how, during the night, people look directly into the face of moon but can't feel the warmth on their skin.

07 — In the first room, two sculptures hang beside each other, Counting Down (Father Time) and Counting Down (Time is a Mother). Both are circular forms. The outer section of Father is large and dark, Mother is small and light. However, the inner section of each sculpture borrows from the other—Father has a light center, Mother a dark one.

Looking at the two in such close proximity, I think of how we sometimes keep time by noticing changes in another body, by centering ourselves in each other.

Tenuously.

— Caitlin Lorraine Johnson



Brie Ruais (b. 1982, Southern California) earned her MFA from Columbia University, New York, NY. She has exhibited her work at institutions including Craft Contemporary, Los Angeles, CA; Dallas Museum of Art, Dallas, TX; Everson Museum of Art, Syracuse, NY; Hayward Gallery, London, United Kingdom; Kunstraum Potsdam, Berlin, Germany; Musée d'art de Joliette, Joliette, Québec, Canada; and Museum of Fine Arts Boston, Boston, MA. She has had solo exhibitions at Albertz Benda Gallery, New York, NY; Cooper Cole, Toronto, ON; Moody Center for the Arts, Rice University, Houston, TX; Nicole Klagsbrun, New York, NY; and Night Gallery, Los Angeles, CA, and among others. Ruais's work is in the permanent collections of Burger COLLECTION, Hong Kong; Dallas Museum of Art, Dallas, TX; and the Pennsylvania Academy of Fine Arts, Philadelphia, PA, among others. Past awards and residencies include the Montello Foundation Residency, the Pollock-Krasner Foundation Grant, Sharpe Walentas Studio Program, and The Virginia A. Groot Foundation Grant. The artist's work has been written about in publications including Artforum.com, The New Yorker, and The New York Times. Ruais lives and works in Santa Fe, NM.

____

Night Gallery is pleased to present Wild Braid, an exhibition of new paintings by Elaine Stocki. This is the artist's second solo exhibition at Night Gallery.

Dear Elaine,

After lots of chaos these last few weeks, today I have finally had an afternoon to look and think and write down some of that. And I was thinking about Hoarfrost, and what an odd word it is, and then I found that you had previously used this title in a show of your photographic work.

Then I felt sort of dumb for not asking you about the arrival of "figuration" in your paintings in light of your work with hand tinting and painting in photography, as though what were really at work here was a kind of inversion of already deeply studied terrain rather than the surprise appearance of figures in your studiously non-figurative painting practice. Though perhaps the alternation of surprise and study rather than their opposition is a truer description of the lifeworld of your work.

I woke up this morning thinking about these strange figures alighting on the surfaces of what seemed to me to be otherwise rigorously process based, anti-illusionistic paintings. I suppose the butterfly metaphor stuck with me even though you kind of erased the butterflies from Rorschach, or they became drop shadows of themselves. And I was trying to square this - honestly, with part of our discussion that touched on the loss of your dog, whose name I may not even have had the presence of mind to ask (a shortcoming which I have recalled with a wave of regret several times since we met). We were talking about the deep knowingness of the eyes of our animal friends, and I was remembering that my neighbor's dog, Mikey, who has often stayed with us, had just that morning given me a surprisingly avowed love gaze, and that this corresponded with a profound emotional shock which I had just endured at the near loss of my father, a shock that was still reverberating as we sat in your studio, and I think we shared in that moment a sense of how the vulnerability of loss is also a kind of opening onto something in the deepest ways of our knowing. I think it was The Knowing Hare that triggered this sudden awareness that many of the figures in your paintings seemed to be looking back, or at least that eyes in some sense calibrated their presence despite the meticulously diagrammatic qualities of your compositions which propose to freeze them into emblematic order. I remembered Bachelard - by way of d'Annunzio - for whom the eye of the hare pausing in the morning frost to gaze out at the horizon became the emblem of his phenomenology of space, what he called intimate immensity, but if your work were to have its own phenomenology of space it would surely invert these terms. The hare would not be gazing at the sublimity of distance, but back in some sense at the viewer.

Does this get me finally to a question about Hoarfrost, or, importantly, Sweet Valley Hoarfrost, and I hope to the wilderness of your braid? I'm thinking of course of the autobiographical dimension of calling on the Sweet Valley mytheme, the anthropomorphisms of Hoarfrost despite the crystalline logic of its wonder work, and that peculiar resolution with which you have braided your way out of the stagnant inlets of what some people call "the discourse of painting."

— Edward Sterrett



Elaine Stocki (b. 1979, Winnipeg, Canada) holds degrees in both Chemistry and Fine Art from the University of Manitoba and an MFA from Yale University. She has exhibited at Art Gallery of Ontario (AGO), Toronto, Canada; Deutsche Guggenheim, Berlin, Germany; Nicelle Beauchene Gallery, New York, NY; the Philadelphia Museum of Art, Philadelphia, PA; and Thomas Erben Gallery, New York, NY, among others. Her work has been reviewed in Border Crossings Magazine, The New Yorker, The New York Times, and other publications. In 2019, Stocki's first monograph was published by SKIRA Paris on the occasion of a ten year survey of her work at the Canadian Cultural Centre, Paris, France. Her work is included in the permanent collections of the Los Angeles County Museum of Art (LACMA), Los Angeles, CA, and the Philadelphia Museum of Art, Philadelphia, PA. Stocki lives and works in Los Angeles, CA.

____

Night Gallery is proud to announce One Eye Open, an exhibition of photographs and sculpture by Chris Curreri. This is the artist's first solo show with the gallery and his debut exhibition in Los Angeles.

Working across mediums, Curreri often explores the roles the body plays as both a boundary and site of exchange between oneself and others—and the outside world in general. The vulnerability of the body is a recurring theme: its capacities to open and close itself off, to be penetrated by external elements and forces. In Curreri's work, embodiment is a paradoxical state of ongoing porosity and potential connection, raising broader questions about complicated power dynamics and experiences of attraction, submission, punishment, and pleasure.

The show's central sculpture, titled Christopher, is a human-scale figure resembling the artist—a sculptural self-portrait as an oversized hand puppet. Its form hangs limply on a vertical pole, unable to animate itself, as though awaiting the activation it can only receive through the insertion of another's hand. Suspended in this latent state, the puppet is also positioned to face the gallery wall, appearing ashamed or chastised in some way. Even its title—markedly more formal than the casual "Chris" generally preferred by the artist—carries the sting of a parent's verbal scolding. The figure's absence of liveliness and self-possession, however, somehow implies its opposite: the potential pleasure of being used for someone else's amusement.

The impaled puppet finds a visual rhyme in an accompanying suite of five photographs showing the frame of a bicycle being consumed by a tree trunk. Rather than penetrating the tree as the pole does the sculpture, here the situation is reversed: the bicycle has been rendered immobile by the arboreal growth surrounding it. Captured with a stark photographic flash, these black-and-white images convey an almost forensic sensibility, freezing individual moments within the tree's slow process of devouring the metallic frame. The quick, propulsive action of a camera flash is wryly mimicked in a sixth photograph, Bloom, which shows a large, just-popped orb of bubble gum covering the artist's face.

Green carpet installed throughout the gallery further heightens the sense of artifice and absence introduced by the puppet sculpture; just as Christopher functions as a stand-in for the artist, the green carpet becomes a proxy for grass and the natural world. Through such gestures, Curreri demonstrates that the relationships between supposed opposites—nature and artifice, pleasure and punishment, vulnerability and resilience—are more complex and fluid than they first appear. With one eye open, you are sleeping and not sleeping, seeing and not seeing—the body opened and closed at the same time.



Chris Curreri (b. 1978, Canada) received his MFA from Bard College, Annandale-on-Hudson, NY. He has presented solo or two-person shows at Agnes Etherington Art Centre, Kingston, Canada; Contemporary Calgary, Calgary, Canada; Daniel Faria Gallery, Berlin, Germany; The Esker Foundation, Calgary, Canada; Gordon Smith Gallery of Canadian Art, Vancouver, Canada; and University of Toronto Art Center, Toronto, Canada, among others. He has participated in group shows at venues including Agnes Etherington Art Centre, Kingston, Canada; Institute for Provocation, Beijing, China; Lítost, Prague, Czech Republic; and Württembergischer Kunstverein, Stuttgart, Germany. Curreri's work has been written about in publications including Art in America, Canadian Art, Frieze, Momus, and Toronto Star. His work belongs in the collections of Agnes Etherington Art Centre, Toronto, Canada; Musée d'art contemporain de Montréal, Montreal, Canada; and National Gallery of Canada, Ottawa, Canada, among others. Curreri lives and works in Toronto, Canada.