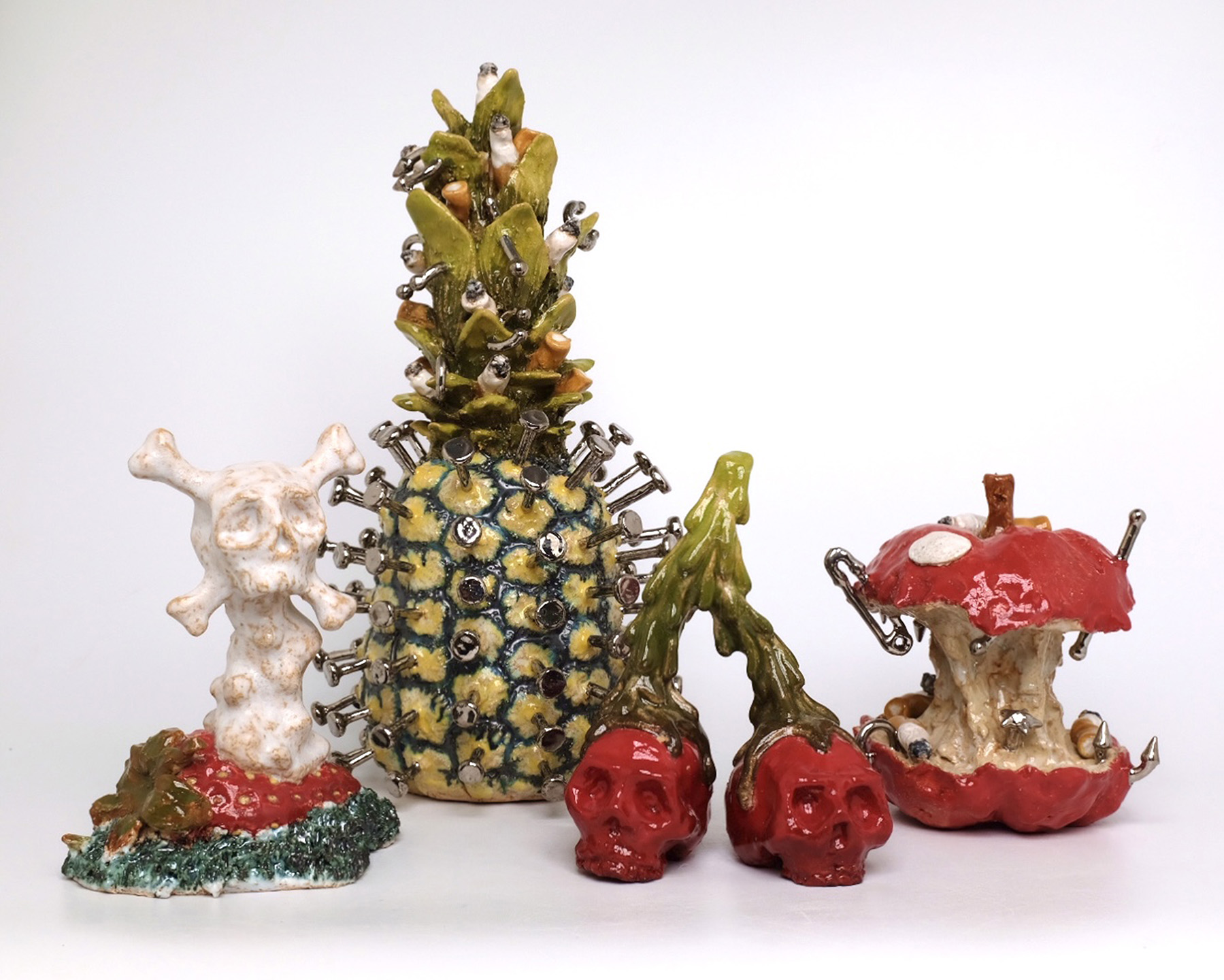 Lindsey Lou Howard | Wassef Boutros-Ghali
8260 Marmont Lane, Los Angeles CA 90069
Sep 13, 6 PM - 9 PM — ends Nov 04, 2023
From September 5 to November 4, 2023, Albertz Benda is pleased to present, In Good Taste, the first solo exhibition of New York-based artist Lindsey "Lou" Howard in Los Angeles, as part of the "Bathroom Series," curated by Angelik Vizcarrondo-Laboy. In this presentation, Howard acknowledges the space's conventional function as a domestic bathroom with over ten sculptures investigating the cultural history of the toilet and its relationship to food consumption and waste through a critical lens. The show's title plays off scatological humor's reputation as being "in bad taste." Fruits and vegetables lay scattered around the black-tiled room, half-eaten, squished, or molding, revealing ominous skulls symbolizing the metamorphosis of food. This body of work continues Howard's exploration into food capitalism and consumerism through subversive sculptures with a punk aesthetic that are as delectable as they are stomach-churning.

Pictured: Lindsey "Lou" Howard, Til Death Do Us Part, Hard Core (Pineapple), Cherry Bomb, and Hard Core (Apple), 2023. Stoneware, glaze, and luster. Courtesy of the artist

____. albertz benda is delighted to announce the first Los Angeles solo exhibition of Egyptian painter Wassef Boutros-Ghali. The exhibition also mark's the artist's first posthumous show, featuring remarkable works from the last two decades of Boutros-Ghali's life. With an artistic career spanning several decades, Boutros-Ghali's work is defined by dazzling abstract compositions inspired by the colors of unrelenting sunlight. Architectural forms emerge, collide and reengineer themselves without narrative, conjured by subjects based on mythology, on nuanced observations of daily life and imagined vistas that relate to but could never work in real life. The exhibition presents works from 2000 until his passing: a reflective period for the artist by which time he had absorbed numerous architectural and modernist movements - notably color field painting and geometric abstraction – alongside numerous socio- political events that had impacted his life to date.

Boutros-Ghali passed away in March of this year, at 98 years old, in Cairo. He painted every day until he passed.

ABOUT ALBERTZ BENDA
Founded in 2015, albertz benda is a contemporary art gallery with an international program exploring material and textility as well as cultural and social dialogues. Our Chelsea space is host to rotating exhibitions with an emphasis on solo presentations of emerging artists, new research into historic figures, and thematic group exhibitions. In 2021, the gallery expanded to a second location in Los Angeles. Featuring an evolving identity separate from our New York program, the LA space is realized within the context of a domestic setting, advancing new connections between visual arts, craft, and design.