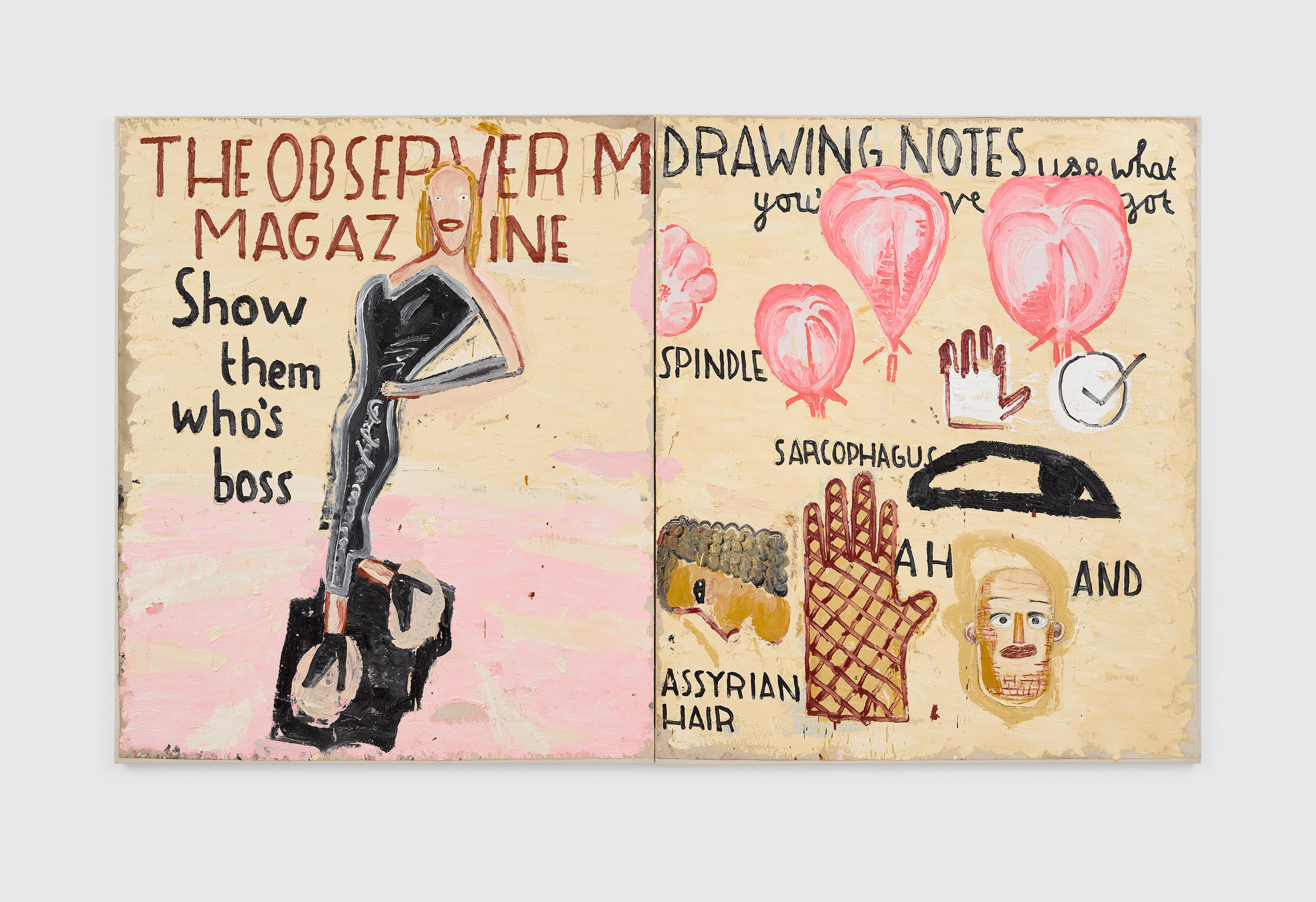 Rose Wylie: CLOSE, not too close
612 N Western Ave, Los Angeles, CA 90004
Sep 08, 6 PM - 8 PM — ends Oct 14, 2023
David Zwirner is pleased to announce an exhibition of new work by British artist Rose Wylie at the gallery's recently opened location in Los Angeles. Featuring a group of new large-scale paintings as well as related drawings, the presentation includes works that variously feature Wylie's home and garden, media she's consumed, and other elements drawn from her daily life and surroundings—together forming an unconventional portrait of the artist. This will be Wylie's first solo exhibition in Los Angeles and her sixth with David Zwirner.

Wylie has become known for her uniquely recognizable, colorful, and exuberant compositions that at first glance appear aesthetically simplistic, not seeming to align with any discernible style or movement, but on closer inspection are revealed to be wittily observed and subtly sophisticated meditations on the nature of visual representation itself. The artist has long been interested in exploring perspectival and compositional strategies other than—and along with—traditional Renaissance perspective, frequently making numerous iterations of a given motif as a means of advancing her formal investigation. Working in both single- and multi-panel formats, she regularly juxtaposes apparently disparate imagery, creating visual rhymes and resonances that coalesce into a unified composition. As curator Tanja Boon aptly notes, Wylie's "paintings exemplify the artist's ability to absorb powerful impressions from her immediate surroundings. They also illustrate her broad knowledge of cultural production, spanning popular and cliche styles as well as underexamined and non-Western visual traditions."

CLOSE, not too close presents a group of canvases that evoke in the viewer a feeling of immediacy, each depicting Wylie's observation of a particular moment that is atemporal yet also grounded in her everyday existence. Wylie's home and studio—a seventeenth-century house where she has lived for more than fifty years—features in several works, including My House (2022), which juxtaposes its blocky exterior with the unruly garden behind it, and White Building (2022), which finds an analogue for the structure in the distinctive look of spaghetti western films. Similarly, 2 Pedestal Tables & cake (2023) presents an interior scene in which the foreshortened form of a large table opposes a gridded Battenberg cake—a gift which has implausibly remained intact for several years—that sits atop a small, round table as though it were a sculpture on display. In these works, Wylie's pictographic forms are augmented by words scrawled across their surfaces, the text providing viewers insight into her process in choosing certain imagery or colors.

In Pink News Reader (2022), Wylie recasts a presenter whom she watched one evening on the BBC. Struck by the disjuncture between the woman's stunning appearance and the bleakness of the international news on which she was reporting, Wylie sought to bring her outward form closer to the tenor of the broadcast, trying out different versions by adapting the color palette and filling in extradiegetic information. In contrast to the majority of her works, which are executed on unprimed canvas, this painting is set against a stark black backdrop, enveloping the presenter as though she were an actor on a stage. Ultimately, the subject of the painting is not the news or even the presenter herself, but rather the viewer's experience in encountering it.

Some of the works on view have inadvertent but serendipitous resonances with the setting of the exhibition in Los Angeles. Spindle and Cover Girl (2022) is based on a photo Wylie saw on the cover of Observer Magazine of a blonde figure wearing a shiny tube dress. Interested in her outfit and outward confidence, Wylie decided to paint the woman (whom she later learned was Christine Quinn of the LA-based reality show Selling Sunset), imagining her bottom half, which was cropped out of the original photograph.

In other works, Wylie looks inward, including Wing Tips and Blue Doodlebug (2022), which is linked to her early memories of her childhood in London, and conjures the jet-propelled V-1 flying bombs, or "doodlebugs," that rained over the city during the 1944 German Blitz. Meanwhile, HAND, Drawing as Central (2022) depicts Wylie's own hand resting on her garden table in different light conditions—a self-portrait of sorts. Across three panels, she lays bare her process in translating a given image from drawing to painting and back, emphasizing the centrality of drawing in particular within her practice. Like all of Wylie's works, the composition is characterized—as the exhibition's title evokes—by an uncanny coexistence of visual coherence and disjuncture.