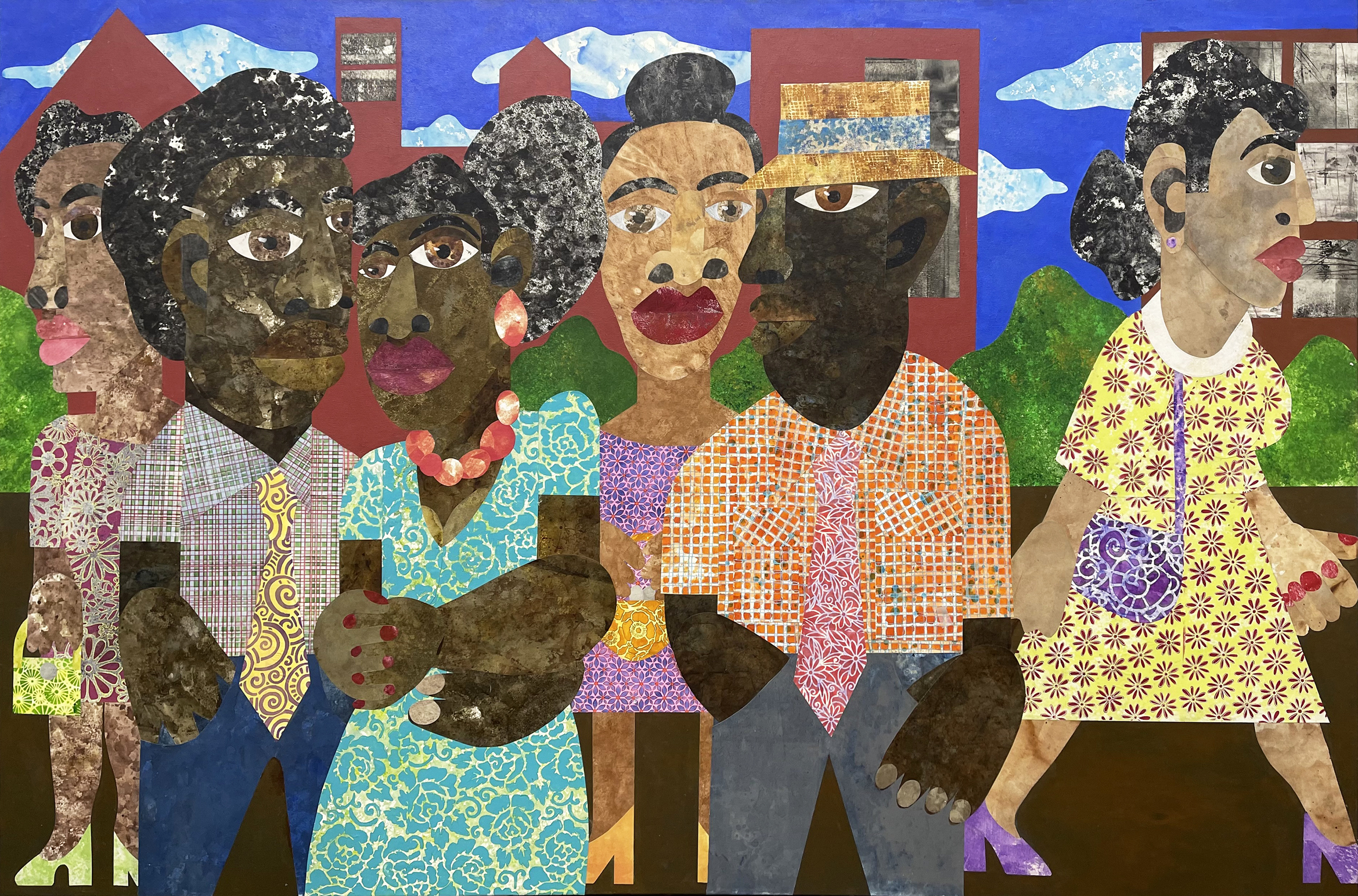 EVITA TEZENO: The Moments We Share Are the Memories We Keep | AARON MAIER-CARRETERO: a hundred peonies
1110 Mateo St. Los Angeles CA, 90021
Sep 02, 6 PM - 9 PM — ends Oct 28, 2023
"I feel it is important to document these scenes of joy that animate my vision of a Black America filled with humanity." - Evita Tezeno

Luis De Jesus Los Angeles is pleased to announce "EVITA TEZENO: The Moments We Share Are the Memories We Keep", a new series of large-scale mixed-media collage paintings.

As a continuation of "My Life, My Story", Tezeno's 2022 solo exhibition, this series of collage-paintings builds on visual narratives depicting soulful everyday scenes of Black life, introducing us to new friends, family and endearing moments from the artist's life. Tezeno uses a combination of richly patterned hand-painted papers, acrylic paint, vintage buttons inherited from her grandmother, and other media to portray the intimacies and joys of growing up in South Texas. She incorporates her love for seeing people dressed elegantly into figures adorned in stylish clothing to capture a sense of dignity.

____

Luis De Jesus Los Angeles is very pleased to announce AARON MAIER-CARRETERO: a hundred peonies, the artist's third solo exhibition with the gallery. Flowers are wonderful forms. Their petals of bright color resemble strokes of smeared paint. Their stems, leaves, and overall composition feels organic and abstract like paint. Flowers are reminders of Aaron Maier- Carretero's connection to nature, to painting's connection to nature, and to the alchemy of painting—turning raw materials into forms and emotions that take on a life of their own.

In a hundred peonies the artist generously layers paint onto the canvas, manipulating and transforming it into recognizable flora and human subjects while exploring inner and outer nature. It drips down against a range of bright and dark-hued grounds, making the forms appear as though some are flourishing while others wither. Or, perhaps, an impalpable color fills the mind, triggering memories of a moment in our own lives, and reflecting on human nature.