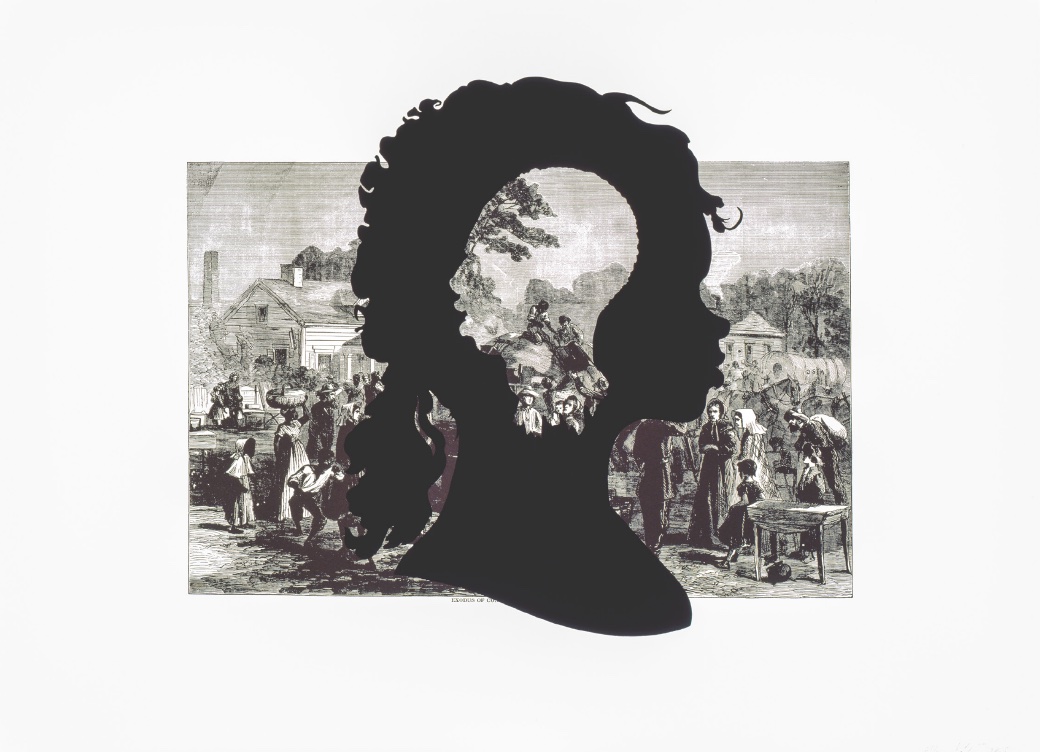 Kara Walker: Cut to the Quick
👀
823 W Exposition Blvd., Los Angeles, CA 90089
Sep 08, 12 PM - 5 PM — ends Dec 09, 2023
USC Fisher Museum of Art is proud to announce the presentation of Kara Walker: Cut to the Quick, From the Collections of Jordan D. Schnitzer and His Family Foundation. The career-spanning exhibition presents Walker's powerful and provocative images that employ contradictions to critique the painful legacies of slavery, sexism, violence, imperialism, and other power structures, including those in the history and hierarchies of art and contemporary culture. The exhibition will be on view from September 6 through December 9, 2023.

A leading artist of her generation, Kara Walker (b. 1969) works in a range of mediums, including prints, drawings, paintings, sculpture, film, and the large-scale silhouette cutouts for which she is perhaps most recognized. Walker's process involves extensive research in history, literature, art history, and popular culture. Intentionally unsentimental and ambiguous, the works explore the irreconcilable inconsistencies that mirror the human condition.

This exhibition offers a broad overview of Walker's career through more than 80 works from the collections of Jordan D. Schnitzer and the Jordan Schnitzer Family Foundation, premier collectors of works on paper in the United States. Uniting works created between 1994 and 2019, some highlights of the exhibition are the complete Emancipation Approximation series and images from the Porgy & Bess series.

"The works in Kara Walker: Cut to the Quick live up to the exhibition's title, commanding attention with their brutal imagery, formal beauty, and ability to wound," said Danielle Sommer, Curator, USC Fisher Museum of Art. "Featuring prints, paintings, film, sculpture, and cut-paper silhouettes from almost every stage of the artist's thirty-year career, Cut to the Quick also challenges visitors to consider what Walker's next three decades might look like."

"Kara Walker is one of the most important artists of our time—from the simple cutouts, like frontier homes had on each side of their fireplaces, to the intricate figurines and videos, Kara Walker's art forces us to deal with issues of racism, stereotypes, and gender inequality." said Jordan Schnitzer, "I first saw her art in 1994 and instantly was drawn to the power of her artistic voice. We have exhibited her work in solo exhibitions at 14 museums nationwide. We have also included her art in over 30 other group exhibitions. I hope all of you are impacted as I was that moment when I first saw her work, as I still am today!"

Kara Walker: Cut to the Quick is co-curated by Frist Art Museum executive director and CEO Dr. Susan H. Edwards and Nashville poet Ciona Rouse. The exhibition debuted at the Frist Museum in Nashville and traveled to the Cincinnati Art Museum, MOCA Jacksonville, and Virginia MOCA. The exhibition tour concludes at USC Fisher.