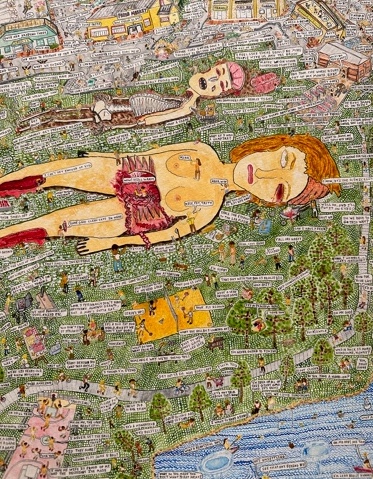 Jeff Bowers: Hey Folks!
865 n virgil ave, Los Angeles, CA 90029
Sep 16, 5 PM - 10 PM — ends Oct 08, 2023
Tetrapod Gallery is delighted to present the debut solo exhibition of paintings and sculptures from Los Angeles based artist, Jeffrey Bowers, titled Hey Folks!. The title is a warm opening welcome and hearkens to the rich tapestry of tall tales that come alive in this body of work, as well as a nod to the enduring influence of folk art traditions on his style. From the oversized scenarios of Ralph Fasanela, to the colorful characters of Michael Hurley, or the charming woodcuts of Howard Finster and Steve Ashby, Bowers is inspired by the artists who operated outside of the establishment, finding their style and voice through day jobs (union organizer, musician, preacher, farmer).

Bowers, a film curator by trade, seamlessly weaves the art of storytelling into his fine art practice, casting himself as a still life raconteur. In each painting, woodcut, sculpture, and hand-painted textile, Bowers captures whimsical anecdotes and absurd scenarios featuring both people and animals, all within his singular vernacular aesthetic.

On display are seven of Bowers' quasi-surrealist "worldscape" watercolors. In these hyper-intricate, maximalist compositions, he skillfully portrays dozens to hundreds of individuals frozen in specific moments, often mid-conversation and accompanied by word bubbles. Painted from a bird's eye view, the characters are flattened, and space is compressed, creating captivating panoramas where every detail is visible and relevant. Each piece is highly improvisational in nature; scenarios and thought bubbles emerge on the fly, enhancing the work's spontaneity and organic charm. It's as if a lively conversation has been captured within a still object. The density of detail within these "worldscapes" encourages a dialogue of its own; viewers will discover countless access points, word bubbles, and characters, making each viewing a multi-layered experience.

Complementing the "worldscape" paintings are a series of woodcuts and sculptures, each representing a single story extracted from this intricate world and meticulously carved into three dimensions. In all of Bowers' work, he explores universal truths, often those that are less celebrated – from the hilarity of boners to the addictive allure of potato chips, and the recognition that everyone has something to say, even if it's neither important nor particularly interesting. It's the art of elevating the extraordinary in the ordinary.

Jeffrey Bowers (b. 1987, Columbus, OH) lives and works in Los Angeles, California. This is his
first solo exhibition. In addition to art and film programming, Bowers is a burgeoning natural winemaker, assisting maverick winemaker Scott Sampler (Scotty Boy!, L'Arge D'Oor, CCGP) in 2022-23, before starting his own label, Mischief Wine, set to make its debut in 2024. To celebrate this aspect of Bowers' oeuvre, we'll be pouring wines from Scotty Boy! during the opening.