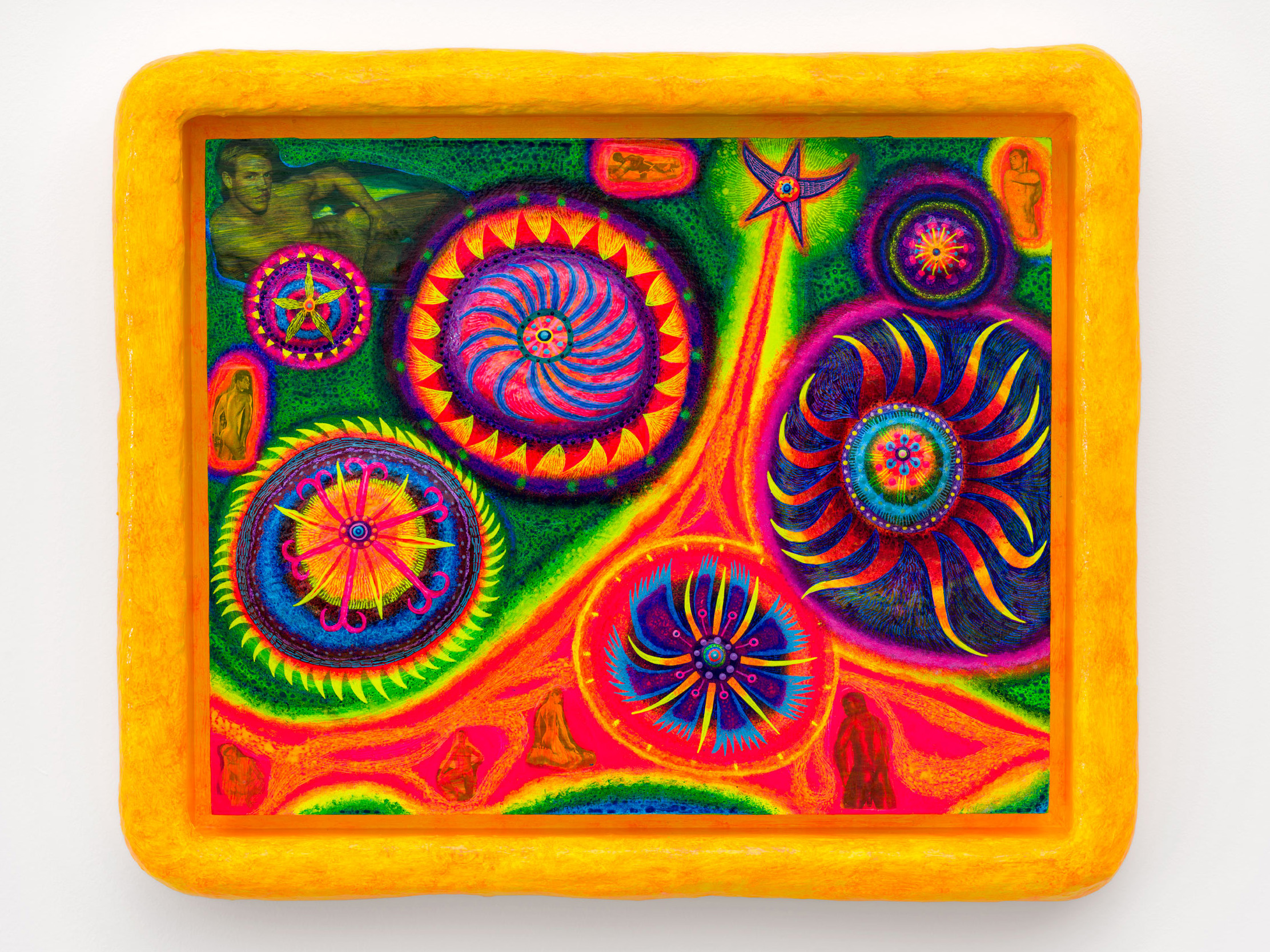 Christian Rogers: Heaven on Earth
951 Chung King Road, Los Angeles CA 90012
Sep 15, 6 PM - 9 PM — ends Oct 21, 2023
NOON Projects is honored to present Heaven on Earth by Christian Rogers opening on September 15th, 2023.
Heaven on Earth loudly and unabashedly explores gay pleasure, and creates a space for healing through queer joy. With a suite of paintings, drawings, and Polaroid portraits, the work creates bridges for intergenerational connection while triumphantly memorializing those lost during the AIDS epidemic. Rogers creates work that is unquestionably queer. It's made for himself and anyone who has ever been told to be "less gay" or to "tone themselves down."
Throughout the gallery, a series of high-gloss three-dimensional paintings depict lush earthly Edens and heavenly celestial planes. The color palettes of highlighter yellows and fluorescent pinks make it possible to experience a feeling of euphoria. Hypnotic, repeating patterns serve as sacred codes for the spiritual cartography of utopic cruising parks and psychedelic journeys within. The 3D forms, sculpted from paper pulp on the painting's surfaces, resemble bodies, hills, and big top circus tents. Collaged between these forms are images of men from vintage erotica, depicting scenes from inside the bushes, solo, or from dark rooms and bath houses, all in moments of connection and rapture. Taken from the artist's personal collection of pornographic magazines published prior to the AIDS epidemic, the paintings memorialize these men, consecrated forever in horny heaven.
Accompanying the paintings are a series of sleek and meticulous drawings, created as meditative exercises, all framed in highly polished chrome that reflects the colors from the paintings and environment around them.
In the back room of the gallery are Polaroid portraits featuring superimposed dick pics of Rogers' friends and lovers enmeshed with images of cactus blooms from his garden. The lifespan of these exotic flowers is usually only one day. They merge and blend with the bodies creating amorphous carnal forms.
With rainbow bashing continuing throughout the world today, Heaven on Earth reminds us of the importance of storytelling between generations, a tradition that's often missing within the queer community. Rogers is here to remind us that joy, pleasure, and celebration are all acts of resistance.
Opening Sept 15, 2023 6 – 9 PM
On View through October 21, 2023
For more information email
info@noon-projects.com