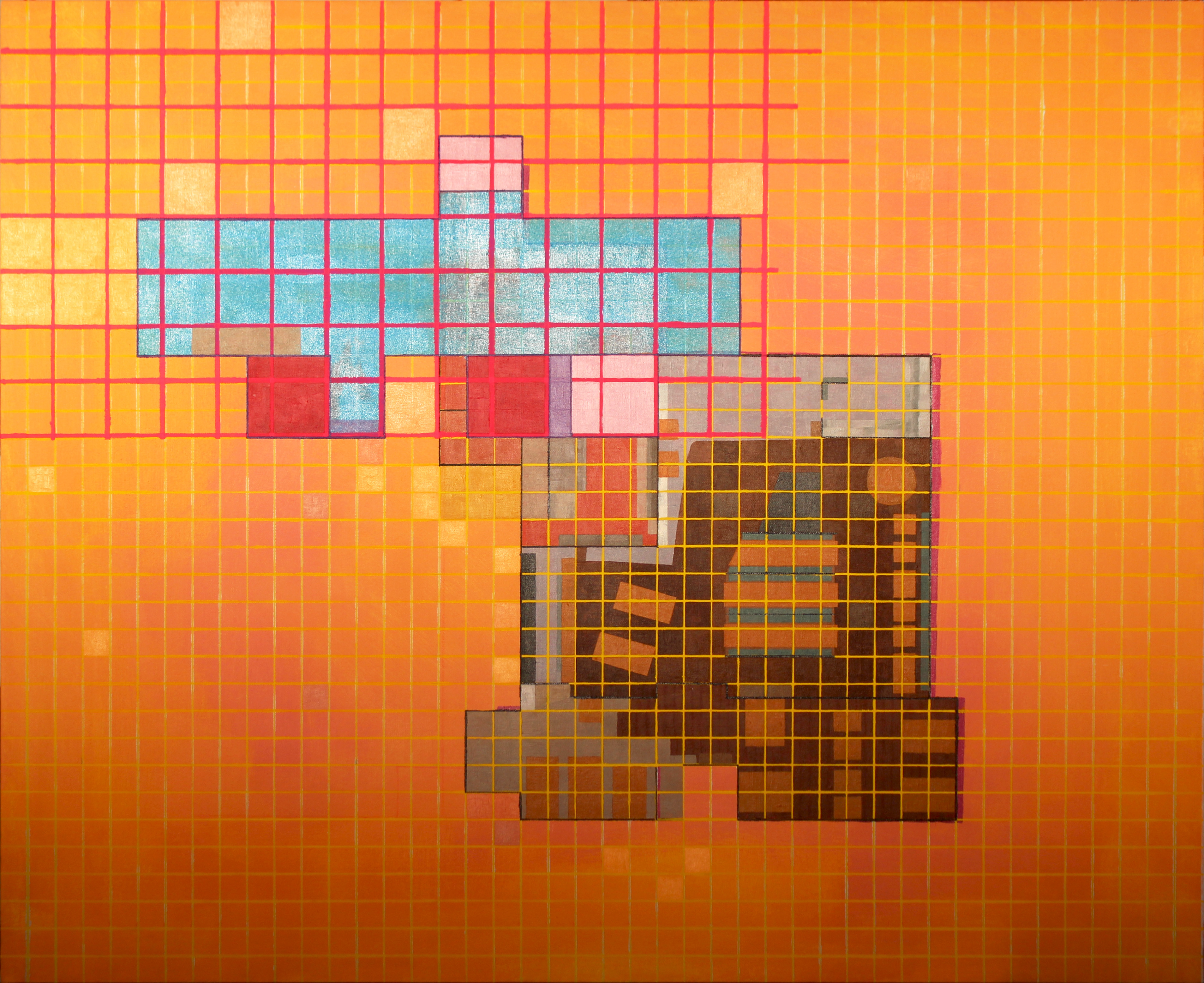 Erica G. Peralta: …in the clouds
206 S Ave 20 Los Angeles CA 90031
Sep 16, 7 PM - 11 PM — ends Oct 14, 2023
LAST Projects is proud to present Erica G. Peralta
"…in the clouds", a solo exhibition featuring photos by Rafael Cardenas.
"…in the clouds" presents the tumultuous and laborious expectations and rituals of restaurant lifestyle and lore through paintings, mixed media sculptures using cardboard, chicken wire, magazine collage, and found objects. Peralta calculates and observes glamorized patterns in the American restaurant industry. As an artist working at a restaurant and dining at restaurants throughout the city, ideas of choice, conformity, and desire are represented through artwork that tantalizes the audience with an humorously uncanny experience of catering and being catered to.
In this new body of work, multiple worlds collide in pursuit to understand different stories and perspectives from merging communities. Three new grid paintings and four mixed media sculptures reference prior restaurants and culinary spaces the artist has worked at.
A meticulous method using acrylic paint, masking tape and precise measurements exposes the audience to floorplan paintings of space filled with colors, outside lines, and layers of grids hiding mistakes to reinforce metaphors for overwhelming feelings and suppressed trauma. Hidden secrets and untold stories are shared through hollow restaurant storefront shells made of cardboard, serving as a facade for the true purpose of a restaurant; which is revealed as a representation of an industrial kitchen stove made with cardboard. Sound is included to remind the audience of the true "heart of the house". The dichotomy between server and patron is discussed through visualizations of emptiness and sadness which both parties experience.
Erica G. Peralta, born in 1997, is a San Jose-based multimedia artist whose work engages in a nuanced examination of the institutional architectures that shape both individual and collective subjectivities. Armed with a Bachelor of Fine Arts from St. John's University in New York City and a Master of Fine Arts from Otis College in Los Angeles, her oeuvre encompasses video art, sculptural installations rendered in cardboard that mimic East Los Angeles architecture, and what she refers to as "floorplan paintings"—cartographic portrayals of personally significant spaces.
Peralta's work functions as a meta-cognitive mapping system, critically investigating the spaces—domestic, commercial, and educational—that form the nexus of her Mexican American identity. Fueled by an affinity for the aesthetics of the everyday and an attraction to vibrant narratives, she seeks to create experiential terrains that are both inclusive and accessible.
Her work has been displayed in New York's Dorsky Gallery, the San Francisco Women's Art Gallery, the Mexican Consulate and Proxy Gallery in Los Angeles, and the Museum of Latin American Art, also in Los Angeles. Through her art, Peralta explores the oscillation between stability and precariousness, offering a complex commentary on the way institutional structures impact personal and cultural identity.
———————————————————————
"Walking down the delicately constructed sidewalk prepping myself for the last few hours of my shift at the restaurant, loads of people are packed like sardines in outside seating. Different parties gathered, enjoying their brunch while the murmur of their conversations creates a song of pity and pleasure. I can't help but notice the empty tables of half-eaten plates and think about the absence of experience and a fascination with self-indulgence within different class structures. My mind goes on a rant again about prioritizing pleasures and having the privilege to choose. Choosing a date, choosing a restaurant, choosing a dish off the menu, or choosing whether you would like your burger done medium or well done. These choices seem so important until you find yourself on the other side serving the choosers.
I turn the corner on Main street and find myself sandwiched between people dining and kitchen staff squeezing through, rushing to clock in. Time stopped for 10 seconds. I see an eager sports fan discussing his thoughts on the game happening soon next to a man donning a backpack, baseball cap, and jaded expression speed-walking towards the guts of Main street. I slip past a party of four waiting for a table at a restaurant around the corner from mine and end up back in the alley leading towards the back door. As I have experienced the restaurant industry, both as a customer and employee, this work is a result of processing a complicated system known as the sociological theory of the 'service triangle' guiding an industry to follow a perceived standard only created to keep our heads in the clouds."
-Erica G. Peralta
proyectoxtra.com
Featuring work by Rafael Cardenas:
Instagram: @rafa.la
www.rafa.la
———————-
 

Rafael Cardenas explores the lives of Angelenos as land dwellers in the ever-changing landscapes of the city. He sees Los Angeles as a palimpsest: a document that bears traces of its own history. His photographs reveal how the multilayered environments of northeast, east, and downtown Los Angeles take on a sense of place through our lived experiences.