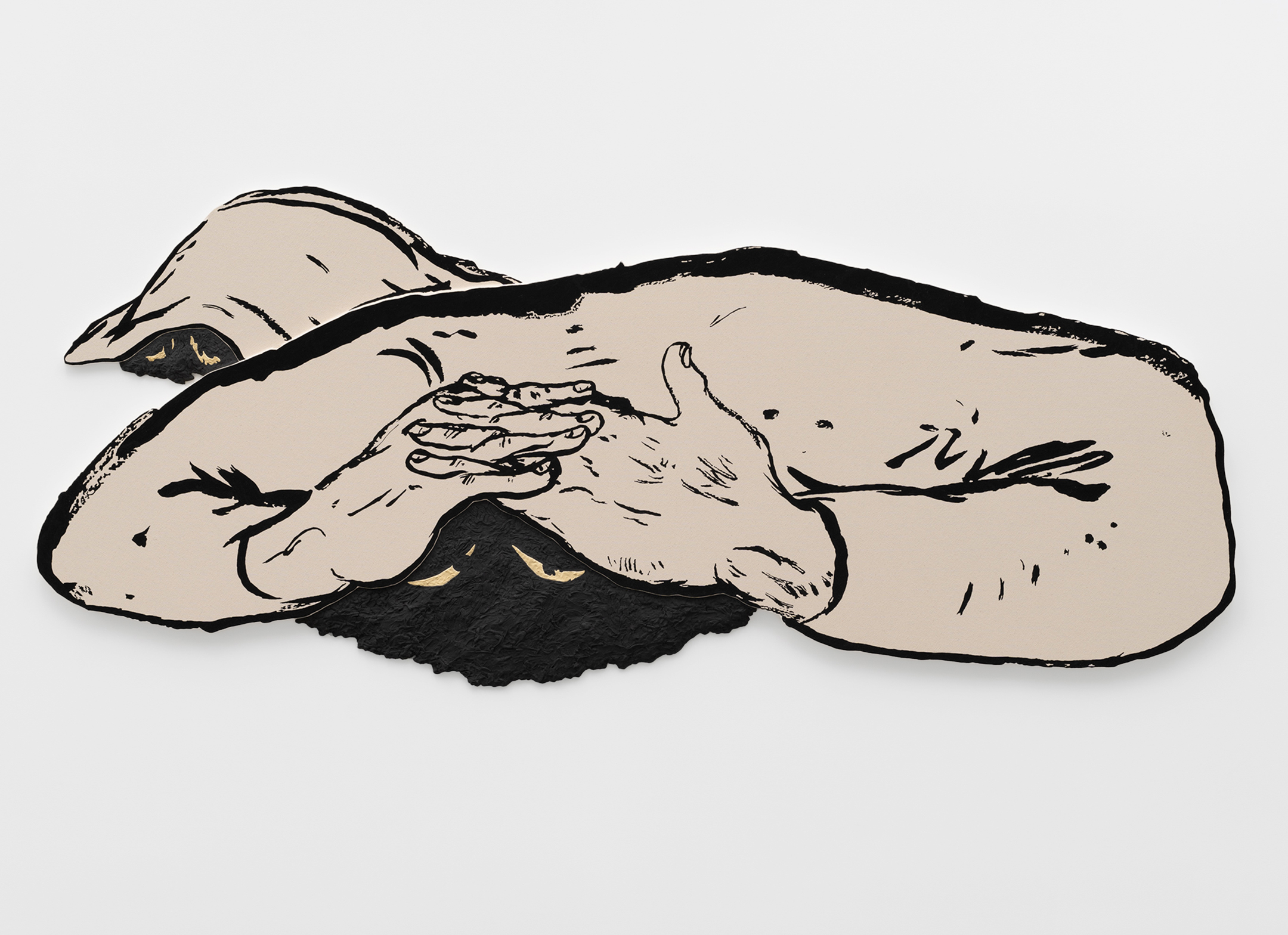 Gabriel Slavitt: What Is Wrapped in Heart Cloth
413 S. Fairfax Ave.
Sep 16, 6 PM - 8 PM — ends Dec 02, 2023
Babst Gallery is pleased to announce the exhibition What is Wrapped in Heart Cloth, a solo exhibition of painting and sculpture by Gabriel Slavitt. The exhibition will be on view from September 16 to December 2, 2023 at 413 South Fairfax, Los Angeles. An opening reception will be held on Saturday, September 16th, 2023 from 6-8PM.
Slavitt finds the drawings in his sketchbook to be the most effective way of "throwing a blanket over the invisible man." He believes his quick, spontaneous doodles best capture the latent imagery found in the corners of his mind.
To translate these sketches into large sculptural paintings, he hand-carves wood panels to match the contours of his drawings. Then he makes careful incisions in the canvas so that he can wrap it to exactly follow the panels' intricate edges.
Using tools made from chopsticks and sewing needles to apply a mixture of house paint and drywall mud, he meticulously recreates the drawings on the canvas mark by mark. Once magnified and given shape, the sculptural forms fully embody the emotional weight of the original gesture.
However, he uses this mud and paint mixture precisely because it dries in unpredictable colors and cracked forms. Ultimately, he surrenders control to both the subject and the medium.
Often there is a solitary figure in the work, obscured in shadow. Sometimes we can only see their face through reflection, and rarely can we see what they are looking at. But other times, we can peer over their shoulder and, through an indirect way of looking, join them in a moment of private, intense awareness of something larger.
Gabriel Slavitt (b. 1988, Park Ridge, IL) lives and works in Los Angeles. His work is a part of the exhibition Spirit Duplicator at the Suite Gallery, University of Georgia. In 2022, he released the comic book Master of Return. He has recently exhibited in Los Angeles, including Vielmetter Los Angeles, Central Park Gallery, Elsa Lee Bruno Gallery, and Ingrams. He graduated from Washington University in St. Louis in 2010.
For more information, please email
info@babstgallery.com
or call (424) 600-2544.
Image Caption: Gabriel Slavitt, Keyholder's Cargo, 2023. Vinyl paint on canvas stretched over panel; House paint, India ink, drywall mud, & wood filler on panel. 35 ¼ x 84 ½ inches.