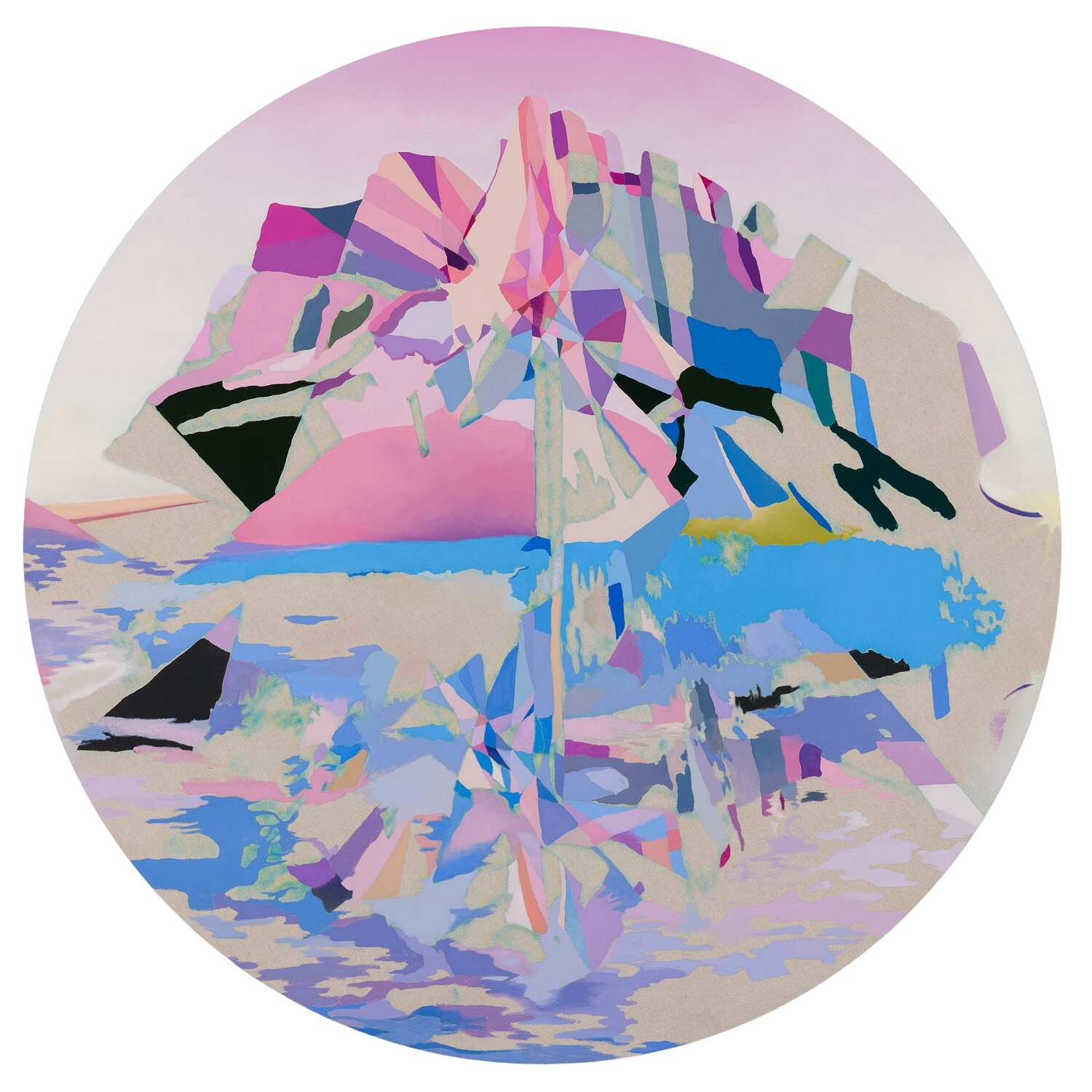 Rebecca Norton: Climactic [Online Exhibition]
1206 Maple AVE, 502B, Los Angeles, CA 90027
Sep 30, 11 PM - 11:15 PM — ends Dec 16, 2023
Rebecca Norton: "Climactic"
Exhibition runs September 30, 2023 - December 16, 2023
On view at LADIES' ROOM online
www.ladiesroomla.org
SHOW INFO:
Rebecca Norton's diverse artistic practice encompasses a wide range of materials and technology, reflecting a robust intrigue with color theory, a love of geometry, and a distinct curiosity concerning structures of perception. In her new series of paintings, Norton investigates elements of climactic structure to highlight their complexities. The visual analogies and illusionistic techniques at work in "Climactic" acknowledge the intricate interplay between cognitive and sensory experience. Informed by naturalistic studies, the paintings portray a sensual vision, concerned with follies of perceptual tricks and pleasurable landscapes. "Climactic" serves as a thought-provoking exploration of how our perceptions are shaped, influenced, and evolved.
By expanding conceptual frameworks and blurring the lines between geometric abstraction, figuration, and landscape painting, Norton's new paintings present an abstracted melding of thought and form. She probes deeply into the "Problem of Perception," contemplating the possibilities of illusions and hallucinations and their implications on our understanding of reality. Norton states, "In my work, I approach the phenomena of an object or landscape to call attention to the enigma of perception. I aim to capture a feeling for an object or landscape, rather than an accurate depiction of it. The intense color palettes, movements, and fluidity between abstraction and subjects play with the aesthetics of illusory and hallucinatory experience, challenging the very act of seeing itself."
—
About Rebecca Norton: Rebecca Norton is an artist, curator, and educator. She holds a BFA from the University of Louisville and an MFA from the Art Center College of Design. Her work is in permanent collections, including the 21C Hotel Louisville, the Kentucky Museum of Art and Craft, and the Kentucky Museum at Western Kentucky University. Norton is the recipient of a number of awards and grants, including the Puffin Foundation, the See.me 2013 Painting Category Winner, the M.A. Hadley Fellowship, the Kentucky Foundation for Women Artist Enrichment Grant, and the Great Meadows Artist Professional Development Grant. She has written for publications such as Arts in Bushwick and Abstract Critical. Her lectures and writings have also been featured on MOCA tv, the Brooklyn Rail, and Duke University Scalar publications, as well as Blacksun Lit. Norton is currently working as an independent curator with The Common Gallery in Louisville, KY, and is co-founder of MaybeItsFate, a member-owned art gallery and private social club in Louisville, KY.
—
About LADIES' ROOM: LADIES' ROOM opened in 2018 to research and exhibit women and non-binary artists. To date, we have shown 231 artists working in all media and have placed a number of works in private and institutional collections. LADIES' ROOM also oversees a biennial exhibit with more than 100 artists that fundraises for the food insecure. We are part of David Zwirner Gallery's online Platform.
Contact
info@ladiesroomla.org
or 310.447.8021 for more info
Image: Rebecca Norton, Denouement, 2023, Marker and oil on linen, 36 inch tondo