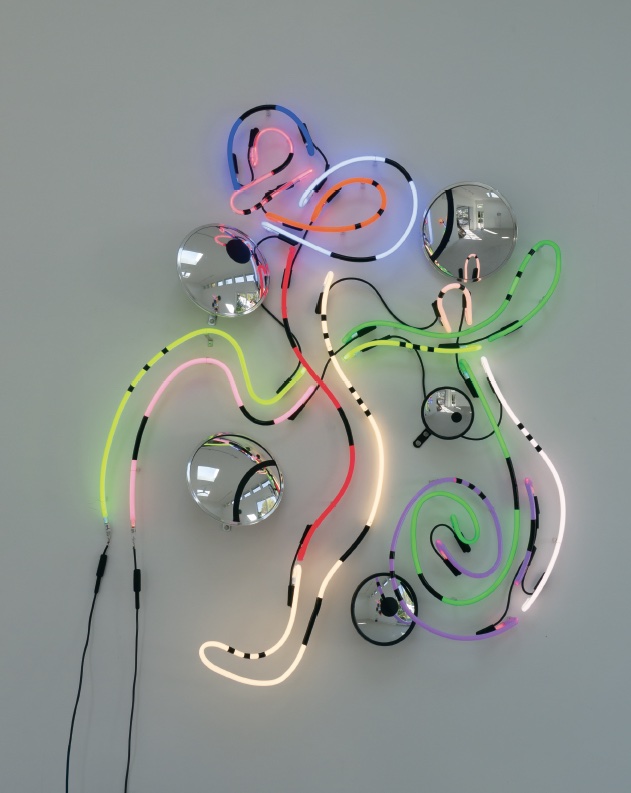 Keith Sonnier: Live in Your Head
1326 South Boyle Avenue
Oct 21, 6 PM - 8 PM — ends Dec 16, 2023
"I think that your personal history is part of your basic language, and you will always incorporate these impulses in making work. I was very involved in incorporating the five senses at that point; not necessarily just a visual association."
– Keith Sonnier, Interview Magazine, 2008
parrasch heijnen is pleased to present Keith Sonnier: Live in Your Head, a scholarly view of Sonnier's oeuvre and his wide-ranging impact on generations of artists. This exhibition includes work by: Keith Sonnier, Mary Heilmann, Madeline Hollander, Ann Veronica Janssens, Terence Koh, Nabilah Nordin, Jessica Stockholder, Maya Stovall, and Kennedy Yanko.
The show's title comes from the phrase Sonnier lent to the 1969 landmark exhibition Live in Your Head: When Attitudes Become Form, (Kunsthalle Bern, Bern, Switzerland), highlighting the conceptual nature of his oeuvre rather than simply its materiality.
Throughout his five-decade-long career, Keith Sonnier (b. 1941, Mamou, LA - d. 2020, Southampton, NY) created works of spatial abstractions that exceed their physical material in expansive volume and form. Whether through engaging illumination, linear movement, or architectural interventions with non-art objects, his gestural anti-forms sought to bridge the gap between two- and three-dimensionality.
Sonnier's experiential and ephemeral installations are defined by sensory occurrences that alternate with time and distance. The work's added dimensionality enters into physical space as an enveloping sensation, coupling technology with organic or found materials.
Keith Sonnier: Live in Your Head presents a multigenerational selection of artists whose culturally and aesthetically diverse work is in dialogue with Sonnier's pioneering vision. By rejecting boundaries and embracing unconventional materials and modes of visual expression, these select artists embody attitude as form. This exhibition builds upon Sonnier's spirited embrace of creation and celebrates the evolution of his impact on contemporary art.
Keith Sonnier (b. 1941, Mamou, LA - d. 2020, Southampton, NY), known best for his use of neon in standalone sculptural works and installations alike, is a key figure in the Conceptual and post-Minimal art movements of the late 1960s. Sonnier earned a B.A. at University of Southwestern Louisiana in 1963, and an M.F.A. at Rutgers University in 1966. Sonnier was a two-time recipient of the National Endowment for the Arts grant (1975, 1981), and was awarded the John Simon Guggenheim Memorial Fellowship in 1974. Curator Harald Szeeman included Sonnier's work in his groundbreaking exhibition Live in Your Head: When Attitudes Become Form at Kunsthalle Bern (Bern, CH) in 1969. His work was included in key historic exhibitions cementing the basis of contemporary art: Eccentric Abstraction, Fischbach Gallery, New York, NY curated by Lucy Lippard (1966) and 9 at Leo Castelli: Anselmo, Bollinger, Hesse, Kaltenbach, Nauman, Saret, Serra, Sonnier, Zorio at Castelli Gallery, New York, NY (1968). Sonnier has been subject to over 150 solo exhibitions including: the Parrish Art Museum (Water Mill, NY), Hirshhorn Museum (Washington, DC), Hall Art Foundation (Reading, VT), Musée National d'Art Moderne, Centre Georges Pompidou (Paris, FR), Whitechapel Art Gallery (London, UK), and Wadsworth Atheneum (Hartford, CT), among others.
Keith Sonnier: Live in Your Head will be on view at parrasch heijnen, 1326 S. Boyle Avenue, Los Angeles, from October 21 – December 16, 2023. An opening reception will be held on Saturday, October 21, 6-8p. Gallery staff are available to guide you through our exhibitions virtually via Zoom upon request. For more information, please contact the gallery at +1 (323) 943-9373 or
info@parraschheijnen.com
.
Image: KEITH SONNIER, Ucua, 2016. neon, mirrors, enamel blackout paint, black electrical cable, transformer, rubber end caps. 69 x 60 x 9 inches. © The Estate of Keith Sonnier / Artists Rights Society (ARS), New York