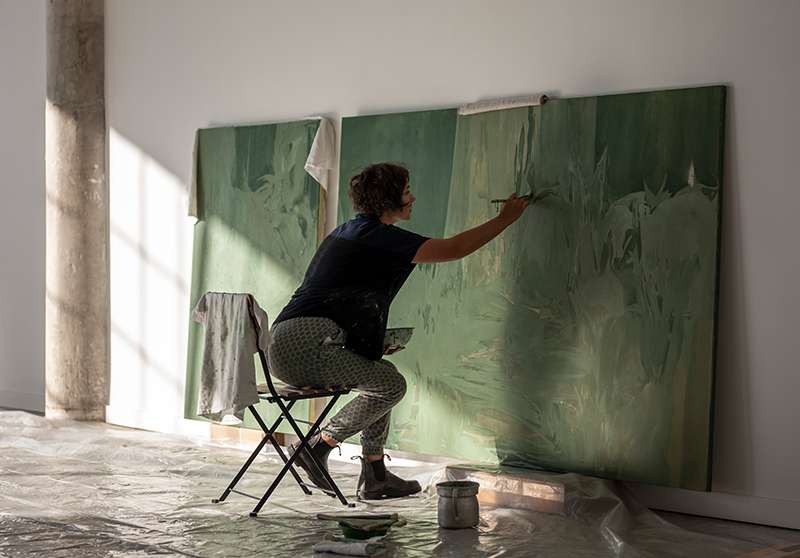 Filipa Tojal: Ecotone
725 E Washington Blvd Los Angeles, CA 90021 United States
Oct 21, 5 PM - 7 PM — ends Dec 02, 2023
Sage Culture is pleased to present Ecotone*, Filipa Tojal's second solo exhibition with the gallery. The show features the artist's latest works produced while an artist-in-residence at Sage Culture.
* Ecotone - noun Ecology.
1. the zone between two major ecological communities, ecosystems, and/or ecological regions along an environmental or other gradient.
For this exhibition, Filipa Tojal received the support of FLAD (The Luso-American Development Foundation) to travel to the United States for the first time and experience a residency program with the gallery. Living in Los Angeles and using Sage Culture as her studio atelier, the artist has prepared 16 new paintings, all while acclimating to the new environment of Southern California.
In November 2021, Sage Culture introduced Filipa Tojal's work to the United States through the solo exhibition "Verdant," which showcased her first significant body of work after an extensive and reflective experience in Japan. Since then, Filipa has also resided in Australia and the United Kingdom.
Her recent move to Los Angeles signifies a new and exciting challenge as she ventures to the opposite coast of the Pacific Ocean, exploring the eastern edge of the North Pacific. Amazed by the abundant sunlight as well as the unique opportunity of creating her works under the same light in which they will be perceived, Filipa Tojal is enthusiastic about exploring a new spatial conception, in which she incorporates the Pacific Ocean as well as the Mojave Desert, particularly Joshua Tree Desert, that deeply captivated her.
"Though not far away from the ocean, I found it challenging to envision this arid landscape - dry soil, spiky trees, and unbelievable geometric rock formations. Until now, I always worked with abundant and verdant landscapes. I've never worked on sparse land. The sensation of unobserved land is rather relevant for my painting process, and I am curious to see how the works turn out."
Filipa arrived in California with three sets of raw materials: her brushes (collected from around the world), mineral pigments (brought over from her last visit to Japan), and traditional hand-loomed linens (which are part of her family heritage). Her work continues to reflect her blending of Western and Eastern approaches to painting, this time using water and oil-based mediums in her formal work. Filipa prepared the canvas surfaces upon arrival, and slowly, her paintings began to take shape in the studio, starting from scratch. From raw materials to spatial conceptions, her work mirrors her daily adjustments and growing awareness of her new surroundings.
As a painter, Filipa effortlessly transitions between figuration and abstraction, moving between passive, contemplative moments and active, deliberate decisions. While her work is firmly rooted in landscape painting, the artist doesn't view her compositions as representations. Instead, she sees them as constructions. Her latest works embody a subtle, gestural approach, with a focus on materiality and an exploration of the transient nature of imagery.
The gallery is thrilled to present the result of this journey, allowing the visitors to perceive the artworks in the same light as they were created. This new translation of the Southern California landscape combines Eastern sensitivity and Western materiality. Visitors are invited to observe every detail, pigment, the weave of the surface, the gesture, and the natural elements that appear discreetly in each painting.
"Ecotone", a Solo Exhibition by Filipa Tojal. Join us for the Opening Reception on October 21st from 5 pm to 7 pm at Sage Culture Gallery, DTLA, located at 725 E Washington Blvd, Los Angeles, CA 90021. Guests can find parking at 720 E 18th St., Los Angeles, CA 90021. For more information about the exhibition and featured artworks, reach out to the gallery at
info@sageculture.com
.
Please RSVP via the link below:
sageculture.com/events/ecotone