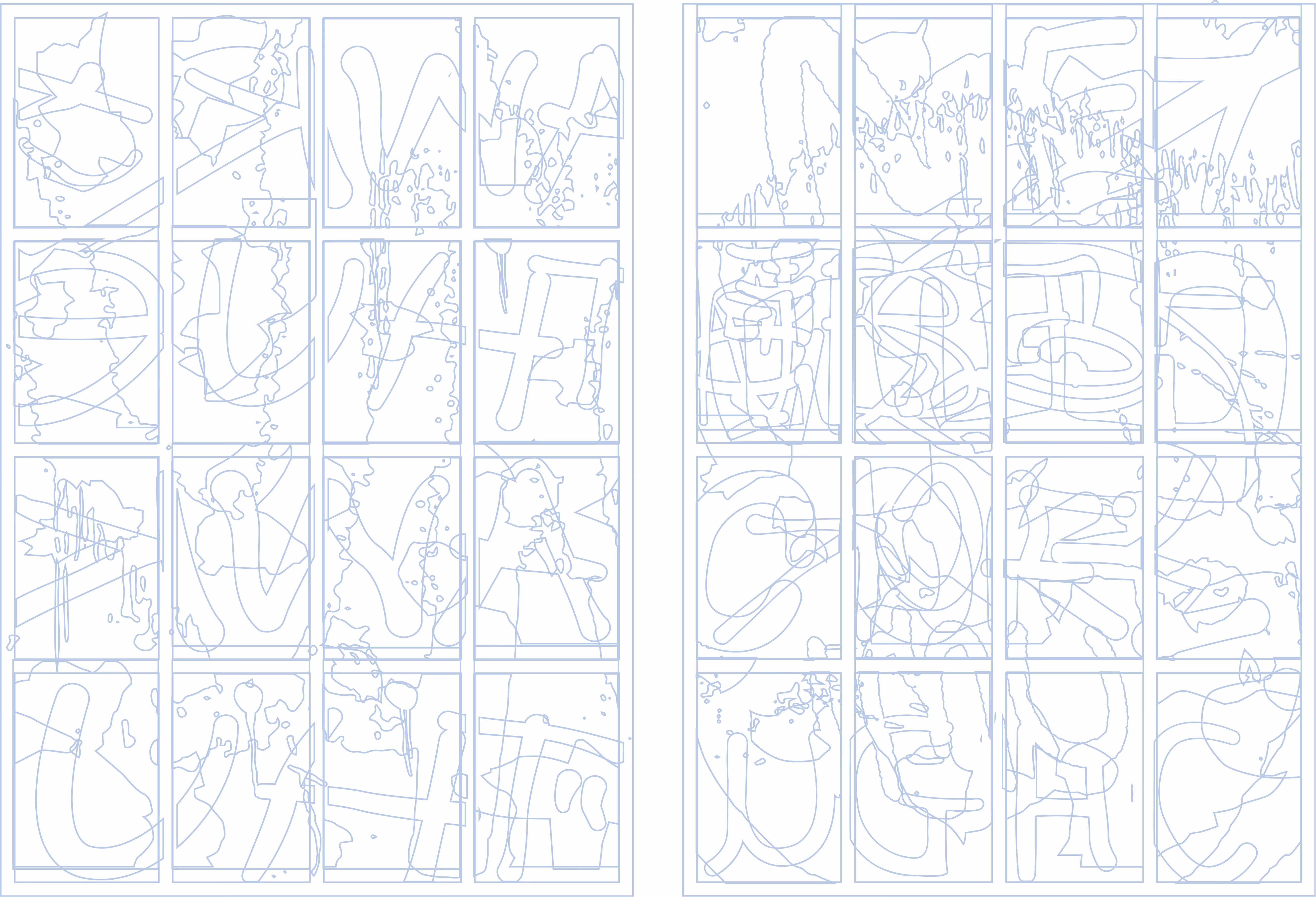 Brody Albert: Empty, Except for the Ghost
5513 Pico Blvd. Los Angeles Ca 90019
Nov 05, 4 PM - 7 PM — ends Dec 17, 2023
Hunter Shaw Fine Art is pleased to announce "Empty, Except for the Ghost," a solo exhibition by Los Angeles-based artist Brody Albert. The exhibition will present two new sculptures: re-creations of found compositions in the built environment, excavating meaning from the trash stratum.

• There's an abandoned building near a busy bus stop in Lincoln Heights. Across the street is an empty lot, sometimes used for pop-up events, craft fairs, haunted houses, and other temporary functions. The lot is littered with palm-sized rocks, perfect for throwing. Over the years, passersby, perhaps in a moment of anger, or rebellion, or boredom, have chucked these perfect rocks at the windows of the building. These breakages, mingled with a patina of disuse, have coalesced into an indexical composition of collective mark-making.

• The composition of an artwork and the composition of a neighborhood are each co-created by a myriad of constituent forces. As a formal object, this composition of broken windows reflects the larger composition of the surrounding neighborhood from which they are replicated, and the network of forces that they both exist within: the architecture is a force, the parking lot is a force, the bus stop is a force, the rocks are a force. So are the crime rate, electoral politics and shifting economics of the neighborhood.

• The defunct art deco building located at 421 N Ave 19 in Lincoln Heights was initially intended as a local jail, and it operated in that capacity from 1931-1965. In the decades since, the structure has occupied a liminal state between becoming and decay. It has intermittently been used as a squat, a venue for underground raves, home to a community arts organization, and a youth boxing club. It has also served as a shooting location for countless film and television productions, and attracted YouTube ghost hunters searching for paranormal encounters in abandoned buildings.

• Depunctualization, a term coined by theorist Bruno Latour, describes the phenomena of only seeing / recognizing the parts of a complex system when it malfunctions. For example, you are only aware of your stomach when you have a stomach ache, or you are only aware of your car's engine when it breaks down.

• Over the past 26 years, there have been numerous proposals to turn 421 N Ave 19 into high-end retail stores, condos, "maker spaces," community spaces, and parking structures. Development projects routinely get funding to move forward, and then fail due to city regulation, corruption, and various environmental impacts. Three years ago, the latest proposal taken up by city council was a combination of high-end retail and rooftop park. It was terminated in May 2023.

• Somewhere far away, a volcano oozes new land into being. Here, a discarded suitcase is filled with a puddle of yesterday's rain. It slowly evaporates while you wait for a bus to arrive on its appointed schedule. You pick up a rock, perhaps millions of years old, and throw it at a building that has sat empty for twice as long as you have been alive. Events unfold within overlapping timescales; clocks within clocks within clocks.

• "The symbols of the divine show up in our world initially at the trash stratum." - Philip K. Dick, Valis (ch 14).

Brody Albert lives and works in Los Angeles. He holds an MFA from University of California, Irvine (2016), and a BFA from Art Center College of Design, Pasadena, CA (2011). Albert is the associate professor of sculpture at Chaffey College and the co-director of the experimental publishing imprint, OHPAPERS. Selected solo and two-person exhibitions include "A,B,C,D" with Nathaniel Klein, Best Practice, San Diego, CA (2022); "Strata," Pasadena Museum of California Art, Pasadena, CA (2018); "Nonlocal," Access, Vancouver, BC (2018); "Exit Strategy" with Sara Ellen Fowler, River Gallery, Los Angeles, CA (2016); "Solids," Contemporary Art Center, Irvine, CA (2016); "Open To The Public," VACANCY, Los Angeles, CA (2016). Recent group shows include "Heat Haze," Gravy, Santa Cruz, CA (2023); "Built In," Neutra VDL, Los Angeles, CA (2021); "We Are All Guests Here," Bridge Projects, Los Angeles, CA (2021); "Wavelength," TIMES Museum, Beijing, CH (2021); "A Secret," Pavillon am Milchof, Berlin, DE (2019); "Bioperversity," Nicodim Gallery, Los Angeles, CA (2018); "Weird Rain," Garden, Los Angeles, CA (2017), amongst others.