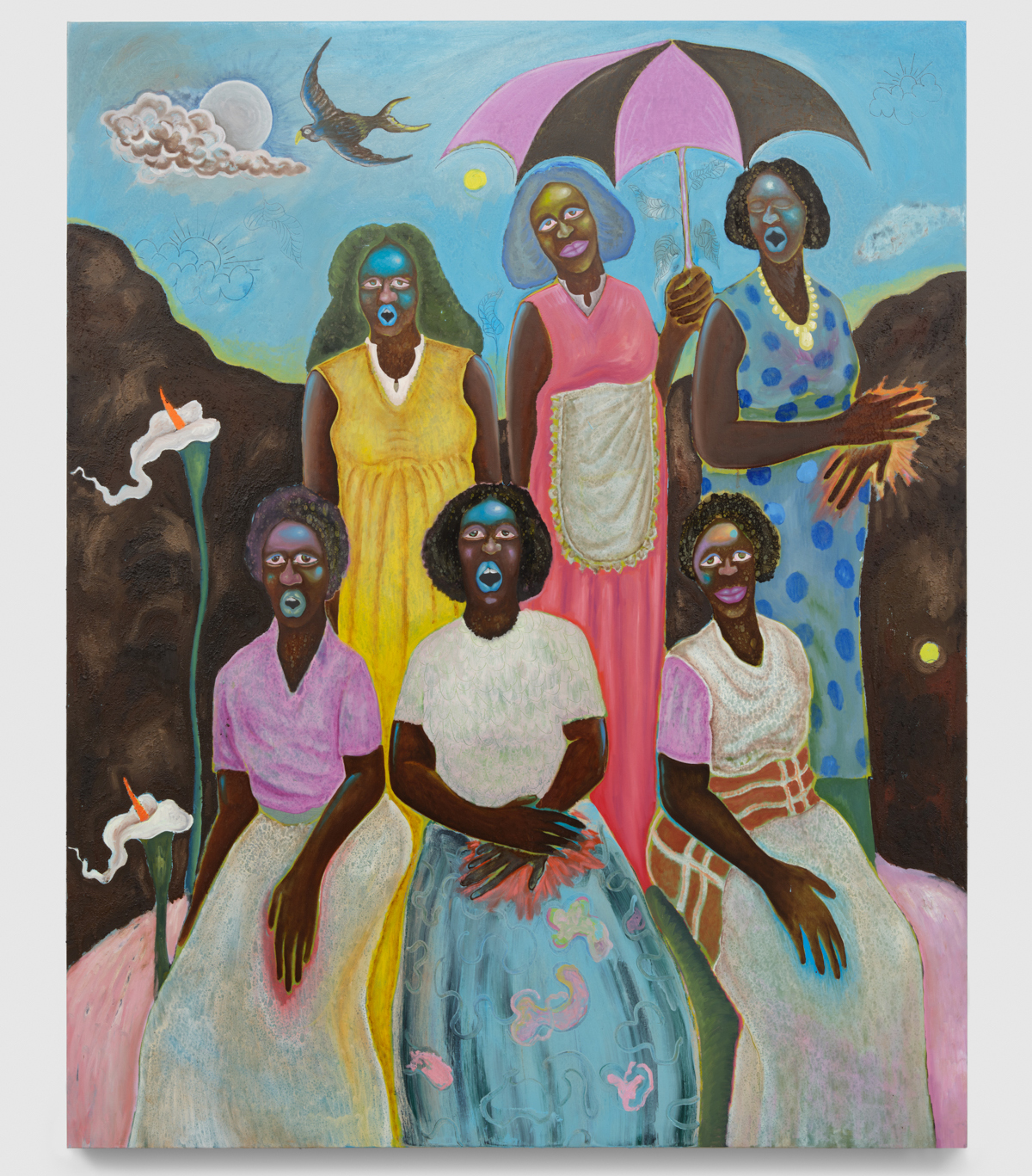 Simphiwe Ndzube: Chorus | Tom Anholt: Sticks and Stones | Sam Moyer: Circle of Confusion
2727 S. La Cienega Blvd., Los Angeles, CA 90034
Nov 04, 5 PM - 7 PM — ends Dec 16, 2023
BLUM is pleased to present Chorus, Los Angeles-based artist Simphiwe Ndzube's first solo exhibition with the gallery.

Expanding the reaches of his surrealist Mine Moon universe—the fictional location that has long functioned as the setting for the artist's otherworldly vignettes—Chorus sees Ndzube adding new tropes and mark-making techniques to his visual lexicon. Where Ndzube would previously adhere multimedia objects to acrylic on canvas, in this exhibition, he perfects his use of oil paint through carving, manipulating finishes to convey a pointillist effect, or adding sand to build out from the canvas. The artist's subject—Black choral music traditions in South Africa—serves as a vehicle, advancing Ndzube's storyline and making space for new painterly techniques.

Growing up in post-apartheid Cape Town, the artist has long been inspired to represent the underrepresented individuals who exist within systems of oppression—those who go unheard. Chorus marks the debut of a new series in which Ndzube explores the notion of the voice, both literal and figurative. Black choral music traditions in South Africa are deep-seated and proved to be a pivotal tool for expressing resistance during apartheid. Amakwaya, a type of South African choral music, refers to a traditional Zulu choir that promotes Zulu culture, incorporating indigenous percussion instruments and styles. Chorus is the first installment in a new series that Ndzube has titled Amakwaya, as it takes the culture and imagery associated with musical stylings of the same name as its subject matter.

Chorus's use of oil paint is relatively new within the artist's established oeuvre. Ndzube had previously favored acrylic for its quick drying precision and vibrance. For the artist, oil paint aligns with the fantastical qualities inherent in music in that it is more mercurial, malleable in its finish, and able to be manipulated for longer periods of time. These properties are on full display in Ndzube's smaller-scale canvases Chorus #1, Chorus #2, and Chorus #3 (all 2023)—the vibrantly colored robes of the chorus members ripple and pop where the artist has intervened to create a dimple-like effect in his paints. The theme of gestalt echoes through these three works, as well as the whole show, in that each figure is at once immediately recognizable as well as visually divisible into a multitude of innovative and intricate marks on canvas.

While Ndzube introduces many new techniques and ideas in Chorus, he also returns to some of his powerful recurring imagery such as a flower that is both lotus and calla lily, the corpse flower, and boats at sea—all of which played major roles in his most recent solo institutional exhibition at the Denver Art Museum. These forms act as anchors for the Mine Moon—establishing the viewer in Ndzube's surrealist universe and its critique of apartheid and the residuals of colonialism. In Dead Father, A Cry Song for the Nation. (2023), Ndzube depicts a chorus of mourners in the Mine Moon, where the lotus and calla lily hybrid flower is native fauna, as they grieve the death of anti-apartheid activist Steve Biko.

Chorus indicates a major turning point for Ndzube. It is his first solo exhibition with BLUM, debut of the Amakwaya series, and the premier of these new techniques and personal symbols. The combination of these elements conveys visually the audible experience of music—its associated customs and inherent whimsical qualities—as well as continues to build the artist's distinct perspective within the magical realist discourse as a new source of recourse against structures of injustice.

Simphiwe Ndzube (b.1990, Eastern Cape, South Africa) lives and works in Los Angeles, CA and Cape Town, South Africa. He received his BFA from the Michaelis School of Fine Arts in 2015. Recent solo exhibitions include Oracles of the Pink Universe, Denver Art Museum, Denver, CO (2021); The Rain Prayers, Museo Kaluz, Mexico City, Mexico (2019); Bhabharosi, The Rubell Family Collection, Miami, FL (2018); and Waiting for Mulungu, CC Foundation, Shanghai, China (2018). His installation In the Land of the Blind the One Eyed Man is King? (2019) was included in the 2019 Lyon Biennale. His work is collected by the Denver Art Museum, Denver, CO; Fondation Gandur pour l'Art, Geneva, Switzerland; HOW Art Museum, Shanghai, China; Iziko South African National Gallery, Cape Town, South Africa; Los Angeles County Museum of Art, Los Angeles, CA; Musée d'art Contemporain de Lyon, France; Rubell Museum, Miami, FL; Zeitz Museum of Contemporary Art Africa, Cape Town, South Africa; among many others.

____

BLUM is pleased to present Sticks and Stones, Berlin-based artist Tom Anholt's first solo exhibition with the gallery.

Anholt makes paintings that straddle the line between the semiotic implications of representation and the ineffable emotive qualities of abstraction. Referencing the artist's curated repository of tropes and imaginary settings, each work on linen places a strong emphasis on composition and the hand. This signature style breaks each scene down to its most essential spatial components of form, light, and color—affective gestures that accumulate and transform recognizable symbols.

Partially alluded to in the exhibition title, the symbol of the tree is one of the predominant signifiers in Sticks and Stones. Formally used as a device around which to build receding depths, Contemplation (2023) or Perfect Day (2023) depict trees and their branches as dark, snaking lines which route from end to end of the linen's most forward-pushing interior. Receding from these meandering twigs are mid-plane horizon lines which separate glistening bodies of water from rolling hills. On a personal level, trees also represent the artist's twin sister Maddy, who began a battle with brain cancer just as Anholt started his first work for this exhibition. That precursory painting, Twin Branches (For Maddy) (2023), is a tribute to her, and functions as the narrative beginning of the show. As Maddy's condition advanced, the artist began to see the person he had known wane—she left this world just as Anholt was finishing the exhibition's concluding work, Drifting Away (2023). Telling a story of resilience and strength, Sticks and Stones honors Maddy's life—capturing the unutterable emotions and simple moments of closeness tied to the universal experience of losing a loved one.

Viewing painting as a healing process, Anholt often takes as his subject matter the types of contemplative pastoral nature scenes favored by painters of the Romantic era. Key elements of these landscape paintings are blue pools of flowing or still water next to vibrant green fields. Each quadrant of the work functions as an abstraction with ambling brush strokes of greater or lesser pigmentation, imitating the natural qualities of light as it reflects. Seeded into these swatches of painterly marks is the occasional tiny figure, calling to mind the allegorical scenes of Caspar David Friedrich.

Most of the vignettes in Sticks and Stones take nighttime as their setting, employing the rich, darker palette required to indicate the absence of light. Simultaneously, the moon appears in many of these works—a twinkling orb or crescent that commands attention by means of its striking contrast with its shadowy environment. As much a recurring character as it is a motif or geometric abstraction, this moon unites the splintered factions of the painting schools from which Anholt draws reference.

Like the Romantic painters of times past, Anholt conveys personal sentiment and an interest in the natural world. Like the Abstract Expressionists, he uses gestures that call attention to his medium. Anholt unites art history, allegory, natural imagery, and an emotive palette to under the umbrella of his own visual language.

Tom Anholt (b. 1987, Bath, UK) lives and works in Berlin, Germany. He holds a BA from the Chelsea College of Art and Design, London, UK, and studied at Konstfack University of Arts, Crafts and Design, Stockholm, Sweden. Anholt's work was the subject of the solo presentation Time Machine at Kunstverein Ulm, Germany (2018) and featured in group presentations at the Marciano Art Foundation, Los Angeles, CA (2023); Hamburger Kunsthalle, Hamburg, Germany (2020); and KH7 Artspace, Arhaus, Denmark (2018). His work is held in numerous public collections, including the Collection Majudia, Montreal, Canada; Marciano Art Foundation, Los Angeles, CA; and M Woods, Beijing, China.

____

BLUM is pleased to present Circle of Confusion, Brooklyn-based artist Sam Moyer's first solo exhibition with the gallery.

"The circle of confusion" is a term used in photography and film to define and measure what is in or out of focus in a picture. It is an area where a point of light grows to a circle that you can visibly see in the final image, in which the size of the circle determines the sharpness of the image.

In the circle of confusion, ideas come in and out of focus. The closer and smaller the idea, the more acute and sharp the opinion, the action; the broader and wider the scope is, the blurrier the feelings, the greater the overwhelm and failure to process, but still an understandable image—all within the circle of confusion.

I started making these paintings in 2020 as a solution to a problem. It was a moment when the broader scope was too hard to hold. The narrowing of focus to the work of brush strokes and intuitive response tightened the circle of confusion for me. Since 2020, the circle has expanded and contracted. As I write this, I am feeling overwhelmed again, grateful for this task to sharpen focus.

These paintings have a limited palette centered around Payne's Gray, a color that represents the cold reflective light of "magic hour," the moment after the sun has set, before it's dark—when the light is a soft blue. This in-between light emphasizes contrast while simultaneously flattening the world.

I never studied painting. I have sort of forged my way through this new relationship with oil paint via advice and guessing, but the material has revealed a direct tactile play with light that I have always sought from the existing surfaces of materials. In photography and stone, a relationship to light is inherent to the process, or comes directly from the source, but with painting, I have the control. Utilizing different techniques of application, I can get the surface of the paintings to reflect or absorb light in configurations that are only revealed as the viewer walks around the work, engaging the body, returning the painting to its objecthood and its relationship to the three-dimensional world, and sculpture.

The images and patterns of the paintings exist in my mind in a form of haunting. Another circle of confusion, they hold a soft edge while in the realm of imagination and tighten as I start the actual work of laying down paint. I pull focus through process, allowing the material to aid in the work's direction.

Upstairs, seven new photographic works are on view. The images in this series are of eroded sea walls that were built on the beaches of Gardiners Bay on Long Island, using the stones of the beach as the aggregate in the concrete mixture. As time and water have moved over them, the structure of the walls has degraded into free-formed shapes. They have lost their protective function but, in so, have been transformed into site-specific sculptures— a collaboration between the human hands that made the walls and the forces of nature that have been breaking them down.

I have framed the photographs in concrete using the same beach stones as aggregate. The frames take on the role of representing what these forms once were, holding the image of their trajectory.

—Sam Moyer

Sam Moyer (b. 1983, Chicago, IL) lives and works in Brooklyn, NY. She earned her BFA from the Corcoran College of Art and Design, Washington, DC, and her MFA from Yale University, New Haven, CT. Her work has been featured in national and international exhibitions such as at the Drawing Center, New York, NY; the Bass Museum, Miami, FL; University Art Museum, University at Albany, NY; Public Art Fund, New York, NY; White Flag Projects, St. Louis, MO; Contemporary Art Museum St. Louis, MO; LAND, Los Angeles, CA; and Tensta Konsthall, Stockholm, Sweden. Moyer's work is held in numerous prominent collections, including the Aïshti Foundation, Beirut, Lebanon; Davis Museum, Wellesley College, Wellesley, MA; Louis Vuitton Foundation, Paris, France; Morgan Library & Museum, New York, NY; Museum of Modern Art, New York, NY; Whitney Museum of American Art, New York, NY; and the Yale University Art Gallery, New Haven, CT.