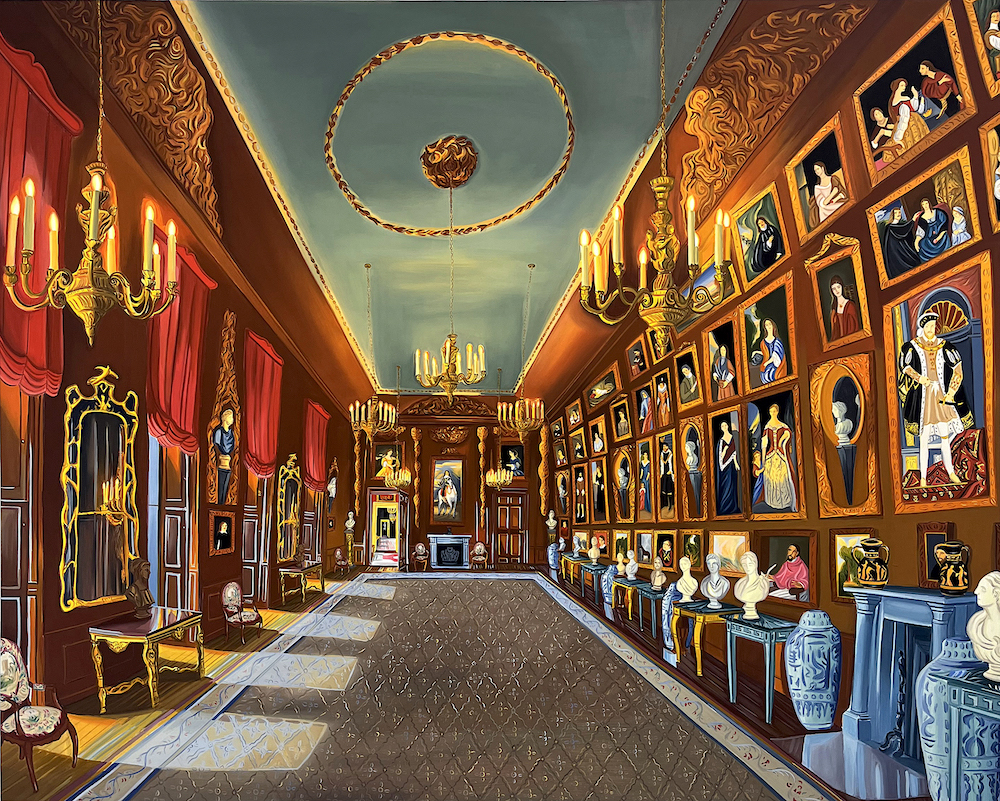 Gretchen Scherer: After Visiting Hours | Arjen: The Joy of the the Incomprehensible
2525 Michigan Ave., Santa Monica, CA 90404
Nov 04, 4 PM - 6 PM — ends Dec 16, 2023
Richard Heller Gallery is pleased to present Gretchen Scherer: After Visiting Hours. This is Scherer's first solo exhibition with the gallery.
This exhibition consists of a series of eight paintings based on historic homes and museums in England and Scotland that are open to the public.

From the Artist:

I begin each painting with a research process where I learn about the space and collect images from online, books, or sometimes from photos I take. I try to find a way to open up or change the space so it becomes something new. Something closer to how I feel about it or imagine the space to be. All the little paintings, sculptures, and furniture within the painting come from the actual collection and become the animated elements in an otherwise empty space. Some of the paintings in this show feel more empty and breathless and others feel very alive and playful. I think they oscilate between those two poles.

In my work there's always been a tension between real life and the imagined. How the imaginary and the real relate to one another. Using places that are fixed and exist in the world in a certain way helps me to draw attention to this tension. The way our emotions and ideas about a space may influence the way we see it. But also how when we visit these historic places we can share in the experience. We are given glimpses of these spaces during visiting hours when they are at their best but there are other moments we don't get to see or experience within these places.

~ Gretchen Scherer

About the Artist:

Gretchen Scherer (b. 1979, Indianapolis, IN) received an MFA from Hunter College, NY and a BFA from The University of Illinois at Chicago, IL. She is the recipient of a Graf travel grant to Berlin and has completed residencies at Skowhegan School of Sculpture and Painting, ME and Vermont Studio Center. Her work has recently been exhibited at Taymour Grahne, London and Gowen Contemporary, Switzerland, co-curated by Rachel Cole. Scherer exhibited a solo exhibition at Monya Rowe Gallery in 2022, and was included in a two-person exhibition with Anne Buckwalter in 2021, also at Monya Rowe Gallery. Scherer's work was highlighted in Harper's Bazaar Latin Art Issue in "Artists to Follow in 2022," and in New York Magazine by Jerry Saltz in "The Best Art Shows of 2021." The artist lives and works in West Creek, NJ and Brooklyn, NY.

____

Richard Heller Gallery is pleased to present Arjen: The Joy of the the Incomprehensible. This is Arjen's first solo exhibition with the gallery.

The Joy of the Incomprehensible

Arjen investigates the possibilities in the space between minimalism and surrealism. His practice is as much related to work of Salvador Dali as it is to the work of Mondrian. Arjen builds on the idea of cubism which he evolves towards an organic unity, while leaving out everything that is not essential.

Arjen uses an articulated visual language. The works have their own atmosphere. Some are humorous, some are more elegant and tranquil while others can be provocative.

His oil paintings are based on sketches in which he improvises with elements of the human body, geometrical forms and assorted other features. The interaction between all of these elements, in unusual formations, sometimes leads to indescribable associations. In contrast to the irrational content, he rigorously finetunes his sketches into a compositionally balanced and formally logical result. The paint is applied smoothly, with minimal visible brush strokes. The color gradients are very fluent and subtle which increase the feeling of depth and space, without distracting from the image on the canvas.

Arjen was born in the Netherlands. He is strongly influenced by the old masters such as Rembrandt and Vermeer. His work also draws from the principles of Dutch Design, which is characterized as minimalistic, experimental, innovative, quirky, and humorous.


"When you leave out a line, automatically all the other lines become more important."

About the Artist:
As a ten-year-old child, Arjen started copying paintings of the Old Masters. He studied the techniques of, for instance, Rembrandt, Jacob van Ruysdael, and was fascinated by the works of Picasso, Dali and Condo. He was also intrigued by the ethnographic art.

As a gifted violin player he studied at the Conservatory of Utrecht. After obtaining his Masters degree Arjen was asked to become professor at the same institute. Simultaneously Arjen kept painting and sketching while searching for his own unique style.

Arjen lives in the countryside of The Netherlands with his wife and four children.