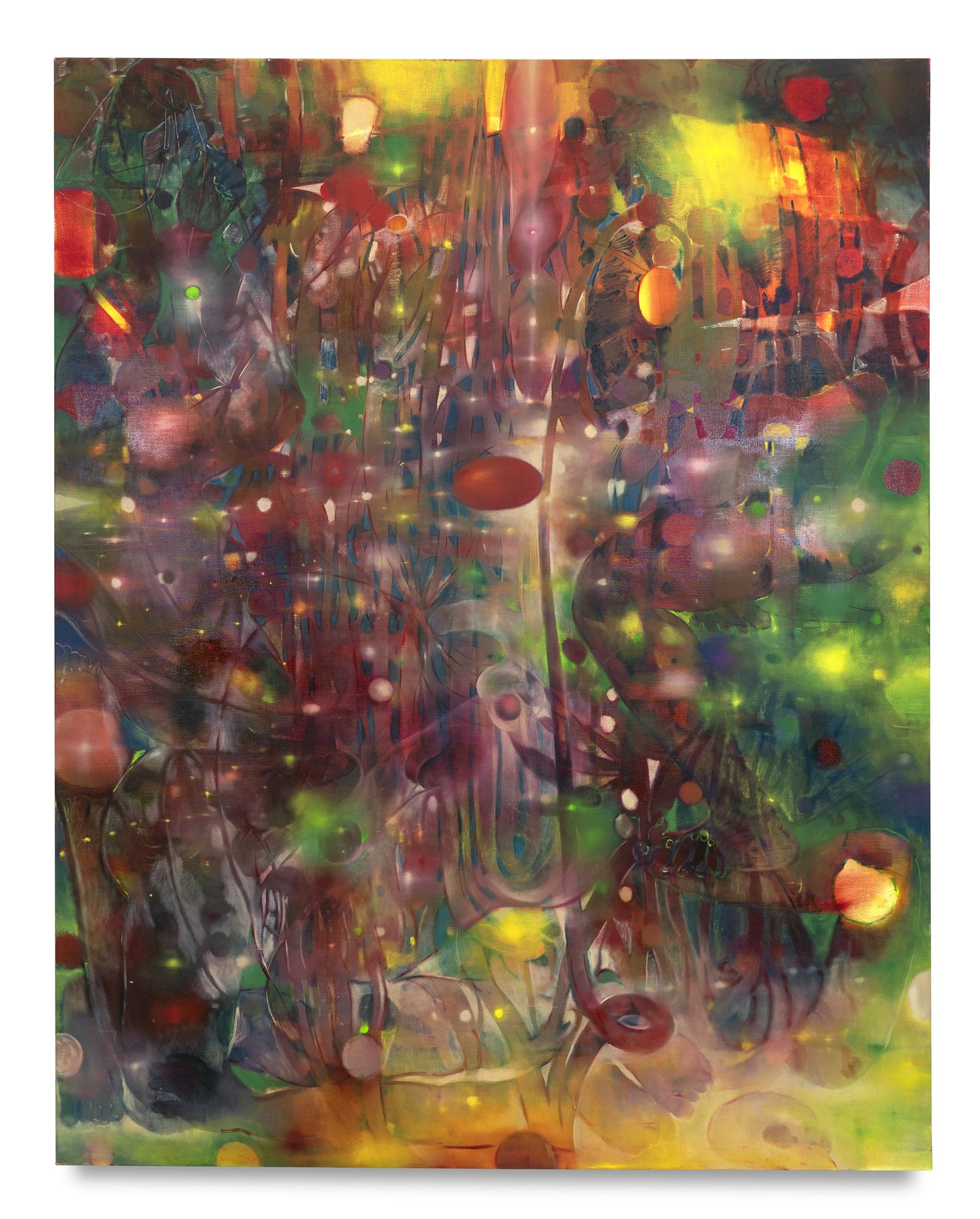 Li Hei Di: Oscillating Womb | Faris Heizer: These days
1227 North Highland Ave Los Angeles, CA 90038
Nov 02, 6 PM - 8 PM — ends Jan 06, 2024
Michael Kohn Gallery is delighted to present Oscillating Womb, a solo exhibition by London-based, Chinese artist Li Hei Di. In their debut exhibition with the gallery, Li's aqueous paintings embrace an intimate, counterpoint dance between desire and repression. Translucent, human appendages lurk just below the surface, coming into focus only after processing the atmospheric brushwork and lush colors of the natural phenomena floating above.

Growing up in a conservative family, Li's expression of their gender and sexuality remains a compelling thematic device in their works. The images Li paints are never fully figurative nor abstract; neither completely opaque nor entirely transparent. Instead, they embody a porous fluidity where marks on the canvas are made and then sacrificed into a new layer. Limbs and other figurative elements twist and construct themselves in loose, biomorphic forms, becoming unlikely, yet bold signifiers of the artist's erotic imagination. "The figures in my paintings are like ghosts, translucent beings, not solid humans," Li states in a recent interview.

In Oscillating Womb, Li draws inspiration from Tsui Hark's classic wuxia film Green Snake (1993), based on the ancient Chinese legend of a romance between a man and a spirit serpent. Identifying with the titular antagonist of the story, Li finds kinship in the film's reading of the Green Snake as a misunderstood outsider operating beyond the traditional heteronormative framework. The supple green and red textures of the film's frames, as seen in Unquenchable Laughter, permeate Li's color palette and compositions, lending a raw and tender energy.

Li's works sit in conversation with the gender defying oeuvres of Virginia Woolf and Paul B. Preciado, as much as they do with the scale of the Abstract Expressionists or Miriam Cahn's vision of sexuality. To submerge into Li's ethereal, fantastical paintings is to encounter the radical dream of a world freed from rigid social, cultural, and sexual norms. As Li explains, "They are possibilities, not conclusions; they are forever in transition, but not in a hurry to become someone."

____

Michael Kohn Gallery is pleased to announce an exhibition of new paintings by Singaporean artist, Faris Heizer. In These days–Heizer's first solo exhibition in the U.S.–figurative imagined realities are presented in a range of expressive moments of action to contemplative sedentary states. Within Heizer's emotionally-charged and intriguing canvases, corporeal gesture, light, and perspective narrate stories embedded in domesticity.

His figures, at times painted in exaggerated poses– an arm swung high to block out the blaring sun, a body curved forward renouncing to exhaustion, or heavy extended legs testing the stability of a chair– transport commonplace objects and earthly environments into intimate and existential moments. This perspective, achieved both through the framing of pictorial space and cinematic staging of the forms within, thrusts the viewer in striking proximity to the scenes.

Layered over thinly applied acrylics and gestural brushstrokes is a theatrical interplay between light and dark. In this tenebrosity lives a notion of pensive loneliness in works like Waiting for the green light and Feels like years, whose subjects are captured in a moment of quiet reflection that muffles the surrounding urban stimuli. Finding place within this atmosphere is an air of dry humor in What are the chances?­; illuminated by the orb of a vending machine's fluorescent light, a large figure crouches down as he tries his luck at finding abandoned change in the coin slot.

Heizer explains, "Narratives are built from within. It starts with an emotion, then I fill in the blanks with the quotidian." The emotive banality of Heizer's compositions is one that parallels Edward Hopper's realist paintings of everyday city life; his forms reminiscent of the elongated bodies of the Mannerists; and his subjecthood in conversation with Neo-Realist painter Liu Xiaodong. Nodding to and departing from the tradition of figurative painting, this reflective body of work delicately bridges the gap between subject and viewer by tapping into the uncanny of the ordinary.