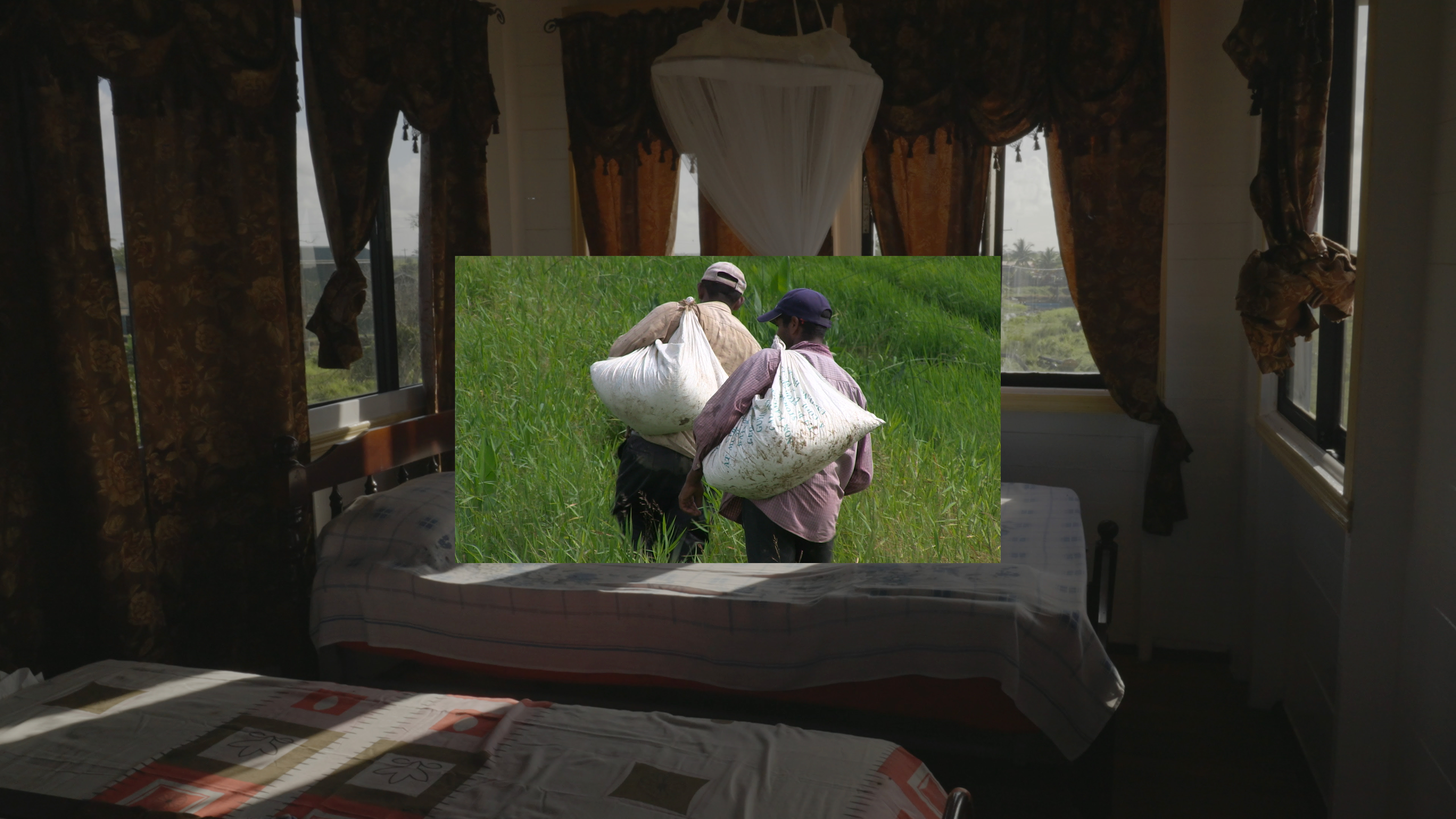 Lecia Dole-Recio: Mis-Shapes | Vishal Jugdeo: Caribbean Television
3006 W 7th St #220 Los Angeles CA 90005
Nov 11, 3 PM - 5 PM — ends Dec 23, 2023
Commonwealth and Council presents Mis-Shapes, Lecia Dole-Recio's second presentation with the gallery.

Dole-Recio's constructions are visual conundrums that delight in a material experimentation evidenced by their variety of media, including cardboard, dirt, vellum, gouache, and homemade natural dyes. Self-exposure motivates every part of their evolvement, from the single motifs with which the artist begins her process (paper circles, triangles, and other shapes excised by X-acto knife) to the gradual layering of scraps, drips, smears, and splatters accumulated on the studio floor. Defying easy categorization, Dole-Recio's painting-collages find foothold where language fails experience, laying themselves bare only to corporeal relation.

For Mis-Shapes, Dole-Recio continues her familiar queering of shape (as something that both orders and obscures, contains and reveals) through the motif of the disrupted grid. Screens, nets, and lattices find themselves interlaced with curved triangles and half-circles, their spray painted outlines overlaid with mismatched stencils. Orthogonal lines invite the eye to follow their rapid acceleration and sudden halts across the pictorial surface, exposing a playful banter between positive and negative space, background and foreground, protrusion and recession. In contrast to this dramatic shifting of pictorial depth, the works maintain material levity as the artist carves divergent shapes directly into the paper in order to minimize their layers.

Time, in turn, casts its shadow through the artifacts of the artistic process. In Untitled (seven overlapping curve grids), shoe prints lie stamped in a mixture of cochineal and lemon juice among other indexical markings, while a curved form in Untitled (gold and grey overlapping circle grids) finds its sprayed cast left behind in Untitled (grey triangles, five grids, and blue spray curve). Cut-outs, discards, and outlines act as intuitive mappings of the choices, possibilities, and U-turns made at every stage of self-construction, fragmentations of dimension that compound and echo between works across the gallery. Dole-Recio's use of natural pigments continues this welcoming of the outside world into the field of the paintings, with elemental washes in crimson, salmon pink, and inky purple created using foraged oak gall, walnut, and cochineal. What results are fluid compositions which revel in a re-organization of space, surface, and touch, encouraging the viewer's close observation as they move around the works.

Lecia Dole-Recio (b. 1971, San Francisco; lives and works in Los Angeles) received an MFA from Art Center College of Design (2001) and a BFA from Rhode Island School of Design (1994). Dole-Recio is currently faculty at California Institute of the Arts, Santa Clarita. Solo exhibitions have been held at Commonwealth and Council, Los Angeles (2020); Gavlak Gallery, Los Angeles (2016); Vienna Secession, Austria (2011); Richard Telles Fine Art, Los Angeles (2011); Casey Kaplan, New York (2009); and Museum of Contemporary Art, Los Angeles (2006). Selected group exhibitions have been held at Milton Resnick and Pat Passlof Foundation, New York (2023); Gordon Robichaux, New York (2019); Tiger Strikes Asteroid, Los Angeles (2017); Craft Contemporary, Los Angeles (2015); Hammer Museum, Los Angeles (2014, 2001); Los Angeles County Museum of Art (2013); and Whitney Museum of American Art, New York (2004).

Dole-Recio's work is in the collections of Hammer Museum, Los Angeles; Los Angeles County Museum of Art; Mission Bay Art Collection, University of California, San Francisco; Museum of Contemporary Art, Los Angeles; and Walker Art Center, Minneapolis.

____

In Vishal Jugdeo's second presentation at Commonwealth and Council, the artist premiers the first episode of Caribbean Television, a project delving into the legacies of colonialism and indentureship in Guyana, drawing in this instance, from the artist's family history. The single channel-video, Deo's Moon employs the artist's signature multifarious storytelling, laying bare the shifting subjectivities and power dynamics of the filmmaker and the film's participants. In it, Jugdeo wrestles with myths and traumas accumulated against the backdrop of Guyana, whose histories and divided cultures have formed its own latticed identity, alongside and despite, dominant global narratives.



Filmed with an uneasy gaze, along Guyana's rivers and shorelines, in markets and bars, Jugdeo seeks understanding and comfort in a place that is both foreign and familiar. The artist's uncle Deo—a storied man of politics and culture—acts as docent, guiding Jugdeo and the viewer through histories, songs, and nightlife, only later revealing his own agenda. Jugdeo and his cousins, Shalini and Dharani, strive to make sense of their own queerness through their Caribbean lineage while debating the very ethics of Jugdeo's work. To what extent can the exchange between filmmaker and subject be mutually beneficial? Do the subjects feel exploited? Or seen? Is the filmmaker a native informant? Or is he the steward of an archive of untold stories?



In laying out and embracing these contradictory feelings and ideas, Jugdeo eschews traditional narrative structures and resolutions in favor of a syncopated Caribbean rhythm. As images and ideas switchback and wind, truths and realities shift both for the filmmaker and his subjects: cruising becomes a mechanism of ethnography and binding social contracts are born from family lies. All the while, Guyana acts as the ultimate enigma, evading and muddying assumptions of race, class, and gender. Untethered from such bonds, perhaps the queer, diasporic gaze offers a way to make sense of the seemingly ineluctable cycles of trauma.



Vishal Jugdeo (b. 1979, Regina; lives and works in Los Angeles) received an MFA from University of California, Los Angeles (2007) and a BFA from Simon Fraser University, Burnaby (2003). Jugdeo is faculty in the Department of Art at University of California, Los Angeles. Solo exhibitions have been held at Commonwealth and Council (2021); 18th Street Arts Center, Santa Monica (2016); Institute of Contemporary Art, Philadelphia (2014); LAXART (2008); and Western Front, Vancouver (2005). Selected group exhibitions have been held at Performa 13, New York (2013); Hammer Museum, Los Angeles (2012); and Orange County Museum of Art (2010). Jugdeo is a recipient of Canada Council for the Arts Grants (2023, 2020), Guggenheim Foundation Fellowship (2015), California Community Foundation Fellowship for Visual Artists (2013), and Art Matters Foundation Grant (2012). He has participated in residencies at MacDowell Colony, New Hampshire (2018); BOFFO, Fire Island (2016); and Skowhegan School of Painting and Sculpture (2005).