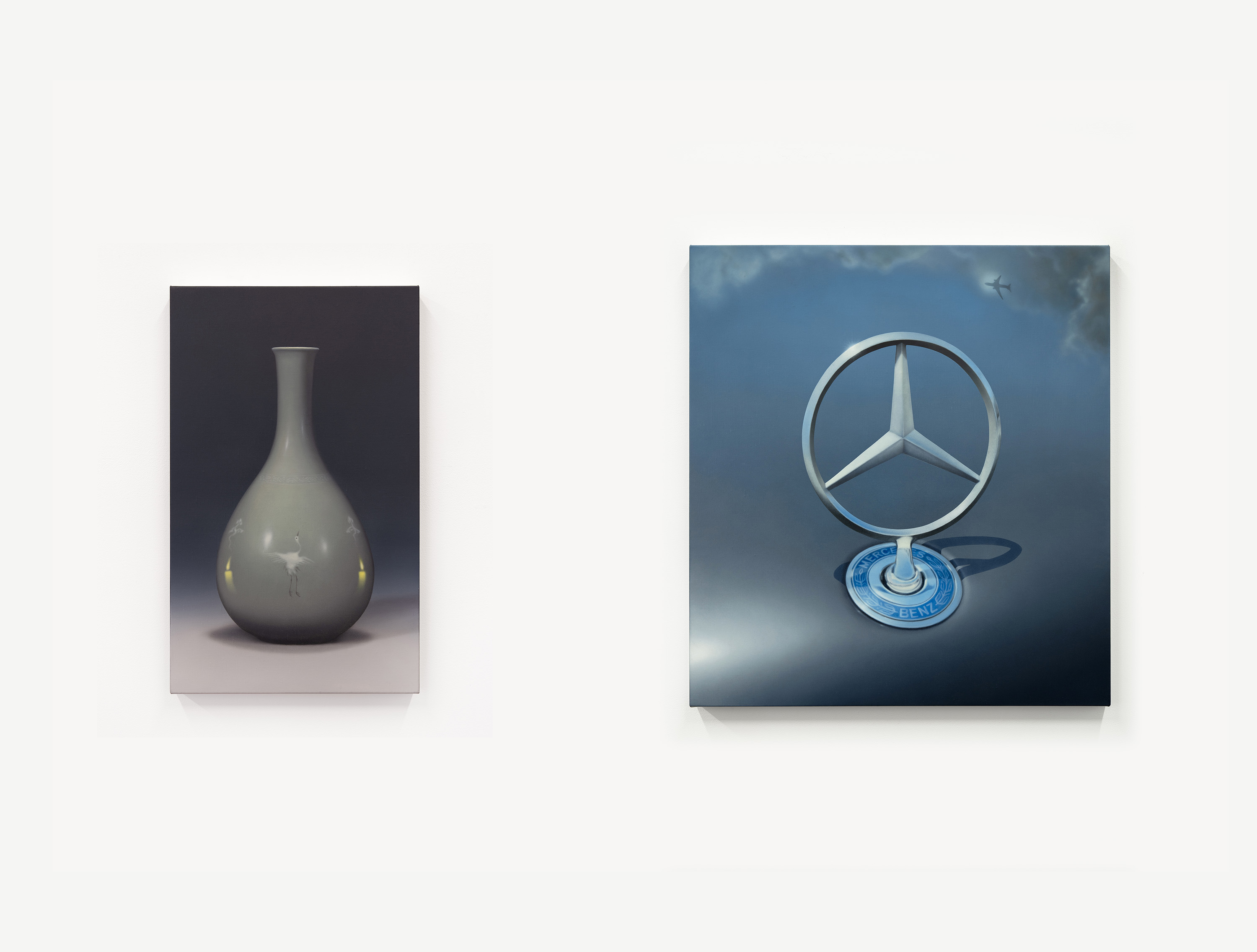 Dabin Ahn: Staged
3301 W Washington Blvd, Los Angeles, CA 90018
Nov 18, 5 PM - 8 PM — ends Dec 22, 2023
Staged is comprised of a suite of paintings by Dabin Ahn that depict singular, particular objects—Korean ceramic vessels, books about the sculptures of Auguste Rodin, and the hood ornament of a family car—each offering reflections on the artist's adolescence while reifying his ongoing search for creative, cultural, and personal identity. Painted with acute precision and restricted palettes, most selected objects are centered and closely cropped, graced by soft, undefined shadows, and set within clean, monochromatic vacuums. At first glance, Ahn's paintings resemble the professional documentation of decontextualized historical artifacts undergoing authentication. Upon closer inspection, inexplicable narrative details materialize. A painting of a flying crane liberates itself from its celadon substrate. Light emanates from within vessels or violently pushes through their cracks. Mildly ominous or potentially miraculous, these minute phenomena serve as metaphorical glimpses of an omnipresent artist opting out of corporeal form.

The paintings in Staged present ideas—composites of excavated memories distorted by affect and time. Raised in Korea in the mid 1990s, Ahn's mother taught sculpture at a local university and completed several public artworks before becoming a full-time parent, while his father is one of the most prolific and celebrated actors of Korean cinema. As his father's fame grew, the family home filled with exquisite objects from around the world. An imported 1994 Mercedes-Benz E-Class E320 sedan became a multivalent symbol—a sign of the family's achievements, a signifier of status in Korean society, a representation of a patriarch providing for his family, a safe vehicle for a family with small children, and finally a reflection of his father's taste, which perhaps felt incongruent to Ahn given his dad's perceived modest personality. Ahn reminisces about his father polishing the car on Sundays before family outings as well as the sublime feeling of looking up at the clouds from the back seat. July 1994 (2023) is a painting of the idea of this car—a mediated recreation of a faint memory of a period in which Ahn's family was happy together. Drawing focus from the trophy-like Benz logo to the silhouette of an airplane reflected in the car's hood, Ahn foreshadows his departure from Korea, his family, and his childhood, and creates space for himself to step away from the shadow of his role models.

Undertaking a rigorous process of research, planning, and technical implementation, Ahn paints like he imagines his father prepares for a role—taking time to study and choreograph before performing on set. Ahn's own performance in the studio is in part determined by his visual perception—born with red/green colorblindness, Ahn maps sections of a painting executable in one sitting since drying colors become difficult to distinguish from their fresh counterparts. Similarly, Ahn has developed an innate sensitivity to the texture of paint, patiently eliminating brush strokes that create shadows in the grooves of paint that can interrupt carefully planned color choices. Staged exemplifies Ahn's philosophy that the most successful artworks, whether film, sculpture, or painting, are a malleable mix of fiction and the artist's truth(s).