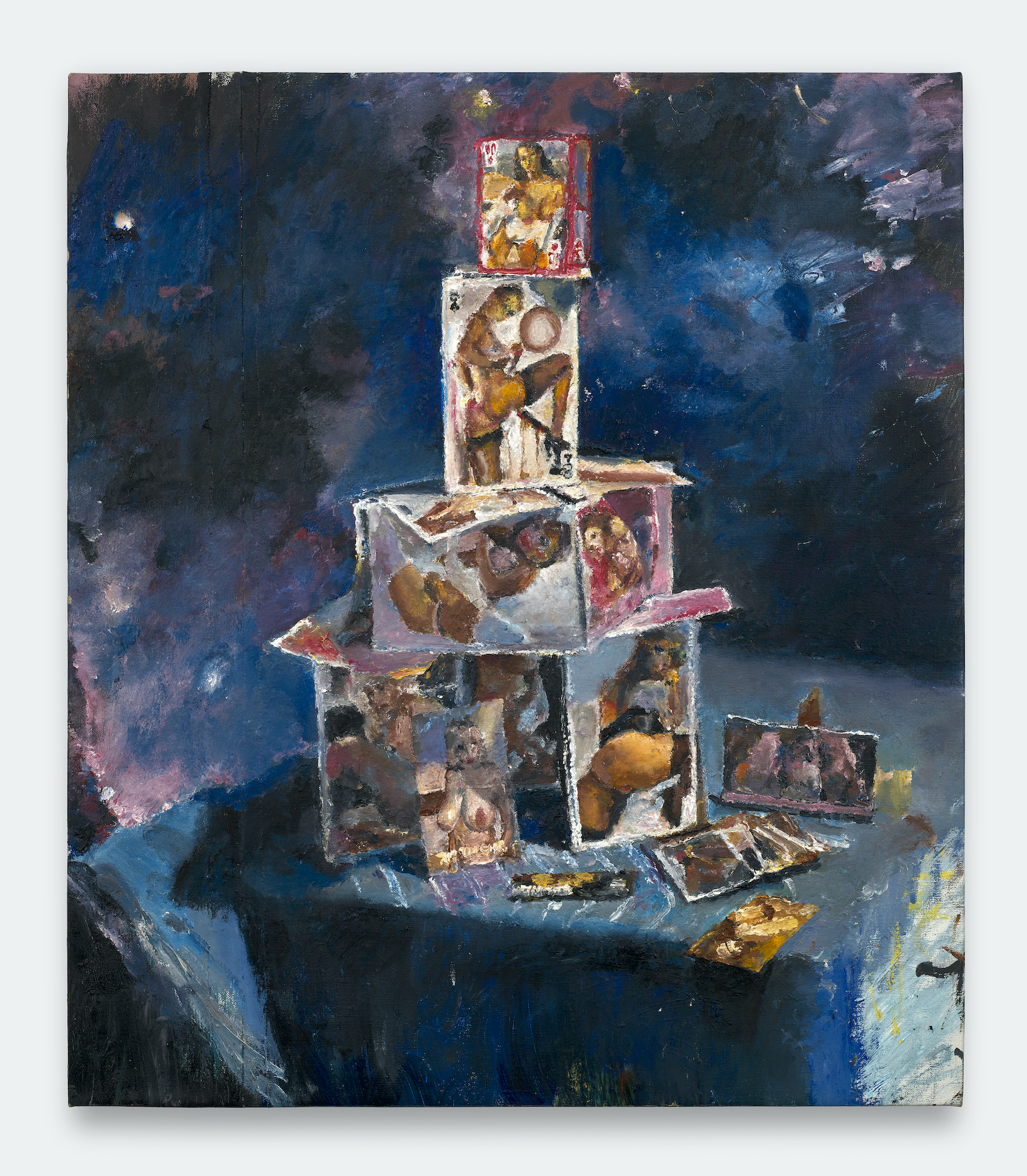 Jesse Edwards: House of Cards | Codi Barbini: The Sound of Water
727 E Washington Blvd, Los Angeles, CA 90021
Nov 11, 5 PM - 7 PM — ends Dec 16, 2023
Simchowitz is pleased to present Jesse Edwards' "House of Cards" at our DTLA gallery (725 E Washington Blvd. LA, CA 90012). The exhibition opens on Saturday, November 11th with a reception from 5PM - 7PM. In "House of Cards", Jesse Edwards works across two distinct mediums, painting and sculpture, to explore his own personal insights, social commentary and even humor. Edwards' figurative art often plays with the contrast between artistic style and subject matter, at times incorporating elements of more explicit content, taboo items, and other provocative themes. The ceramic sculptures featured in this exhibition, card houses, stand at varied heights, each with their own unique configuration, fragile but static, small totems of happenstance and intentionality. These works embody the precarious and balanced nature of human existence, creating a dialogue between vulnerability and resilience, and the interplay of playfulness within life's uncertainties.

Jesse Edwards has become known for his intricately detailed oil paintings, which blend classical Old Master techniques with a touch of satirical cultural commentary. His artistic journey began with formal training in oil painting at the Gage Academy of Art in Seattle and an apprenticeship in ceramics under the guidance of Charles Krafft. This unique combination allowed him to merge the graffiti counterculture of his youth with the techniques associated with historical European art.

Following a period of collaboration with the renowned photo-realist painter Chuck Close, Edwards embarked on a new artistic direction. His focus shifted towards American counterculture, where he skillfully represented its symbols and iconic imagery within the context of traditional art genres such as still lifes, landscapes, and portraits. He has had solo shows in Seattle, New York, and Los Angeles, and participated in group exhibitions around the world. Edwards lives and works in New York and Seattle.

____

Simchowitz is pleased to present our first solo show of artist, filmmaker, and writer, Codi Barbini, as she introduces "The Sound of Water," an exhibition of vibrant oil paintings and works on paper. The exhibition offers Barbini's perspective on the symbolism and essence of flowers, as she views them both as symbols and objects, appreciating their complex cultural dichotomies.

Codi Barbini's exploration of flowers, often found on her daily walks or borrowed from memory, is an ode to love, joy, and gratitude, a sentiment deeply rooted in her daily process based painting practice.

Floral art has a rich history; from the still life paintings of the Dutch Golden Age to the modernist interpretations of artists like Georgia O'Keeffe, artists have consistently challenged and redefined the genre, using flowers as a means of personal expression and storytelling.

Codi Barbini's floral paintings offer a contemporary perspective on this enduring subject matter. Her large-scale oil paintings and smaller works on found (magazine) paper embrace abstraction and metaphor, pushing the boundaries of creativity through gesture, color, and scale.