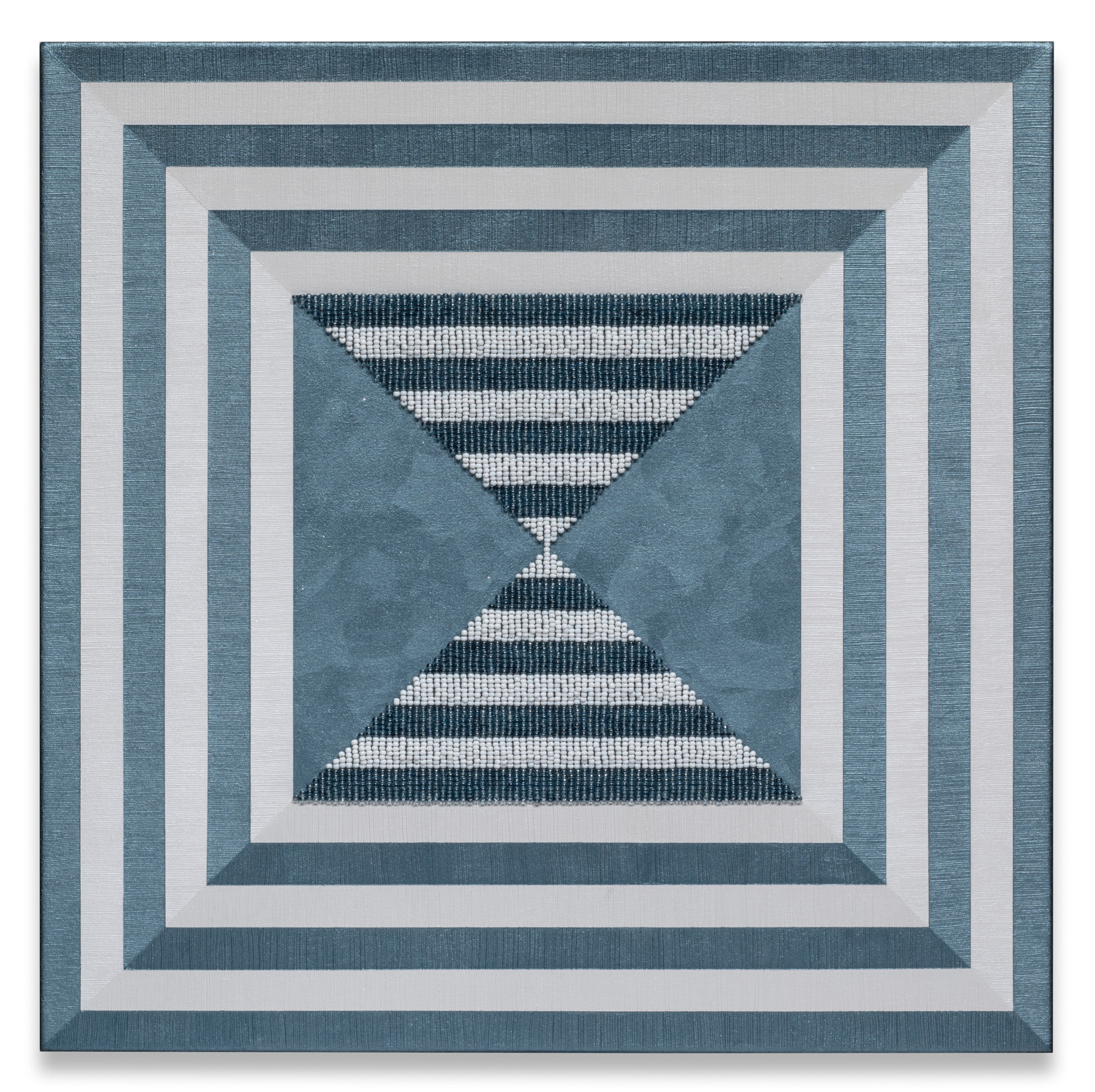 Dyani White Hawk: Reflection
812 North Highland Avenue Los Angeles, CA 90038
Nov 18, 6 PM - 8 PM — ends Jan 06, 2024
VSF is proud to announce Reflection, our first solo exhibition with Dyani White Hawk (Sičáŋǧu Lakota, b. 1976, Madison, Wisconsin, works in Minneapolis, Minnesota) in Los Angeles. The exhibition follows our two-person presentation of work by Diedrick Brackens and White Hawk at Frieze LA earlier this year. White Hawk's abstract paintings, which often include areas of beadwork, were a highlight of the 2022 Whitney Biennial. Reflection includes new paintings and mixed-media works in addition to an eight-channel video installation titled LISTEN, which features the voices and geographies of women speakers of eight Indigenous-American languages.



An exploration of abstraction, as a global human practice connected to expression, adornment, language, and ontology, is the core of White Hawk's work. Her compelling geometric compositions derive from her immersion in the aesthetic lineages of artworks - paintings, beadwork, quillwork and regalia - made by Indigenous American artists, art forms historically upheld by women; as well as her study of European- American and European artists, influenced by the use of abstraction from many indigenous cultures, who cultivated styles like Abstract Expressionism, Color Field Painting, and stripe painting. Besides making abstract compositions, White Hawk addresses abstraction as a conceptual strategy. For example, one of the abstractions that her work centers, is that of the influence of, particularly Indigenous American, artists outside of the western canon on the development of abstract styles in painting that became core to the narratives of artistic genius and modernism, where this influence is rarely mentioned as anything beyond a parenthetical.



When looking at White Hawk's mixed media works, which combine beadwork with painting, the beads sit up above the painted surface, asserting themselves in the foreground of the picture plane. The reflective quality of the glass catches the light, drawing attention to the contrast between the smoothness of glass and the texture of paint applied with a brush. White Hawk heightens this interaction by bringing our attention to the texture of the paint, applied in such a way that the linearity of the brushstrokes reflects the linearity of the bugle beads. Formally, White Hawk's recent work is highlighting balance between light and dark, paint and beads, allowing these "oppositional" elements to reflect, intersect, and interact in a drive toward balance.



Alongside these paintings, a chorus of women's voices speaking Indigenous languages of the North American continent project from eight monitors, where their video portraits are intercut with tender documentation of the homelands of the speaker and language. No translation into English is provided and in the space of the gallery, the women's voices overlap - a conversation that only some small number of likely visitors will have access to. This ensemble of spoken language aims to guide the viewer to realize that while they might be able to identify 10-20 languages by sound, the majority of those languages, including English, do not originate from this continent. Only some Americans will be able to identify the sounds and names of one or two of these languages - themselves only a fraction of the 500 Indigenous languages once spoken in North America. Like a painting that presents us with shapes, colors, and textures without an image or representation, for most viewers listening will be an abstract experience of sound, textures, intonations, and gestures the only clues to the content of these womens' words. LISTEN provides a window into the immense division between the greater American public and our Indigenous Nations, as well as the tremendous omissions of truth in how our national history is taught.


––

Dyani White Hawk (Sičáŋǧu Lakota, b. 1976, Madison, Wisconsin, works in Minneapolis, Minnesota) earned her MFA from the University of Wisconsin-Madison (2011) and BFA from the Institute of American Indian Arts in Santa Fe, New Mexico (2008). White Hawk has had solo exhibitions at the White Cube, New York; Museum of Contemporary Art Denver; Kemper Museum of Contemporary Art, Kansas City, Missouri; List Gallery, Swarthmore College, Swarthmore, Pennsylvania; Halsey Institute of Contemporary Art at The College of Charleston, South Carolina; Plains Art Museum, Fargo, North Dakota; The Lilley Museum, University of Nevada, Reno; and Bockley Gallery, Minneapolis, Minnesota. Her works are part of permanent collections at numerous public and private collections, including the Whitney Museum of American Art, New York; Guggenheim Museum, New York; The Museum of Contemporary Art, Los Angeles; Hirshhorn Museum, Washington, D.C.; Brooklyn Museum, New York; Akta Lakota Museum, South Dakota; Crystal Bridges Museum of American Art, Arkansas; Denver Art Museum, Colorado; Minneapolis Institute of Art, Minnesota; Museum of Contemporary Native Arts, Santa Fe, New Mexico; Museum of Modern Art, New York; Pennsylvania Academy of Fine Art Museum, Philadelphia; Smithsonian National Museum of the American Indian, Washington, D.C., and Walker Art Center, Minneapolis. In October 2023, White Hawk was announced as a 2023 MacArthur Fellow by John D. and Catherine T. MacArthur Foundation. She is a recipient of the 2021 Arts and Letters Award in Arts, Anonymous Was a Woman award, 2021 and 2013 McKnight Visual Arts Fellowship, 2019 United States Artists Fellowship in Visual Art, 2018 Nancy Graves Grant for Visual Artists, 2017 and 2015 Native Arts and Cultures Foundation Fellowships, and 2014 Joan Mitchell Foundation Painters and Sculptors Grant.