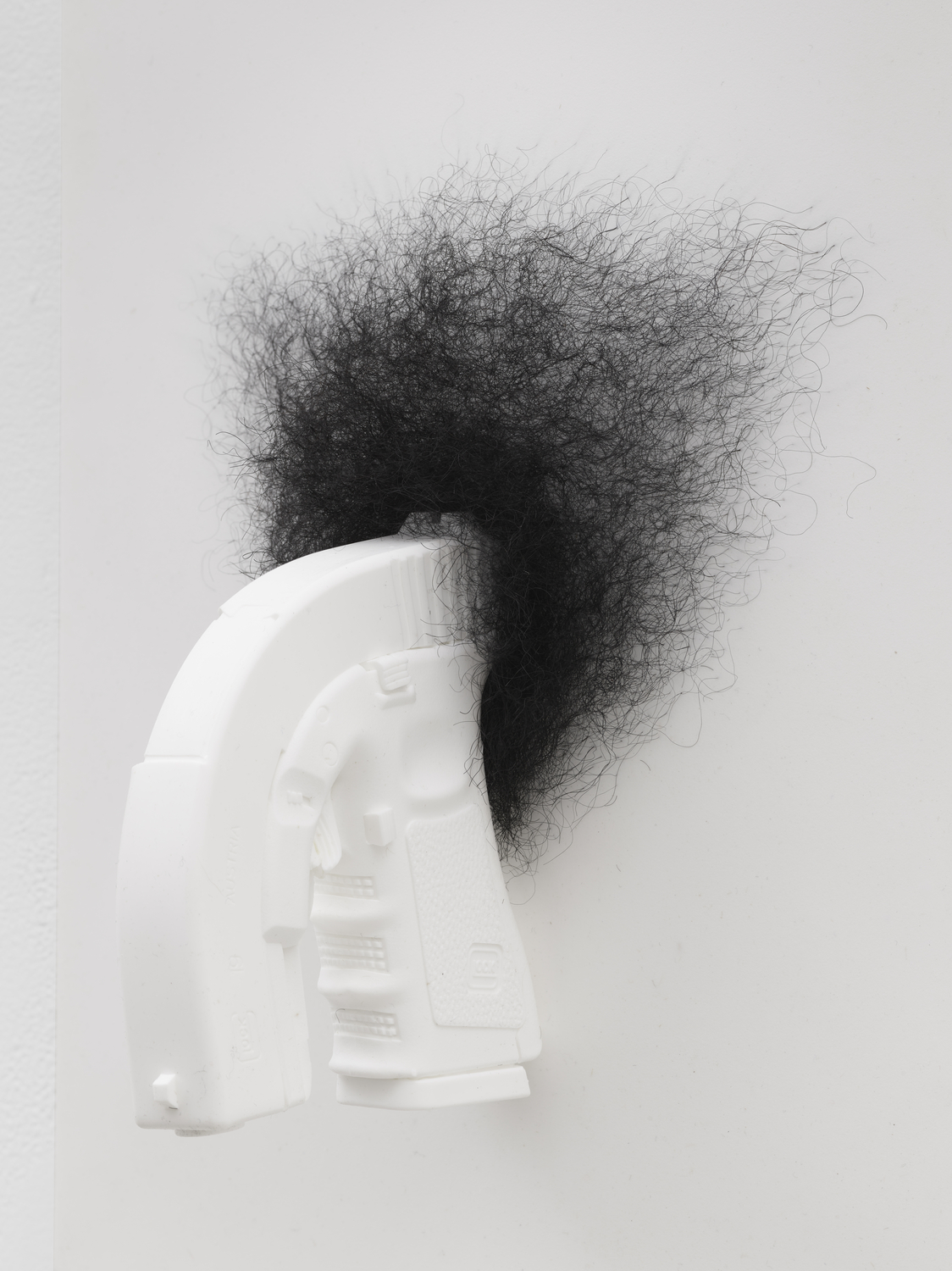 Hugh Hayden
1037 N. Sycamore Ave.
Nov 17, 6 PM - 8 PM — ends Jan 13, 2024
For his first solo exhibition in Los Angeles, Hugh Hayden presents a new series of work in an ambitious, site-specific installation that explores the prosthetics of power. Known for his examination of the American experience and symbolic investigation of everyday life using organic material, Hayden engages with recurring themes in his practice and provides deeper inquiry into topics of revelation, intimacy, desire, and sexuality.
Upon entering the gallery, the visitor is confronted with a large, open space lined along the perimeter with generic metal bathroom stalls which appear, at first glance, devoid of artwork. However, it is only upon opening each stall that one encounters the contents of the exhibition. The vulnerable act of opening a public restroom door is repurposed here as an entry point, an invitation to explore. Hayden probes this notion of privacy and expectations throughout the exhibition, including urinals with atypical positioning that suggest the users participate in an usually intimate arrangement. Other stalls feature toilets with protruding branches, pointed pencil shapes or bristled-covered seats—each echoing a familiar theme in the artist's work. Something which is meant to be familiar or ordinary is now desecrated and impossible to navigate, a layered metaphor for the discomfort and inaccessibility that permeates our present-day society in the pursuit of the ideals of the American Dream.
A section of stalls addresses the pervasion of violence in the police force in the United States and the ongoing issues around brutality and safety. These works are created in bronze, resin and silicone, three new mediums for the artist. They are shaped into pistol figures, and in one case, a nod to the cowboy Western ideal of the gun holster, reimagined as a strap-on pistol—a reference to complicated notions of violence and sexual desire.
Also included is a wooden skeleton work building on the artist's Eden series of interlocking rib cages. The skeleton, a recurring motif in the work, evokes themes such as race and identity. It serves as a nondescriptive visual symbol, meant to embody any ethnicity, age or gender. The work in this exhibition is composed of two red flocked skeletons in a red flocked closet.
Hayden's Los Angeles debut coincides with a number of public and institutional exhibitions throughout the U.S. A new public installation, 'Huff and a Puff' premieres at deCordova Sculpture Park Museum in Lincoln, MA this month. In 2024, his much anticipated 10-year survey exhibition Hugh Hayden: American Vernacular will open at Laumeier Sculpture Park in Saint Louis, Missouri in February, and travel to Brandeis University's Rose Art Museum in Massachusetts in the fall. Hayden's first major catalogue has been published by MIT Press to accompany the exhibition.
**Lisson Gallery will host a talk with Hugh Hayden and Kelly Baum, Director of Des Moines Art Center, on Saturday, November 18 at 11am.
This event is free and open to the public, but reservations are advised. RSVP to
rsvp@lissongallery.com