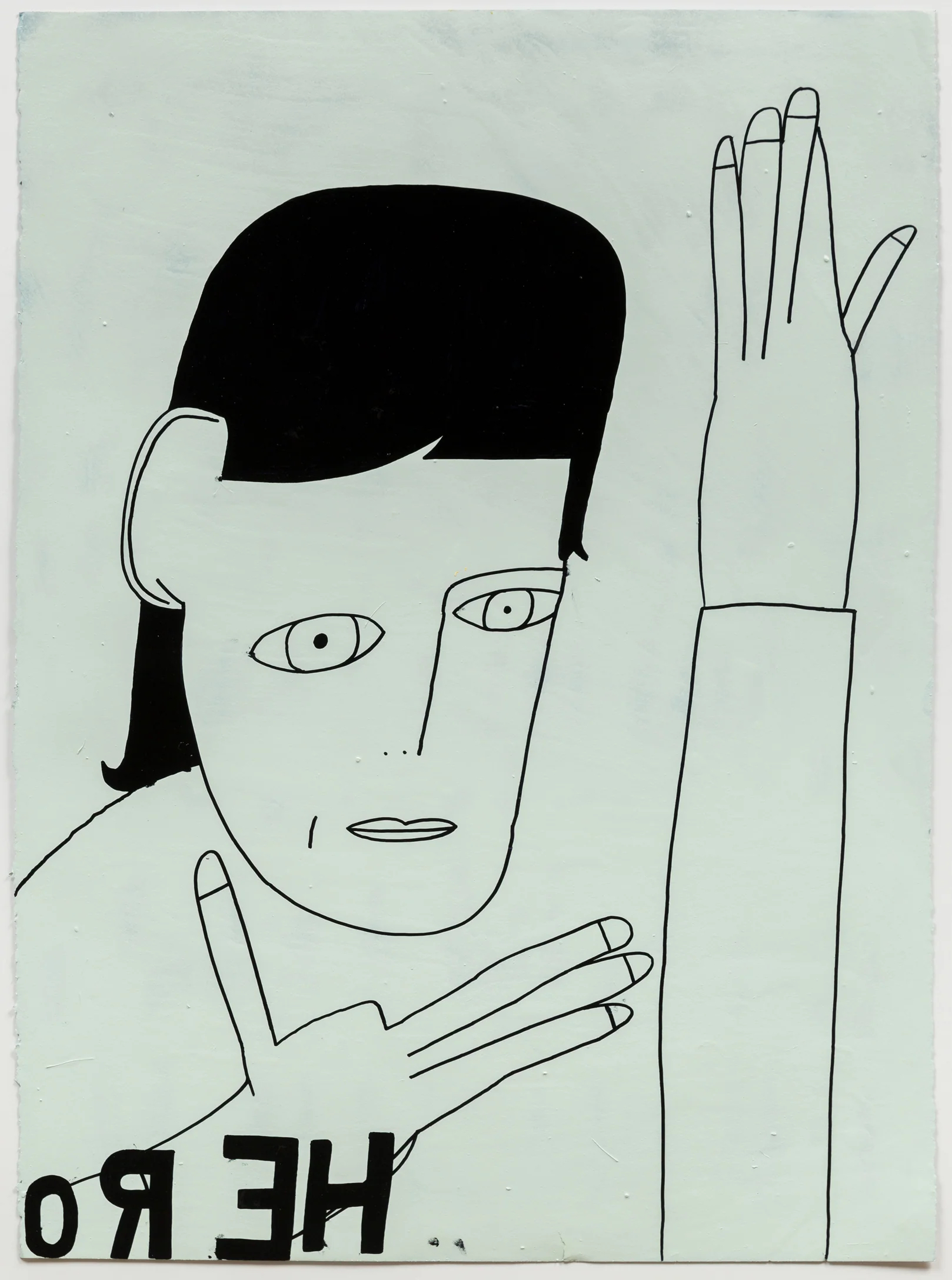 Curt LeMieux: HEROES
5500 WILSHIRE BLVD, LOS ANGELES, CA 90036
Nov 18, 6 PM - 9 PM — ends Nov 30, 2023
The second installment of renowned photographer Joshua White's curatorial project; WhiteBox.LA presents Curt LeMieux: HEROES, A group of minimal, puerile renditions of classic LP album cover art. The works speak to LeMieux's adolescent obsession with Rock & Roll imagery and his own blossoming teenage sexuality as he came of age on the outskirts of the rust belt in the late 70's. The album covers are sourced from diverse music genres. LeMieux's subjects include artists ranging from Dusty Springfield and Frank Sinatra to Black Sabbath and Patti Smith.

The show will incorporates live musical elements including a performance by Randy Randall of NoAge on November 18 at 5500 Wilshire Blvd and a closing event featuring musician Ian Svenonius in conversation with LeMieux at WhiteBox.LA Gallery located one door east in the main lobby gallery of the historic Desmond Tower.

HEROS is presented in partnership with interreality.art

Interreality: An expansive art exhibit presenting works by 35 artists, including Refik Anadol, Mark Flood, Auriea Harvey, Manfred Mohr & Christine Tien Wang, examines the spaces between analog & digital art-making

A few blocks from LACMA, Interreality encompasses 15,000+ sq ft & expands on conversations addressing the divide between digital and traditional media

In Partnership with:
INTERREALITY @interreality.art
Bitforms Gallery @bitforms
PR For Artists @prforartists
Mieke Marple @miekemarple


Artist Statement:
In the winter of 1978, when I was about 8 years old, I watched in awe as Rod Stewart performed Do Ya Think I'm Sexy on T.V. I spent the summer reenacting Rod's movements on a small boating dock at a run-down resort. The dock served as my stage. The glistening water served as my audience. An aluminum fishing stringer served as my microphone. I swung the rusted string around and around while I swayed my hip seductively into the void. My parent's living room also become a fantasy platform. I would dance and lip sync to any pop song. Carefully arranging the couch cushions to define the perimeters of my stage. Buffy, a very kind and gentle black lab, served as my stage manager, my back up singer, and my biggest fan. Passionately stomping on and destroying the furniture, Buffy and I performed You Dropped a Bomb on Me, Don't You Want Me, Do You Wanna Touch Me, Kids in America, anything Top 40… over and over and over again.

Growing up working class on the outskirts the rustbelt, I had no access whatsoever to fine art. I had no idea that art existed. Nor did I relate much to regional expressions of culture. Large Green Bay Packer themed snow men littered every other yard. Dyed with food coloring and adorned with football paraphernalia, these modified snow creatures always seemed very sad to me. Indoors, two very popular prints hung in our home. The exact prints hung in most homes; purchased from a catalogue passed around at a neighborhood Tupperware parties. In one print, an old man sits alone praying over a bowl of soup and a loaf of bread, Eric Enstrom's Grace. This print is intended to reflect the values of stoicism and paucity yet hung in kitchens filled with vice. The second print shows an old fisherman teaching a young girl to how to row a boat, Emile Renouf's Helping Hand. The man looks down at the young girl with adoring sentiment and the young girl stares towards the viewer with focused determination. Renouf's depiction of a caring and patient male mentor stood in direct conflict to the harsh realities of work class life and masculinity. It was as if the painting mocked us.

I first saw the cover of Meatloaf's Bat Outta Hell while in a waiting room at Saint Luke's Hospital in Duluth, Minnesota. I remember the experience with vivid detail. As a bored and impetuous child, this artwork excited me to my core. It was pop of color in an overwhelmingly drab setting. It was life and it was death stuffed together in one horrible little scene. It was dramatic and forceful. It was rock and roll! Throughout my youth, I consumed pop imagery as if it were an elixir. My apatite was strong. I stared for hours at album covers. I wanted to be Donna Summer on the cover of The Wanderer; waiting on a bench with packed luggage for a bus going anywhere. I studied every face and hairdo on Some Girls by The Rolling Stones. When no one was looking, I'd sneak into my aunt's bedroom, stare at the genital bulge on Sticky Fingers, and unzip the metal fly with a thrill that I didn't fully understand. ­­

The Album Covers paintings pay homage to the role music played in my development as a visual artist. I do not want to capture an exact likeness of a given album cover or a given artist. Instead, I want the works to be puerile The forms are deliberately exaggerated. The characters are somewhat gawky and jovial; reflecting the ostentatious and campy attributes of the source material.