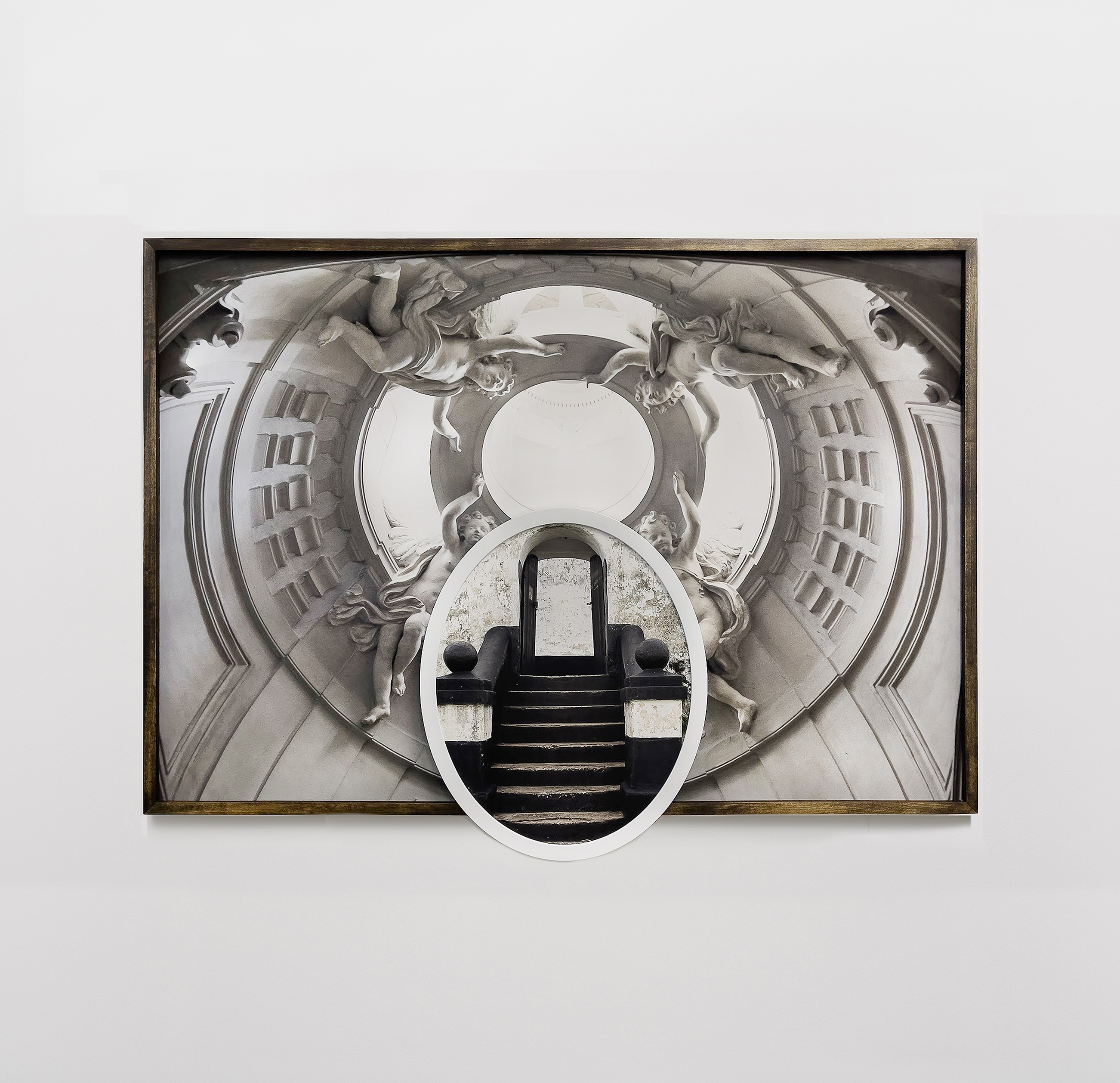 Todd Gray: Rome Work | Amy Myers: The HandHeld Universe
1700 S Santa Fe Ave #101, Los Angeles, CA 90021
Nov 18, 4 PM - 6 PM — ends Jan 13, 2024
Vielmetter Los Angeles is pleased to announce Todd Gray's solo exhibition Rome Work, featuring Gray's photographic works based on his recent six-month residency as a 2022-23 Rome Prize Fellow. Best known for photography, performance, and sculpture that address race, class, and power, Gray explores the legacies of colonialism in Africa and strives to dismantle the visual conditions that pervade art and culture today.

Gray's three-dimensional photocollages contest anti-Black narratives through the artist's deconstruction of images from his archive. Compiled over the past fifty years and including pictures of individuals, historic sites, rural scenes, and slave fortresses and trails in West Africa and Ghana (where he has a studio); formal gardens of imperial Europe; stars and galaxies; images of musicians (taken by Gray as a professional photographer for album covers and international magazines), his work aims to rupture the traditions of photography.

In Rome Work, Gray has furthered his research to examine the Catholic Church's mission in West Africa and how that enriched both the Church and powerful imperial elites. He merges images of himself with photographs of churches and villas in Rome and Sicily that expand on his archive of photographs to create a new visual dialogue. Gray combines these photographs, frames them, and reconfigures them, stacked on top of one another, in sculptural constructions that both illuminate and obscure their subjects. For example, in Stairway to Heaven's Hell (St. Anthony Slave Castle / Santa Maria Basilica) (2023), the circular frame encapsulating the stairway entrance to Saint Anthony Fortress in Ghana echoes the central oculus in the dome of Rome's Basilica Santa Maria, creating a visual puzzle that suggests a transcendent portal to heaven. Likewise, in When we opened our eyes we had the Bible and they had the land, #2 (2023) Gray places a 2005 self-portrait from his Shaman / Conjur Man series in the center of a detail of the ceiling of the Church of the Gesù in Palermo; the baroque sweeps of shaving cream on the artist's face contrasting the painterly and sculptural embellishments of the ornate frescoes. The florid trimmings obscure the reality to which the title refers—a Desmond Tutu quote regarding missionaries that invaded South Africa. The visually seductive artworks function as both a conceptual critique of art and mass media and a powerful social and political commentary.

Gray's visual language serves to build and rebuild identity while highlighting a multiplicity of perspectives as seen in the stratified images. His photographs shift between different conceptual iterations, defying historical specificity or literal translation and refusing erasure as the racialized and gendered critiques remain open-ended. The frames in his work also multiply, building upon the surfaces of those preceding. Through the work, he hopes to question "normative models of representation, binary thinking, and either/or solutions." Ultimately, Gray urges the viewer to be more aware of how we are active partners in constructing meaning—the complex layering of images provides multiple lenses through which one can explore and create such new perspectives.
____

Vielmetter Los Angeles is pleased to announce The HandHeld Universe, Amy Myers's solo exhibition with the gallery, featuring the artist's recent monumental drawings and paintings that reference biology, mathematics, particle physics, philosophy, and altered states of consciousness.

The finely executed drawings and, most recently, oil paintings, form loosely symmetrical networks of structures and systems of activity that shift in perspective and scale. The title, The HandHeld Universe, references Myers's intensive tool-based creative process—pencils and brushes, graphite and oil—and her exploration of the slippage between the sublime vastness of cosmic scale and the intricate realm of sub-atomic particles.

For Myers, an artist comfortable with the unpredictability and interconnectedness of nature and the universe, all matter—particles like atoms and molecules—are in constant transmutation and are inherently beautiful. She finds beauty in the harmonious organization of mathematical equations and particle physics theorems and seeks to represent these systems with color, light, and line. The symmetrical dynamism also alludes to the processes of consciousness that in turn lead the artist to depict her interpretations of interior bodily processes like circulatory and neurological systems and exterior states of perception and integration.

Myers's newest work references both processualism—a philosophical theory which states that change is continuous, simultaneous, and without a finite endpoint—and Johann Wolfgang von Goethe's theory of colors—the exploration of the psychological impact of different colors on mood and emotion. The resulting paintings showcase dynamic shifts of light and mood, and explosive movement and transformation. A long-time user of graphite, her transition to oil allowed her to harness light and luminescence, as seen in 2023's A Hydromelodic Event, where translucent layers of pigment reflect light in an ethereal glow radiating infinite energy. Other works like Phase Transition in Pink (2023) return to graphite and gouache to explore an earthy pulsing central axis that emanates luminous layers of color toward the work's edge. Here, the two distinct palettes of vivid blues and pinks surrounding the ochres and umbers in the ghostly core respond to Goethe's study of the interplay of darks and lights and convey a simultaneous collapse and expansion of energy and mood.