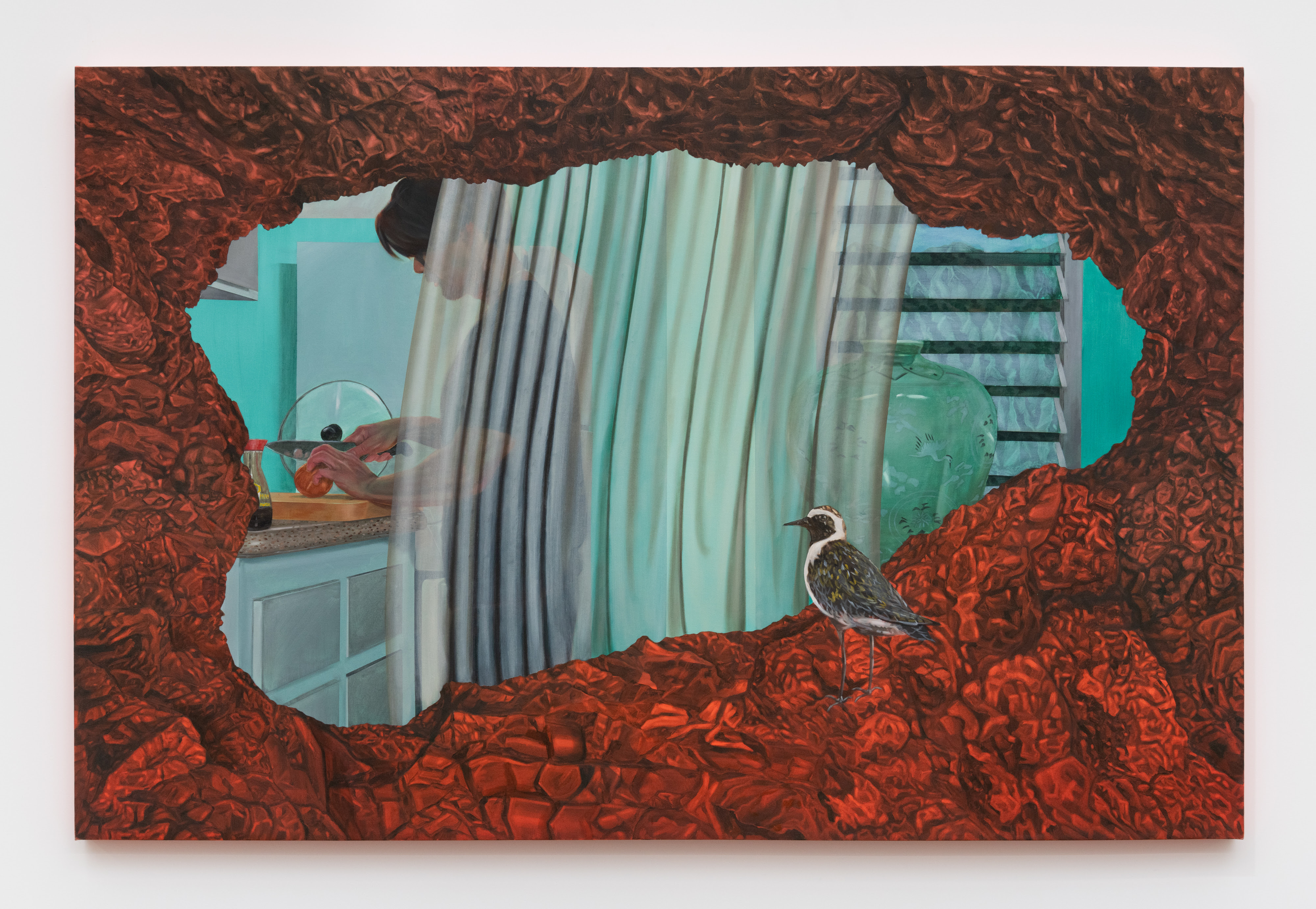 Shingo Yamazaki | Ryan Flores and Hallie McNeill
3027 S Grand Ave, Los Angeles CA 90007
Nov 18, 2 PM - 5 PM — ends Dec 16, 2023
Sow & Tailor is proud to present Any Kind, a solo exhibition by painter Shingo Yamazaki, on view from November 18 to December 16, 2023. An opening reception for the artist will be held on November 18 from 2pm - 5pm.



Shingo Yamazaki is a Honolulu-born artist whose work addresses the complexities of cultural hybridity, identity, and the meaning of "home." His work captures a rich mixture of Hawai'i's cultural nuances and iconography along with his own personal history as a mixed Korean and Japanese American. By intertwining his personal story with the familiar motifs of daily life, Yamazaki transforms the discrete concept of home into a vessel for collective identity, inviting viewers to partake in these dialogues of everyday existence.



The title Any Kind is derived from the Hawaiʻi creole pidgin English phrase "Any Kine" which serves as an all-encompassing term to describe anything and everything. The works in this exhibition serves as a form of acceptance around this lack of information—a realization that it's perfectly valid to occupy the in-between, where multiple, even unknown versions of oneself can coexist—as well as a journey of filling in the gaps and mending the voids by incorporating the rich, diverse culture and community of Hawaiʻi.

____

Sow & Tailor is proud to present The Fool and the Snuffler, a captivating two-person exhibition featuring the innovative sculptural creations of Los Angeles-based artists Ryan Flores and Hallie McNeill. Curated by Jenny Hata Blumenfield co-founder of ATLA, Los Angeles, we invite you to the opening reception on November 18, 2023, from 2:00 to 5:00pm in the front gallery. The exhibition will be on view through December 16th, 2023.



The Fool and the Snuffler seamlessly harmonizes the unique sculptural approaches of Ryan Flores and Hallie McNeill by highlighting the connections woven into their respective work. Engaged in a dynamic artistic dialogue, each artist invites the viewer to explore the nuanced expressions conveyed within their constructed environment.

By offering queries around moral frailty and the frivolity of material culture, Flores and McNeill encourage moments of contemplation through the implementation of symbolism and metaphor. Flores' still-life ceramic paintings are suspended in a grotesque lust, while McNeill's ceramic sculpture is a faceless, nameless figure that

holds a mirror to oneself as a method of conveying fractured desires. Through their innovative explorations of ceramic materials, Flores and McNeill initiate a compelling exchange of ideas coded in meaning and delve into the complexities of the human experience, and the transient, ephemeral nature of life.