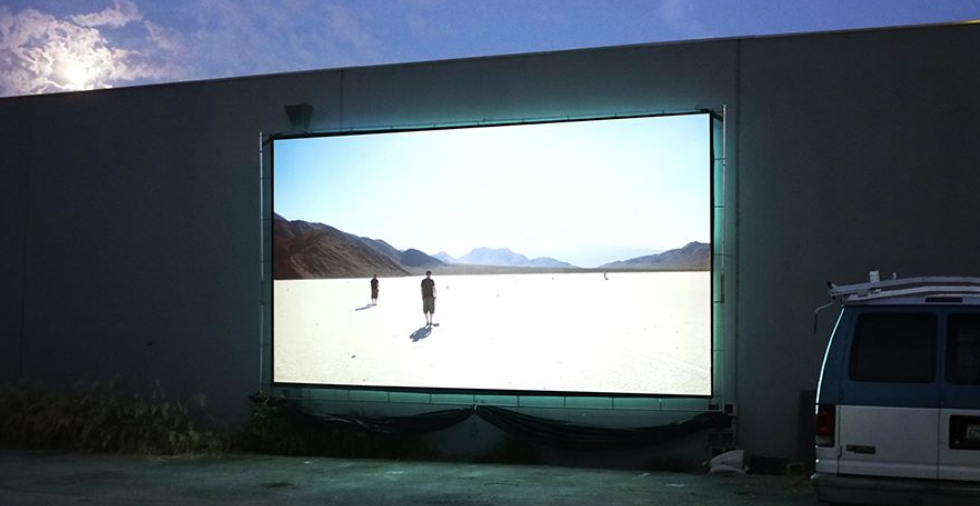 Drive-In Theater: New Season
1989 Blake Ave, Los Angeles, California 90039
Apr 29, 7:30 PM - 9:30 PM — ends Oct 28, 2019
Drive-In Theater: New Season
April 29-October 28, 2019
FLAX's Drive-In Theater returns to Tin Flats for a new season of double features on the last Monday of the month from April to October.
We've invited six artists and selected one of their films. Each artist then selects an additional film of his/her choice — a feature, a documentary, another artist's video — echoing his/her work. Each month offers a new game of refraction and reflection through multiple lenses–from the artists' screens to the cars' windshields. The screenings will include an informal discussion with the artists who are locally based or in residency.
Each screening has eight spots available for cars, which must be reserved in advance. No reservation is required for open seating area outside of cars.
Screenings will begin after dark. Please refer back to our website for updates on times as the days get longer.
Each screening includes complimentary popcorn and iced tea.
Monday, April 29
Doors at 7:30pm, screening at 8pm
Smith, Traum, 2016 (22 min) and IKARIE XB1 (Voyage to the End of the Universe) by Jindrich Polák, 1963 (88 min) (Rated R).
In presence of smith.
Trailer for Ikarie XB-1:
youtu.be/msm5BdK35us
RSVP here:
www.eventbrite.com/e/drive-in-theater-smith-registration-59562439861
Monday, May 20
Arnaud Dezoteux, Dark Meta Reeves, 2016 (29 min) and Damon Packard, Foxfur, 2012 (61 min)
In presence of Arnaud Dezoteux, with the support of the French Cultural Services.
Suitable for all audiences
Monday, June 24
Mona Varichon, No I was thinking of life, 2018 (12 min) and other film to be announced
In presence of the artist
Monday, July 29
Anna Wittenberg, Skid Plate, 2018 and other film to be announced.
In presence of the artist
Monday, August 26
In partnership with Gas
Performance by Sonja Gerdes and screening to be announced.
Monday, September 30
Samir Ramdani, Black Diamond, 2014 (40 min) and other film to be announced.
Monday, October 28
Maura Brewer, The Surface of Mars, (12min) and other film to be announced.
In presence of the artist